Schedule, matches and dates of Atlético de Madrid in LaLiga 19/20
Check all the dates of the matches of Atlético de Madrid in the First Division Championship that begins the weekend of August 17 and 18.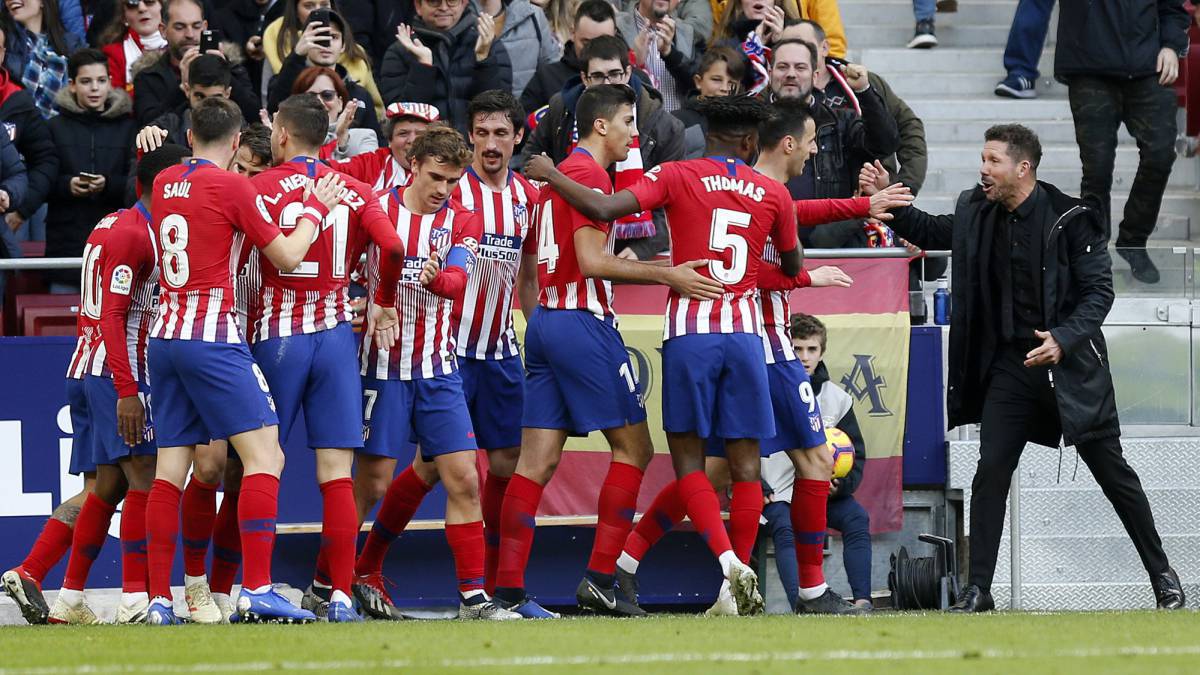 Atlético de Madrid will seek to win the league title six years after lifting it at the Camp Nou with a Diego Godín goal. The 2018/2019 season was not outstanding, but rose again to the second position in the championship. And he did it for the second consecutive season. In Champions League, Simeone's team was defeated by Juventus after losing 3-0 in the second leg and in the Copa del Rey was eliminated by Girona in the last 16 after drawing three in the second leg (1 -1 in the first leg) .
The continuity of Cholo Simeone is assured and is a key season for Atletico de Madrid. The departures of Antoine Griezmann, Lucas Hernández, Juanfran, Diego Godín and Rodrigo Hernández have forced the rojiblancos to rebuild. João Félix and Marcos Llorente have been the two signings stars of the new project of Simeone, which has taken hold ensuring the continuity of Álvaro Morata.
. Just as last season, the league schedule will be asymmetric. That means that the order of the days of the first round does not correspond to that of the second. The Simeone team will start the championship in the Wanda Metropolitano receiving the Getafe and will close it the weekend of May 23 and 24 receiving the Real Sociedad.
First round LaLiga Santander Jornada 1: Atlético de Madrid-Getafe (17/18) August) Day 2: Leganés-Atlético de Madrid (24/25 August) Day 3: Atlético de Madrid-Eibar (August 31 / September 1) Day 4: Real Sociedad-Atlético de Madrid (September 14/15) Day 5: Atlético of Madrid-Celta de Vigo (21/22 September) Day 6: Mallorca-Atlético de Madrid (September 24/25)
Madrid 7: Atlético de Madrid-Real Madrid (September 28/29)
Game 8: Valladolid-Atlético de Madrid ( 5/6 October) Day 9: Atlético de Madrid-Valencia (19/20 October) Day 10: Atlético de Madrid-Athletic Club (26/27 October) Day 11: Alavés-Atlético de Madrid (29/30 October) Day 12 : Sevilla-Atlético de Madrid (2/3 November) Match 13: Atlético de Madrid-Espanyol (9/10 November) Matchday 14: Granada-Atlético de Madrid (23/24 November)
Jornada 15: Atlético de Madrid-FC Barcelona (30 November / 1 December)
Jornada 16: Villarreal-Atlético de Madrid (7/8 dicembre) Day 17: Atlético de Madrid- Osasuna (14/15 December) Day 18: Betis-Atlético de Madrid (21/22 December) Day 19: Atlético de Madrid-Levante (4/5 January) First round LaLiga Santander Day 20: Eibar-Atlético de Madrid (18 / 19 January) Day 21: Atlético de Madrid-Leganés (25/26 January)
Jornada 22: Real Madrid-Atlético de Madrid (1/2 February)
Jornada 23: Atlético de Madrid-Granada (8/9 February) Day 24: Valencia -Atlético de Madrid (February 15/16) Day 25: Atlético de Madrid-Villarreal (22/23 February) Day 26: Espanyol-Atlético de Madrid (February 29 / March 1) Day 27: Atlético de Madrid-Sevilla (7 / 8 March) Day 28: Athletic Club-Atlético de Madrid (14/15 March) Day 29: Osasuna-Atlético de Madrid (21/22 March) Day 30: Atlético de Madrid-Valladolid (4 / 5 April) Day 31: Levante-Atlético de Madrid (11/12 April) Day 32: Atlético de Madrid-Alavés (21/22 April)
Jornada 33: FC Barcelona-Atlético de Madrid (25/26 April)
Jornada 34: Atlético de Madrid-Mallorca (2/3 May) Day 35: Celta-Atlético de Madrid (9/10 May) Day 36: Atlético de Madrid-Betis (12/13 May) Day 37: Getafe-Atlético de Madrid (16/17) May) Day 38: Atlético de Madrid-Real Sociedad (May 23/24)
Photos from as.com