Nadal, maximum demand: "I have not been so good with the serve"
After his crushing victory against Sousa, Nadal briefly analyzed the game with the Wimbledon interviewer. "Last year I was very good."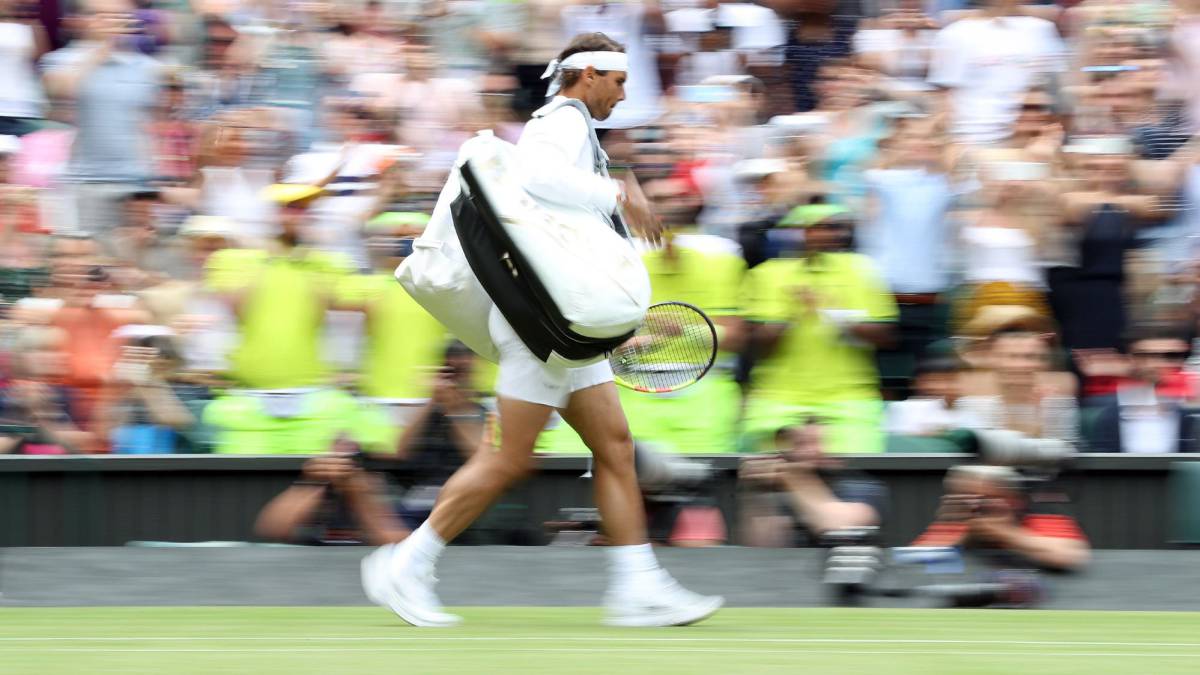 Rafa Nadal analyzed his overwhelming victory against Joao Sousa in the Wimbledon round of 16, first in a short way before the interviewer of the tournament and then in a press conference. The Spaniard showed a huge level of demand when evaluating his performance: "Less with the serve, I have not been like the other day (against Tsonga), it has been a good and solid game . In the rest of things I've been fine and it has been all very positive, the reverse, the volleys ... I am happy to be where I am playing good tennis ". Then he explained the reason for his dissatisfaction with the service: "It's a question of percentage of first (57%) and personal sensation. The other day I knew I was going to hit each one, that I was going to put it in its place and today I have not seen it like that. In the rest I have been very well ".
Also answered the question about a comment by Boris Becker on television about the level of Spanish in grass, which he described as vintage, because he considers that it is as good as when he won in 2008 and 2010: "I do not know if it's my best tournament since then, last year I was very good and I got close to the title, so it's too early to compare, I'm in the quarterfinals and that's the important thing" . "I'm prepared and at a good level , then I do not know if things are going to work out or not, my goal was to be competitive and I'm getting more adapted, "he added later.
Nadal is not of the opinion that the Wimbledon herb is slower than in other occasions and gave his explanation: "For me, the grass is not so slow and I've been playing here for many years, it's my personal feeling, I think the game is a bit slower than the ball" .
The Spanish c He answered with some force when they told him if it seemed right that Ashleigh Barty had played on track 2 when his match against Sousa did not arrive at two hours: "Can we predict the future? She is number one and I am number two and I have won 18 Grand Slams (laughs). I think that right now I'm a little bit more than Barty, even if he's played incredibly well, is the best in the world and has just won Roland Garros. We can not create controversy every day about where the matches are placed, except on a day like this in which everyone plays. The tournament makes its decisions and it is not necessary to give it so many laps, Djokovic is going to play on track 1, where I did it on the first day. I played in the Suzanne Lenglen in the second round in Paris, if I remember correctly. "
Table and next rival
Also referred to the comfort with which he has won his matches, except for the second round against Kyrgios: " I lose and win all the ways, things do not often have a common denominator. I had a pretty difficult picture before starting the tournament. It was one of the most difficult that I had played at Wimbledon. Then I have done many things well and I prefer to be in this situation than suffering. " Y spoke about his next opponent, without even knowing who he was: "Now I can play a great server and I have to be prepared to handle the situations in which the players are well. If the opponent is good at the service it is difficult to break and we must wait until it fails ".
Photos from as.com