Mir: "It's a shame to finish eighth because I smelled the podium"
In his ephemeral leadership in Assen: "You stand in front of you, you do not see anyone and it seems that everything trembles you ... In Moto3 I had others behind me and now I have Márquez, Viñales ... You get a little more nervous".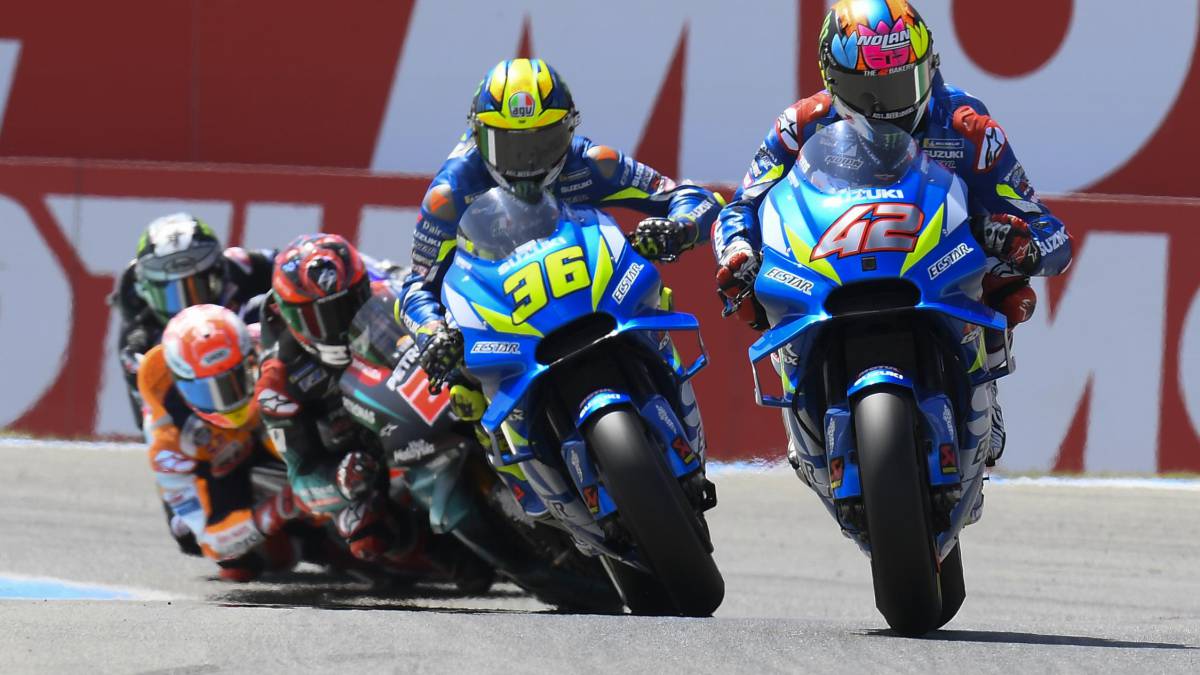 Joan Mir lived a roller coaster
of sensations in the Assen MotoGP race. He made a great start from the fifth to the second place. Then,
came to lead when he fell Rins,
but he could not hold the lead or a lap, because he quickly gave up four positions. Later, he fought with the official Ducati for fourth place. And at the end,
was left without
rear tire and finished eighth with some laundry. The rookie
left the seal
in any case.
-What happened when he got first and lost the lead so early? Did you get a stage fright?
-Rins had fallen in turn 9, and I already got into that curve. I made the two right and in turn 12, which is more than 200 km / h, I have closed the bike. And then on the 15th I got in. So I thought: 'I have to stop that I will not last 2 laps'.
-Have you got nervous?
-I've got nervous more because of the scare I've had than for anything else, but there has been a bit of everything. I remember in 2016 when I started in the World Championship, the first race I led was like 'you're welcome!' You stand in front and do not see anyone and it seems that everything trembles. And then I had Fenati behind, Navarro ... and now I have Marquez, Viñales ... and well, you get a little more nervous because the level goes up.
-The best weekend in MotoGP?
-I'm very happy with the potential throughout the weekend. In the FP1 we started very calm, in FP2 and FP3 we took a step forward. In Q2 we were ahead in the warm up with a good pace. I expected to hold those two laps that I have lacked at the end, because I have run out of tires. I think I could have finished the fourth race, but it was not possible, the rubber was finished and it has been a thing that has conditioned me a lot, because I lost two seconds per lap. Even so, it is not that I had to burn the wheel to be with them, I was behind the Ducati because I wanted to save the rubber. Then I saw that Fabio was staying and I thought it was my chance, I passed Dovi and Petrucci, and I went for the podium, but in the end I ran out of rubber and they all passed me. It's a shame because I smelled the podium.
-Are you learning how to manage a race?
-It is that here the races are very long, it makes me eternal because everything happens. First I had more than the others, then less, then again ... it was like a roller coaster. But after this weekend, even after the Montmeló test, we have already made a step and we have always been ahead.
-How are the left curves given, because they will swell at Sachsenring?
-Well . I like them more than the right ones. It is also a circuit that has given me good and I have won in Moto3. Last year with Moto2 I was about to win. And this year I hope to be better than here, because Assen is not a circuit that I like very much. But we'll have to see how the Suzuki is doing there.
Photos from as.com