Militao: "I would like to win the Champions before the League"
The center was introduced as a new player of Real Madrid and then attended the media in the press room.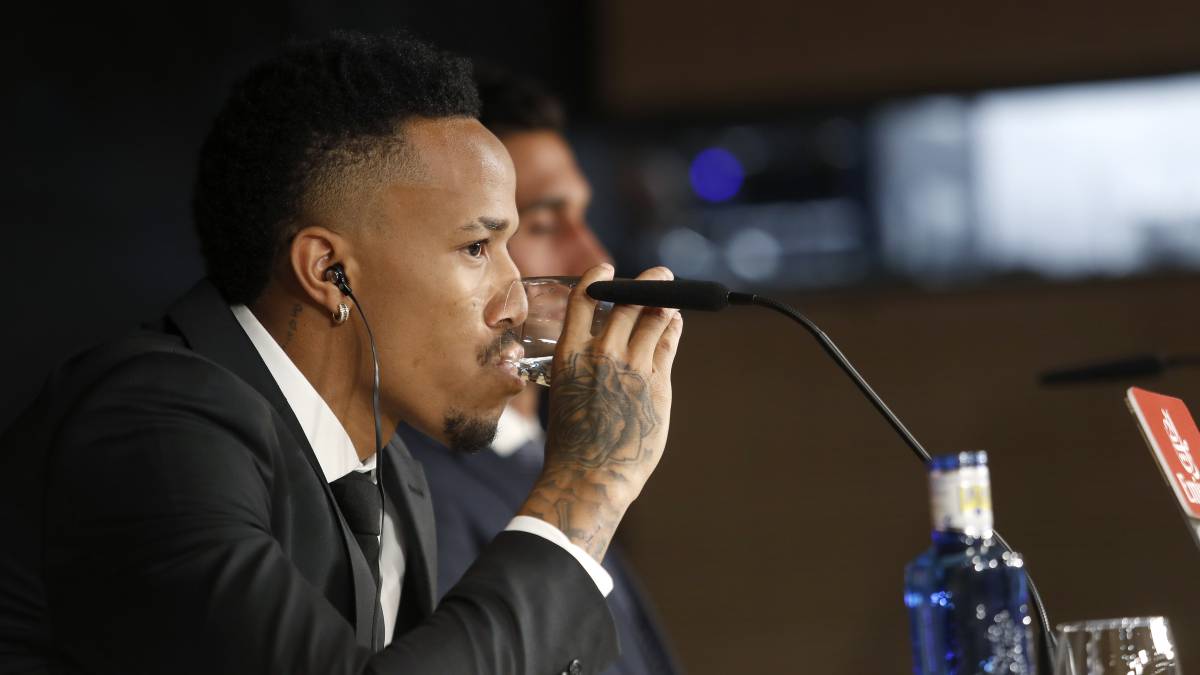 After being presented by Florentino Pérez, Eder Militao (21 years old) stepped on the grass short. His relatives and representatives lived with emotion the moment, making photos and videos of every detail. The player, without dorsal, gave some touches to the ball, distributing from the bottom south 25 balls to the hundreds of fans, mostly children, who went to receive him. The culminating moment came when the former Porto, to the joy of the stands, kissed the shield.
Then he returned to the locker room, dressed again in full dress, and appeared at a press conference, where minutes later he would feel indisposed, which forced him to leave the room. First he preceded the microphone
Alvaro Arbeloa: "Dear Eder, congratulations on your arrival in Madrid, from today you are at home and we will do everything possible so that both you and your family are very comfortable here
. Surely today you start the biggest challenge of your career, but we are sure that with your talent and effort, and with the help of the fans you will achieve many successes, very much luck, welcome to the best team in the world, welcome to Real Madrid ". Next,
Militao answered to the media questions:
Sensaciones
: "It's a very special day for me and my family, we are reaching a very high level, the best club in the world without a doubt, it's a very special day, I'm very happy to have arrived at Madrid ".
Profile
:" I am a versatile player, who always plays for the love of what he does, who does not like to lose and who always hopes for the best of me. very competitive and very competent ugador ".
Cases of Casillas and Pepe
:" I have been told that it is a club, and everyone knows it, that in five years it has won four Champions. They have spoken to me about culture, about what day-to-day life is like. They told me to come quietly, to do a good job and keep growing. "
Sentimiento
:" Without a doubt, things have happened very fast in my life. I played little in Sao Paulo and Porto and, thank God, today I'm in the best club in the world. I have grown a lot and I am very happy to reach these goals. I'm not going to stop here, I want to stay and do a great job. "
How the signing was forged
:" When I heard the news, I was very happy, I saw that I was doing my job well and I did not think twice, of course. I immediately said that we should do it. I saw myself playing in the best club, it is a very good feeling to see how a great team wants you to work for him and be part of the squad, so I was very happy ".
Oporto without him
:" There have been many players who They have gone, but I think it does not go badly because it is also a very big team. With those outings there are still players who will do very well to fill those vacancies. With my coach there I learned many things, it's exceptional, it helped me a lot since I arrived and I have to thank them. "
Position and bib number
:" I have not talked to Zidane yet. I'm looking forward to doing it and being able to work with him. I hope everything goes well, that we can do a great job. On the number, I still have not thought of any. "
Competencia
:" I think it's going to be a very good dispute. I have come to do my work. I have come to do my thing. If the coach gives me the opportunity, I will do a good job ".
Herrera and the rivalry with Atleti
:" I have seen that Herrera has reached Atleti, but I have not been able to talk to him. I know there is a very big rivalry, but I'm going to try to get Herrera and I to see each other. "
Message to the fans
:" I tell them that they can expect a very competitive player, who will always play as if it were the last game ".
If you see the headline
: "I'm here to do my job. If I'm a starter or not, Zidane decides, whatever he wants. I'm down to earth and I'm going to do my job. "
Pression
:" Yes, there's pressure, it's a very big club. But it is good that there is. "
Dream title
:" The greatest title I would like to have is a Champions League, ahead of the League ".
Your year at Oporto
:" It's been a very good season. Since I arrived, the Porto squad gave me strength. They have believed in me. The message to them is that I have learned a lot. Things are happening very quickly. " The player became dizzy when asked if he saw Neymar and, after a brief,"
is a huge emotion
", left the press room.
Photos from as.com