Messi, awarded by the Foundation of Pope Francis
Scholas Occurrentes has awarded the Educational Gold Ball (a handmade rag ball by guys from Chicomo, Mozambique), to the Barcelona striker.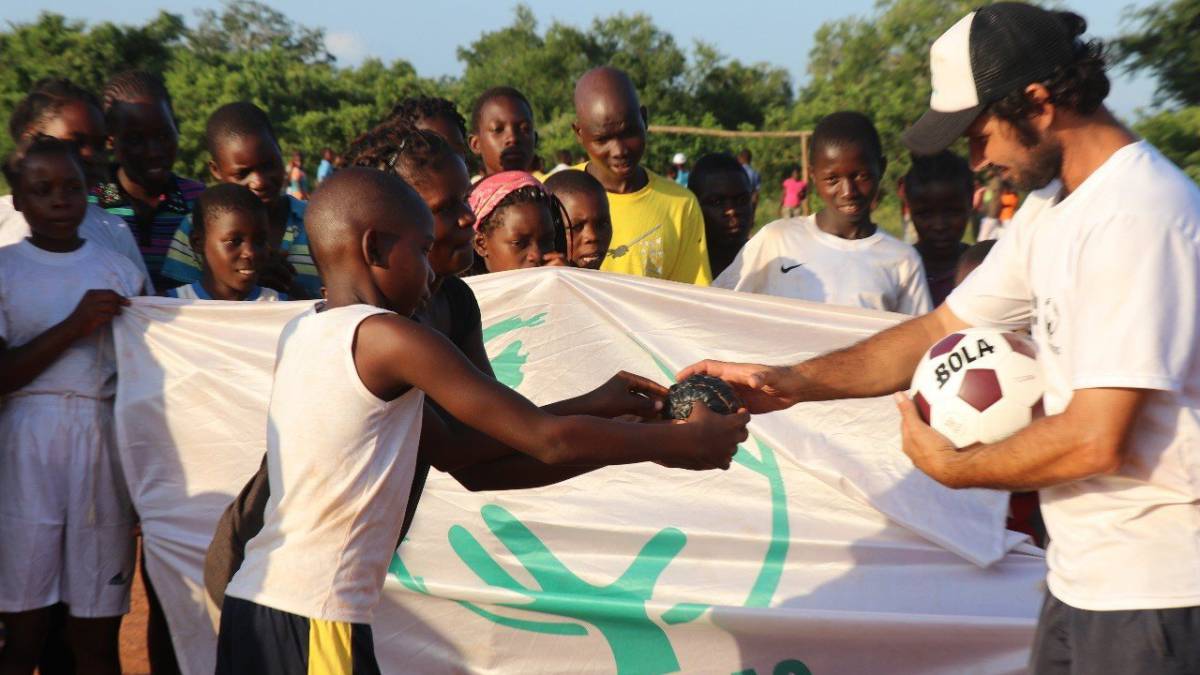 The Foundation of Pope Francis, Scholas Occurrentes, has awarded the Golden Ball of Education to the Argentine striker of Barcelona, Lionel Messi. Scholas is a worldwide network of educational institutes, created from a program of neighborhood schools in Buenos Aires when Jorge Mario Bergoglio was its archbishop, which today is present in 190 countries and integrates almost 500,000 schools around the world. It has pontifical rank and watches over the integration of all the students of the world through technological, sports and artistic initiatives.
As a prize for this award, the foundation will give the soccer player a handmade rag ball by guys from Chicomo, Mozambique, and that represents "the purest football", according to the organization itself. "They travel many kilometers every day to go to school, they help with field work very early in their homes, and for the practice of soccer, they hand-craft balls with rags, a plastic bag, ropes and nets, representing enthusiasm the same values and using them with joy in their dirt courts, "said Scholas about the guys who made the ball.
Votes were open from July 1 through the official accounts of Scholas in Instagram and Facebook, as well as by email and in person at the Scholas headquarters and FutVal Program clubs.
The educational institutions of the Scholas Social network in South America participated in the different formats. The number 10 of Argentina obtained 34.28% of the votes, followed by Peruvians Edison Flores (15.56%) and Pedro Gallese (11.28%). Fourth place went to the captain of Brazil, Dani Alves (10.5%), plus other athletes such as Lautaro Martinez, Allison, Sergio Aguero, Coutinho, Alexis Sanchez, Arturo Vidal and Jose Fuenzalida. The children highlighted the humility of Messi, who put his technique in the team, with effort, solidarity and mirror for his history of overcoming since childhood.
The ball that Messi will receive has been blessed by Pope Francis in Santa Marta, Vatican City, where he recalled that he too, as a child, played with a rag ball. The date and place of the ceremony of delivery of this trophy are still to be defined. It will be the first time this trophy is awarded after the celebration of an America's Cup, in recognition of the purest football.
Scholas is working with the FutVal Program in Mozambique since 2015, at the Mangundze Mission, and in March 2018 , the activity was extended to Muvamba and neighboring towns, such as Chicomo, where teachers of schools and coaches have been trained so far, with practices and meetings with hundreds of children. In August 2018, two other cities joined the Program: Maputo and Xai Xai, In one of these training workshops the boys from Muvamba handed the ball to the Sports team of Scholas.
Photos from as.com