"When McLaren wins, in a few years, it will know even better"
Lando Norris speaks with AS before the GP of Great Britain about the progress of the team, his first season and work with Carlos Sainz.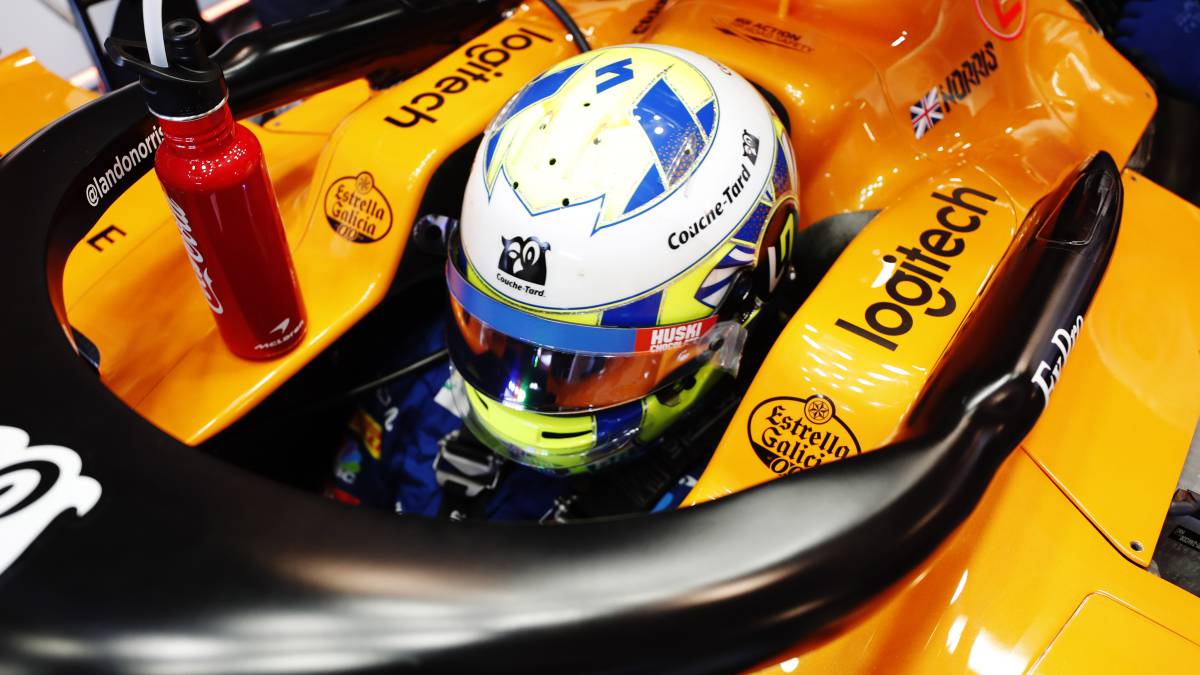 It just got off a McLaren 720S like who does it every day. He does it, in fact: the brand new orange sports car is yours and he uses it when there is no grand prize to go from home to work in Woking. The race weekends have fun in the MCL34. For the 'paddock' usually walk near Carlos Sainz, learning from his teammate, and yet friend, all you need a driver to stand on and off the track. And in each of those situations, is very likely that Lando Norris will be smiling. When you are 19 years old you are an F1 star it is very difficult to hide happiness.
-To begin with, the most recent. Did he really need McLaren to confirm his position by 2020?
-I do not say I was sure, but I did trust that it would be that way because of the things I've done, I think it's been a good job so far. Although I did not really care much.
-A British driver, running for the best British team, at Silverstone, at the British Grand Prix ... The greatest of his dreams as a child should be similar.
-Well, yes, well is, especially when you start seeing Lewis (Hamilton) and McLaren, fundamentally. It was like that since he was about eight years old, and being a fan of Lewis or Jenson Button in the British Grand Prix, now it seems incredible. Living a great home prize at Silverstone delights me a lot.
-19 years old, how is managing your tasks as an F1 driver?
-It's not so bad. There is a lot more work than in F2, more days out, but the team has made it very comfortable for me and they help me as much as possible to make sure I'm not too busy. I comply with all the commitments I have to make and also, many days, like this one is fun (after the interview you have to drive several McLaren on the road) .
-You are behind the wheel seven hours every two weeks, but the rest of the time there's a lot to do.
-I love going to McLaren in Woking and doing office work. Of course you enjoy riding a circuit, but I do not care about the 'B side' .
4
-You drove the last McLaren Honda and was in the garage for the entire 2018 season. Then nothing seemed to work, now.
-I do not think everything is working perfect now, we continue to solve problems and we have things to improve because they limit our performance. It can be said that we are better off by a combination of many things. The new season has reset the car, a simpler approach was taken. I do not know what the exact reason is because, to be honest, I do not feel there are many differences from last year. I suppose the car, in general, is performing better. If you take it to the limit it still has oversteer, understeer, it slides. But in spite of everything, even sliding is faster. It is not that we have more grip on the rear wheels, or better downforce. Simply the car, the whole 'pack', responds better to the point of being a couple of kilometers per hour faster on each curve and three or four tenths faster per lap.
-Is McLaren the best place to be having Consider your times in F1? You want to be ahead in the future, your team hopes to do it.
-We both have the same ambitions and the same dreams, but it's not something you have to think about a lot. It does not frustrate me not to be winning races now, I am very happy where I am now being sixth or fifth in qualifying. Even if we are not winning now, I think that when we do it at McLaren, in a few years, it will be even better. That's very important.
-Are you surprised by your qualifying performance?
-I would not say surprised, maybe it was one of my strengths since Formula 4 because I think that year I never qualified worse than second, that's pretty good . I also did well in Formula Renault and F3. It's going well and it's not easy to find those last tenths or thousandths in a fast lap.
-What is your goal this year? Win Carlos?
-I do not have any specific. I want to improve as a pilot in terms of the answers I can give to the engineers and the team. It's not just speed or winning my classmate or race, there are many things I want to work on that are not visible to others, but I know myself and if my grand prize starts were more solid we could do better during the rest of the weekend. I would like to improve my general knowledge about the car.
-In that sense, can you learn from your partner?
-Yes, of course, he has more experience. In meetingsOn the engineers he talks a lot about the Renault or the Toro Rosso, about how they were piloted. On the one hand I have to wait to be more experienced but I can also learn a lot from Carlos, in the briefings he is very descriptive and precise, he explains perfectly what points we need, if more front spoiler, more rear ... It's very good, not only piloting but also in that work off the track.
-They get along pretty well and that's not normal in F1 ...
-Because I'm a good guy, as simple as that ... (laughs). I do not know why it's like that, honestly. We are both very competitive and we want to win over each other, it is part of F1, but at the same time we talk about the good and the bad of the car and we work together with the engineers. We have the same objective at the end.
-Who has the record in the 'hospitality' simulator?
-It's changing. Sometimes he, sometimes I.
-And in FIFA?
-He, of course. But only because he practices much more than me (laughs) .
-Good luck this weekend.
-Thank you!
Photos from as.com