Maverick: "I will try to take care of the rubber as best I can"
The winner of Assen is concerned about the second part of the race: "It will depend a lot on the temperature of the track."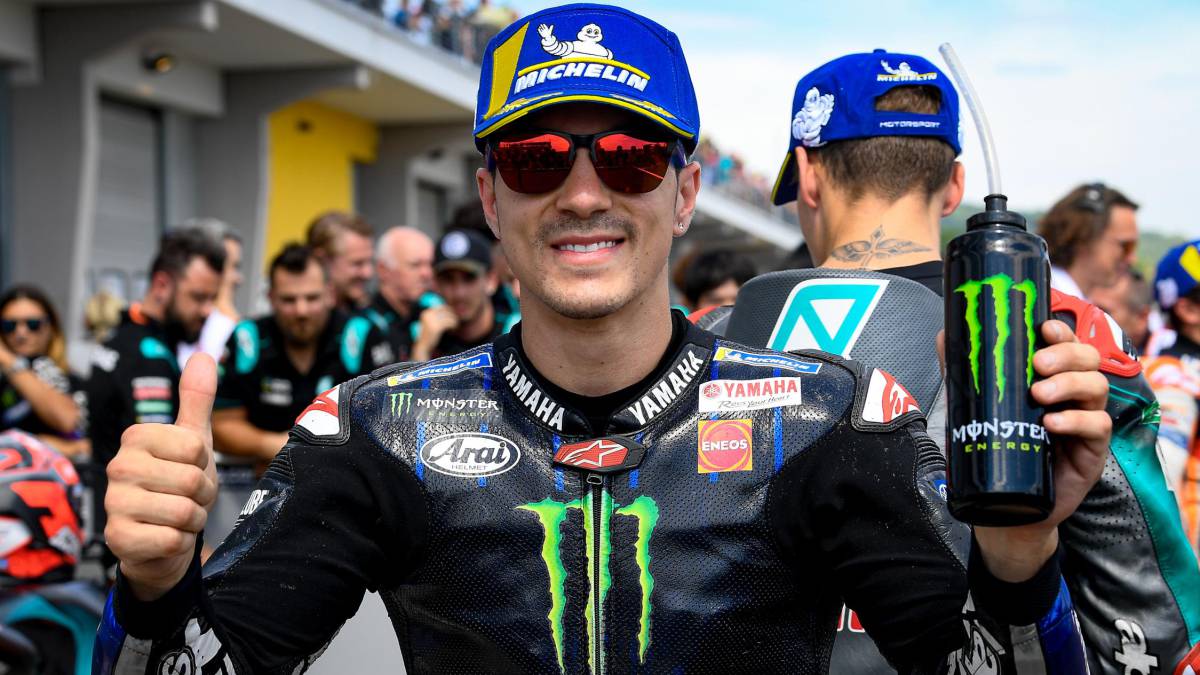 Maverick Viñales has been classified third for the race of MotoGP in Germany, which meets the objective of the first line that had been marked.
-You start to see very entrenched among the best in the category.
- It is important to make this change and, once again, being in the front line is very important, because it was the first goal for us in this circuit where we have to start first or second and be there throughout the race. We have done a good job and see if it will pay off in the race.
-What happened in that exit where he was found in the pit lane with Márquez?
-No one wants to throw, but I was behind and I told myself that today it was my turn to shoot.
-I was not waiting for Márquez?
-No. My strategy was to go out alone, because that's how I go a little better. When I have someone in front, I want to slow down a little later and it did not work.
-It turns on, does not it?
- (Laughter). Yes. I try to brake too late and with this bike it does not go. I tried to shoot. I had 1: 20.9 and he had 1: 20.2 so I did not care and I pulled looking for the first line. He has left and I am very happy.
-He is the only rival of Márquez, according to him ...
-Well, I believe that Fabio (Quartararo) is doing very well and that Álex (Rins) will be. It is clear that both Honda and Marc start as favorites. It's his circuit, but Alex and Fabio will be strong. And we have tried to go pretty well at the beginning of the race, but it is a mystery at the end. I will try to take care of the rubber as much as possible.
-How is it going on tires?
-In the FP4, I had the hard one in the morning and it went very well. I was also trying things with the bike, but I felt that the average 1:21 could be maintained with used tires, which is a good time. Then with the soft I felt really good. We will depend tomorrow. It will depend a lot on the temperature of the track.
-Wonder here to Marquez would have more value than doing it in another track?
-I think the same. In the end it does not matter in the circuit in which you win. The important thing is to be there and fight for victory or be close to Honda and Marc, to learn their strengths and weaknesses and work hard this summer to improve the bike come stronger.
-Have you seen the E-Pole?
-Yes I've seen it and it's a pretty cool format that I'm sure of, because I never take a wheel.
-It does not coincide with Marc, not even in that, because he has told us that he does not like that format at all.
- (Laughter) .
-And what do you think of the MotoE
-If we change the Rookies Cup for the MotoE it's perfect, because we're always in the box with the noise of the engines of the Rookies Cup. (Smile). It's very different, but they look skated. Oysters how they go! They go to sack. It's amazing.
-Are the benefits of electric bikes better than I expected?
-Yes, yes. When I saw them on the track, I said: "Oysters, how are you!" The time they have done is not bad.
Photos from as.com