Maverick: "Márquez has got this track very well"
"When I followed Márquez I understood my position perfectly, so I decided to keep the tire until the end and try to be on the podium," he says.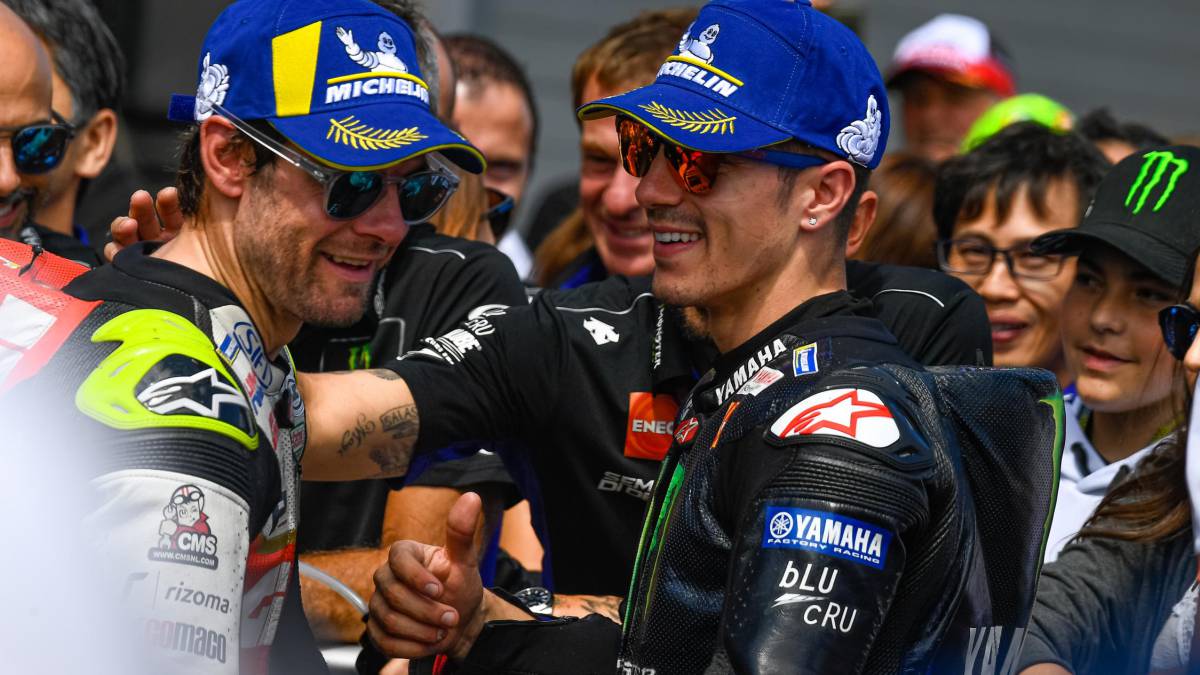 Maverick Viñales has linked two consecutive podiums in just eight days. He was first in Assen and second in Sachsenring, where he knew how to close the door to Crutchlow in the second part of the race.
-Fantastic week with the victory of Assen and the second one here, right?
-Yes. I'm very happy. They were the results that we should have achieved much earlier, but they have come now and I am very happy about the work the team has done.
-Was it impossible to win Marquez here?
-It was very difficult. It went through many factors and the rain from Saturday to Sunday has not helped anything, but happy, because we played our cards. When I followed him I understood my position perfectly, so I decided to keep the tire until the end and try to be on the podium.
-How was the fight with Rins until his fall?
-Rins has escaped and then it seemed that we were taking it, but he made a mistake and then I closed the door to Crutchlow, so he did not go ahead and try to keep the second position as it was.
-I could have been with Rins if he did not reach to fall?
-I do not know. It's hard to say right now.
-How have the track conditions changed with respect to yesterday?
-There was nothing of grip, especially when cutting gas, skidding a lot and taking my way through the curve, It is where our motorcycle is strong. We have suffered a lot there and have to analyze it, because in Assen we had an impressive grip and here it has cost us a lot. The second consecutive podium before the holidays was very important.
-Before it was impossible to finish second if he had no grip ...
-True. Where I felt the strongest was in the first laps and there we got very excited. You have to understand what we have done different weekend weekends to apply them to the following.
-Do you see yourself winning one day winning ten years in a row in the same circuit?
-If it were in one, it would be in Silverstone. (Smile). But it is very difficult to do something like that. His is incredible. I was able to drive behind him and I saw very good lines. His hand has been very well caught on this track.
-Is he already being the first Yamaha in the general?
-Yes, of course. I am very happy to be able to get the most out of the bike. We knew that the hard tire was our option and I came out with them all.
-The next one will be in Brno. What do you expect there from Yamaha?
-On Monday I will test the new bike, which in theory has to arrive. We are very focused on trying to improve this year to better reach the next.
-In Assen said he did not feel Yamaha's number one, but it is clear that right now is the reference, right?
-I have Of course, as I said in Assen, the Yamaha team works for the two pilots, in the direction that everyone likes. It is better to work in the same direction, but hey, Valentino's comments and mine are very similar. We lack a lot of traction behind. In Assen I had very good traction, but here it has cost me. Only when the temperature was not very high in some workouts I was able to take one hundred percent of the bike. We need to improve, of course.
-Why does Rossi finish 19 seconds behind the head?
-The key is in the first laps. I have left behind Marc and squeeze. Surely he has suffered as I lack of traction to cut the gas.
-What will he do in summer?
-I will try to be calm for a few days, enjoy these two results and try to return then stronger.
Photos from as.com