Márquez: "The plate that my brother has given me has served"
Alex appreciates that his brother Marc has ten consecutive poles on this track and says he has given several tips today after the FP3.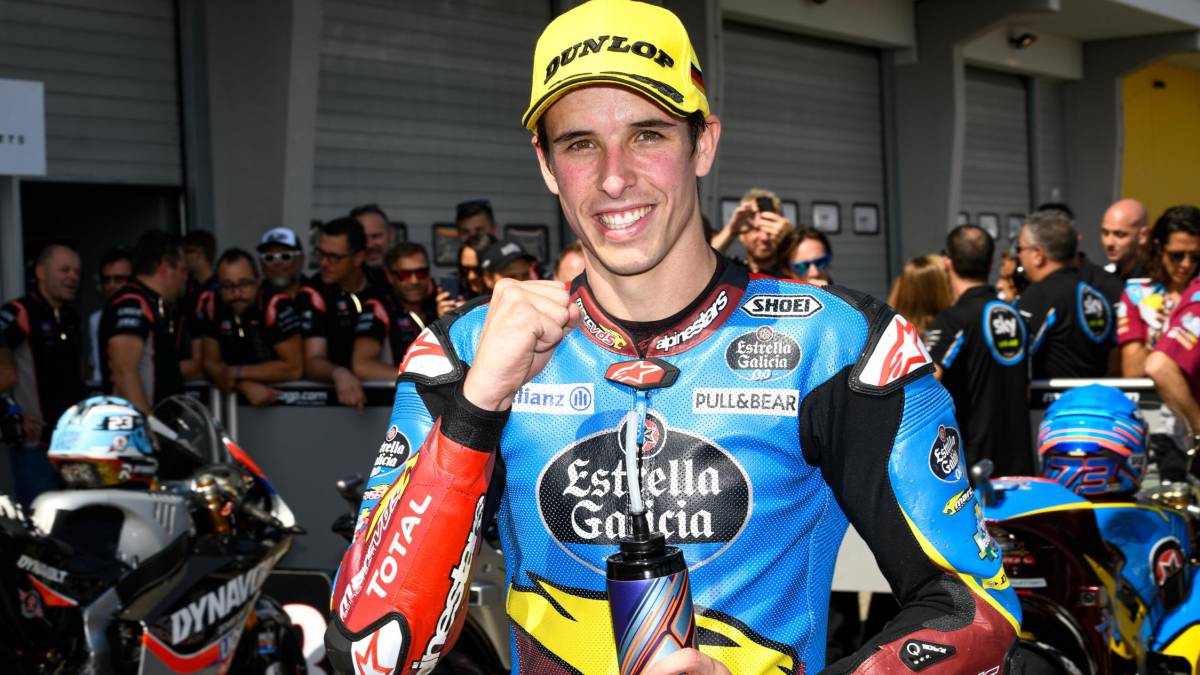 The most unexpected pole of Álex Márquez in Moto2, the first of the year for him and after that in the morning his Kalex stopped him on two occasions.
-Is this pole more unexpected than others seeing the problems that this tomorrow and having had to go through the Q1?
-Well, in many circuits we have been close to the pole, and this is where, in theory, we were farther away, and in which we have gone, so very good.
-What exactly happened in the morning?
-Yesterday we had problems. We did not use the soft tire very much, because we thought that today it would be important to have two for the official, and we used a lot of hard. We did not end badly, fifth in the afternoon, but I was not very happy with the setting. This morning the bike stopped twice when we were trying a different geometry. So when I was able to get back on track I did not have time to react and it was not going well. So for the official we have changed again, and that is when the thing worked and we took this step that was missing.
-Why has the motorcycle stopped?
-Well, from time to time Magneti Marelli gives you a new switchboard, for miles or hours of use, or when they believe, and that's the only thing we've changed.
-Has managed well that tense moment to go through Q1, right?
-Yes, but no It has gone as expected. The plan was to have a good time at the beginning, a 23, but it was complicated, because it was fourth and very fair. But the second tire that I put, only behind, because in front we only had one for Q1 and for Q2, which is what made us suffer the most, it worked. I was able to do a 23.7 solo and that allowed me to go to Q2 with the clear ideas.
-Who will be tomorrow ahead in the race? It's supposed to be one of them ...
-I do not know if I'll be, honestly, because I do not know what pace I have. I think Binder here goes very fast, also Marini, Luthi, Gardner, Schrotter can be there in the race. We in Q2 have not made a bad rhythm, so I'm happy about it,. We will see tomorrow, because conditions can also change. I think we are not fully prepared, but we're not so bad.
-Have you ever met again this weekend with Baldassarri?
-Yes, it's a track, in paddock. It's already closed there.
-Assen thing is forgotten, right?
-Well, not quite, but yes. (Laughs) .
-In MotoGP they are worried about how the tires can work in the second half of the race. In your case there is any doubt or everything is more or less as always?
-Same as always. They are hard, very hard, so yes that lowers the grip although it is not so exaggerated, I think, as in MotoGP. There is spinning, but the spinning is more or less the same for all.
-How do you rate your brother's tenth consecutive pole on this track and tomorrow also aspire to the tenth victory?
-He is not bad at this circuit ... No, he's very good at it. How to value it? I do not know, being for ten years doing this, pole and victory, well, nine for now, says a lot about him. Maintaining this level every year is complicated.
-Don't you ask how you do it?
-Yes, if I found it after FP3. I got a sheet ... Bua: "There you have to cut gas, inside, watch ..." .
-And it works?
-Sometimes not. Because they are different motorcycles! When he tells me to brake early, it's that I have to brake late, it's soon for him. I say: 'Do not tell me that, because I can not do the same'.
-But today has it served?
-Yes, yes, especially in T2. I also told him that the setting was not right and that he could not do what I wanted, but he has insisted and served me.
Photos from as.com