Márquez leads with Rossi and Dovizioso stuck in Q1
The champion set the fastest time with 168 thousandths of advantage over Quartararo, who got a good scare with a 'sheemie' at 250 per hour.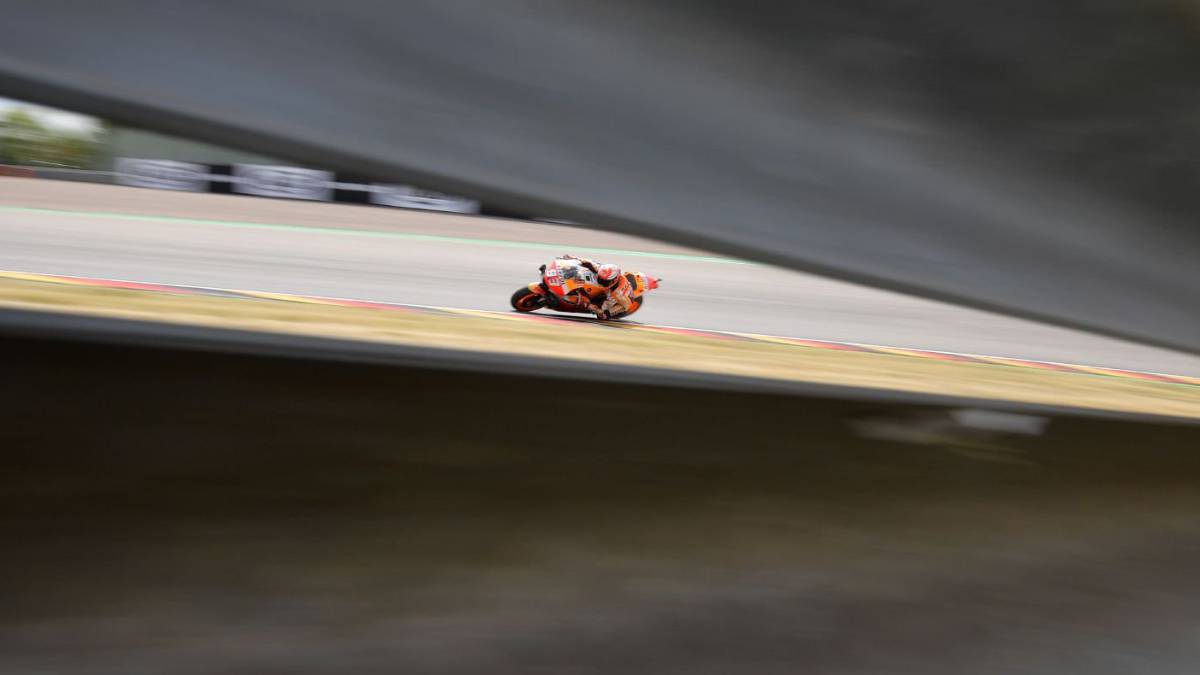 Marquez does not shun hand-to-hand in any of the Sachsenring sessions,
because that is why this German track is his particular garden. He has been winning here without stopping since 2010, always starting from pole, and now he is ready to fight for the tenth consecutive. The FP3 of MotoGP has been a rehearsal of what will be the qualification and he has returned to send the champion. This time he has done with a margin of 168 thousandths on
Quartararo, which took a big scare on his last lap.
When starting the descent of the slide behind the difficult curve 11, his Yamaha began to whip him with a 'sheemie' at 250 per hour that was scary just to see it. The feet of the footrests escaped him in the middle of the rodeo, but the Frenchman held on to his M1 with the toll, though, of doing some damage to his left arm. How would it be the thing that did not stay on the track to test the start, something that his rivals did.
Bastante had the good of Fabio with trying to get past the pain he felt in his arm when he arrived at his box.
In fact, he went straight to the clinic of the circuit and there he was
later detected a subluxation in the left shoulder.
Among the top ten with direct access to the Q2 do not appear
ni Rossi or Dovizioso.
The Yamaha finished eleventh and will pass for the sixth time so far this year by the repechage of Q1.
For the Ducati will be the third time forced to find one of the first two seats of the Q1
to move to the final session in which they decide the first twelve seats of the grill. Those who are calmer at this time, with the first duties of the weekend done, are the aforementioned Márquez and Quartararo, plus
Maverick (with very good pace, despite suffering two exits at the end of the straight, the same as Quartararo),
Crutchlow, Rins, Morbidelli (also it came out once in the curve 1), Petrucci, Miller, Mir and Pol.
They were classified further back and will also pass through Q1 the Spaniards Aleix 12º and Rabat 19º.
Photos from as.com