Kvarme: "Odegaard has grown a lot in the last two years"
The former Real Sociedad was instrumental in the transfer agreement with Real Madrid. The Norwegian explains to the Diario AS the details of the operation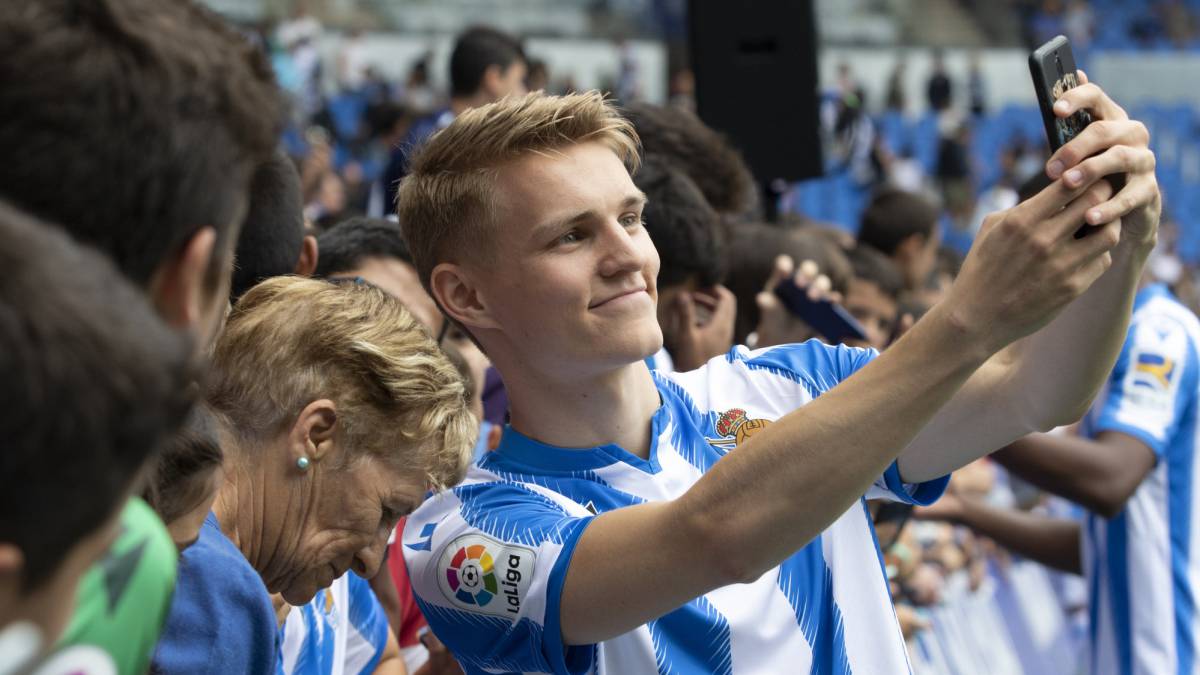 Bjorn Tore Kvarme was a player of the Real Sociedad that was on the verge of winning the third league for the San Sebastian club in the 2002-03 season. Now he is representative of soccer players of his country, Norway. Among them Martin Odegaard, who has just arrived on loan from Madrid for the next two seasons. The former Norwegian player attends the Diario AS in his visit to Donostia accompanying Odegaard and gives the keys to how the operation was closed with the white club and what the young Norwegian player can offer in San Sebastián.
How was the process of the arrival of Martin Odeggard to the Real Sociedad?
He had a pretty good season in Holland and we talked to Madrid to see what the next step was going to be. There was a lot of interest from many teams, good teams, some that play Europa League or Champions, strong teams. But Real has been talking to us for a long time and they have shown a very strong interest in taking Martin Odegaard and he has decided what is best for his future.
I suppose that his good words about the Real will also have influenced him, a team in the Kvarme was very happy, about to touch the glory in 2003 ...
It is clear that I know the club very well. I was three years in the Real and they were wonderful years, but in the end it is the player who must make the decision. I tell him how things are, I know the people here, I know how they work and that they are good people. But it is the player who makes the decision and, in this case, has been Odegaard who has chosen after the advice we gave him.
How very important was the visit they made to Zubieta and Anoeta in full negotiation?
Obviously there is In the Real it was important and the impression, of course, was good. Odegaard is very excited and eager, and believes a lot in the project they have in the Real.
How much has Odegaard changed the boy of 16 years who signed for Real Madrid?
Está more done, more player, of course. He has had a somewhat special career. He went to Madrid at the age of 16 and everyone thought he was a phenomenon and that for his age he was a brilliant player, but playing at Madrid at that age is impossible, no matter how great you are. But now he has been two and a half years in Holland, he has grown a lot as a player and a person, he is much more mature, but he still has things to improve. He has it clear and is always thinking about improving.
What would stand out of the Odegaard that comes to the Real?
Tiene a very special left foot, a pass and a vision of very good game, takes off the fouls very well and has now started to score goals. Technically it is very good and physically it is also. He knows how to compete, he still has to improve, but little by little he grows. A Real can come very well, is ready to play in a club like this.
What have you told about your time at Real to Odegaard?
Le said it will be fine, it is a club close, it makes everything very easy for the player. And that you will enjoy, sure, as I did. I hope so. More now with Anoeta without clues, it's much better than before, I never liked the tracks on the football fields. Now it is phenomenal.
Photos from as.com