"It is a misfortune to coincide at the same time as Márquez"
Interview with AS just renew with Ducati: "We are in a time like Rossi, Doohan or Roberts, because Marc is a Martian".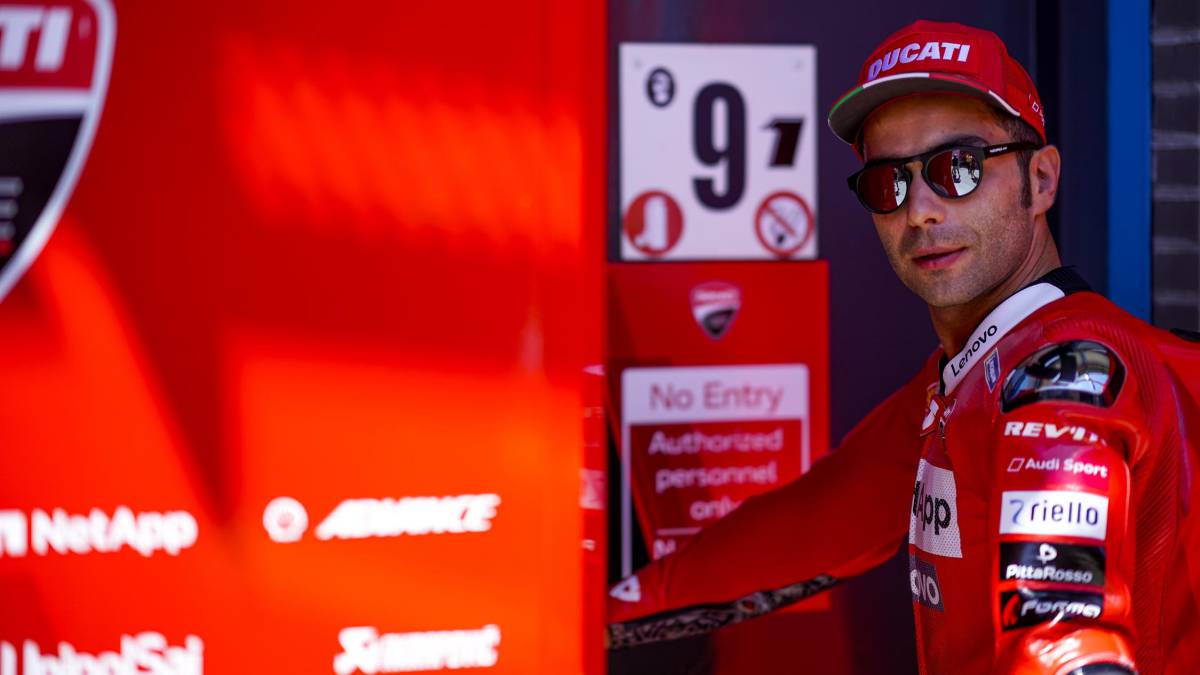 Interview with Danilo Petrucci in the Sachsenring paddock as soon as his renovation was known for a year with Ducati, to continue in 2020 as Dovizioso's partner in the official box. At 28 years old, he sometimes seems like a big boy, because of his spontaneity and sympathy, but he thinks well what he says and does not say any nonsense. Among other pearls, the one that sees Márquez as "a Martian" .
-We have chosen a great moment to do this interview. Congratulations on the renovation.
-Thank you. It's great news for me, because I already know that this year and next I'll be a Ducati official driver, and that was one of my goals. Actually, my goals for this year were to win a race and renew the contract by 2020. I have already done it and I am already satisfied with my season. It's not over, because I'm third in the World Cup and I want to stay there until the end, which will not be easy.
-It seems a fair renewal. The question is whether you have feared at any time of the year that it was not like that.
-Yes, yes. After the first three races it was not clear to me. The problem was that he always had the pressure to show that he had improved and in the first three races, for one reason or another, they were not good. I stopped for a moment and told myself that I was not doing well, but not bad either, and that the pilots who were here did it like I did, with the difference that they were younger, so I do not have so many opportunities. By thinking like that, I realized that I had to give my best and look for better results. From Jerez they arrived and I have always been in front.
-Why only one year of renewal and no more?
-This question you could have asked me last year. It is signed for one year because it is something that both parties wanted, to end the contract at the same time as the other pilots. If it had been for me, I would have renewed for three years, but this is not possible and I have a great opportunity to continue growing this year and get to the one that comes with one more year of experience in an official team. I think that in 2020 we can start with other objectives.
-What would have happened if I had not renewed Ducati?
-I have not thought of other alternatives. My reasoning was that if I did not deserve to continue with this bike it was useless to try to climb on others. Nobody would have loved me. I want to win and I want to have a bike for it. To continue here with a motorcycle without winning options, just to earn more money, is something I would not have wanted. I've been like this and I do not want it anymore.
-Come home?
-Yes. I have always said that if I did not win with this bike nobody would give me the opportunity to get on another winner, at least for now, because I am not 20 years old. It was all or nothing. I knew it from the first moment, since Ducati signed me for one year.
-What now? In Assen he was seen running around Dovizioso's back, which only gets him eight points in the general classification. Have you clarified your role in the team with this renewal?
-It may seem that in Assen I ran like this, but it was that to pass him I had to take a lot of risks and I was not determined. He was stronger than me there. We have no team orders and nobody has told me that I have to be behind Andrea. Everyone tells me to escape from him if I can, and that he does not create problems.
-Common sense?
-Yes. He has a zero more than me and he gets me eight points, having been stronger than me most of the time. In Assen I tried, but he had to have put us both in danger and that is not possible. From now on it will be the same.
-And next year?
-There is not a written agreement in which they tell me what I can do and what I can not do. The only thing we can not do is cause a disaster with one another. This I think is the same in all teams. What we have to do, as I see it, to beat Márquez is to work a little more together. Work the intelligence in certain moments of the weekend, because then in the race everyone runs on their own. We have never had orders before the race.
-The relationship with Dovizioso is great. Can it last in time if they become rivals?
-Yes, but already this year we have discussed. There are moments when you may not be so correct, when in reality all our work is based on friendship and the relationship we have. Hopefully we will one day to dispute the title between the two and I hope that at that point the situation was clearer, but the first thing you have to do is get to gamble, because with Márquez this fast is not easy.
-¿Se Do you feel you have the potential to be a MotoGP champion someday?
333333-It's strange to say, but yes. I'm here to win. It was also strange to say four years ago that I was going to win a race, but I always believed I could do it, even when I was last with the Ioda. Everyone thought that the slow one was me and not the motorcycle, but the slow one was the motorbike. I did not stop believing, to make an effort, to train myself and now I am in a team where it can be achieved. This year is very difficult, because there are many points, but everything is possible, although I must be realistic. Marc this year has a bike superior to ours. At this moment he is very calm and aware of his possibilities, so it is very difficult to beat him.
-Is Márquez the one that makes the Honda superior or is the bike really? Look how are your fellow brand ...
-Last year we were a little similar. I have not tried the Honda, but I saw how it behaved. The Honda turned better. It was much more agile and had less engine than ours. This year, from the outside it is seen that it remains very agile and that it has traction and top speed, so Márquez can easily pass on the straight. It is difficult to beat him with a bike that is at the same level and now we come to tracks where we suffer more and we are less favorites. I say looking from the outside, as it looks so good that the other Honda are all behind and it is only he who makes the difference. I always say that we are in a time like Valentino, Doohan or Roberts, because Marquez is a Martian. It is a disgrace to have coincided at the same time as Marc. (Laughter) .
-Do you feel that you have been unfair to yourself? I am one of those who thought that Ducati was wrong to get rid of Lorenzo, not because you were bad, but by the nivelazo Mallorquin.
-Last year my renovation was like the automatic doors that opened and closed. I stuck my head in when the train left and when the doors were closing. Jorge wanted to continue in Ducati, but he made some statements that they did not like and the Le Mans race, where I won him, was a disaster for him and they decided to change. If those statements had arrived a week later, with Jorge winning at Mugello, maybe Jorge would continue now at Ducati and could be even faster. It changed everything in a week. It was all very strange.
-And you feel that now you have covered mouths?
-No. I can not compare myself to Lorenzo. He is a multi-world champion. He is not getting his full potential with the Honda now. I was upset because the contract they offered me was only one year and, as always, I had one more test ahead of me. Always under pressure. I have always had to show more than others and it is because I do not have a brilliant past in other categories. No one knows what my true potential is, but thanks to Ducati this year is being seen. I'm still under pressure, but in fair mode and I'm third in the championship, with the intention of doing even better next year.
-It's always a pleasure to talk to you. Thank you.
-Thanks to you.
-One more thing ... Do you still have any relationship with the police?
-No, nothing. Since 2017 I have no relationship and now when I see them I leave as if I were a terrorist. (Laughter) .
Photos from as.com