"Someone has rewarded us for Assen's zero"
Álex Márquez: "The return to the leadership feels very good, but the victory, here, I did not expect it at all, in a circuit I had aimed to pass it."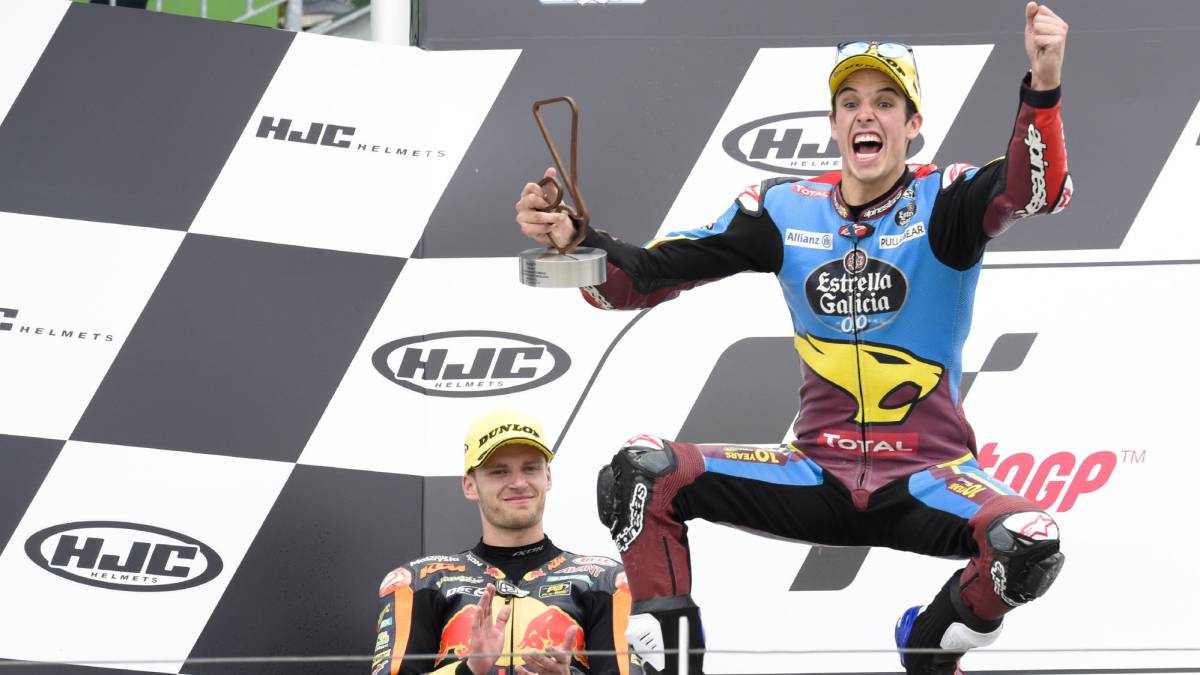 Fourth victory of the year for Álex Márquez and return to the Moto2 lead, now eight points ahead of Luthi. And that's a circuit he does not like.
-What a way to recover from the zero of Assen ...
-Yes, I have the feeling that it has happened a bit like in Le Mans, where we were not the most rapid. We came from a zero and someone has rewarded us for that zero. So I'm very happy We have worked very well and we are going on vacation with a very good taste, yes. I think you can not ask for more.
-What makes you more satisfied, the victory or the return to the leadership?
-The return feels very good, but the victory, here, I did not expect it at all, in a circuit that I had aimed to pass it, so to speak. I have always lost many points here with respect to the others. This year, however, we have been able to recover, so that makes me very happy. We must continue, but the leadership feels very good, especially before going on vacation.
-What is your plan for that vacation, enjoy what you have achieved or crush thinking about the second part of the season?
-Well, I will have a relaxing week, because the physicist also needs it, and after starting to train, start to improve some points that I still think we can improve by doing 'flat track' and doing motocross. Especially since the return is with a double, which is Brno and Austria, where it will be important to return a tad physically stronger.
-He has won but it has been a very complicated weekend, is not it? More than others, in a circuit that he did not like, with problems on Saturday and having to go through Q1 ...
-Sincerely, until Q1 we were not competitive. In the FP3 we did not get a good time to pass, although in terms of pace we were not that bad. But still we were out, both I piloting and the bike set-up. We got both ready for the official, we squeezed a lot, and then everything came from that moment, but it was a hard, hard weekend, and he said 'well, another year ending here bad … can not be'. But we knew how to turn it around, which is the most important thing, and if you want to win a title or at least fight for it, there will be a weekend where things will get complicated and you have to be very skilled.
-Yes I would not have thrown him Baldassarri could have been a five out of five perfectly, right?
-Well, or four, and with a third or a second in Holland. In Assen getting points would have been very important, but also in Jerez. They are things of the past, that comfort us like here, although here we were not to win and someone has rewarded us with this.
-The strategy is still the same, be in the group and when you can take control open a gap and ready?
-Yes, be in the group, add, make top fives, and the day you have the opportunity to win or that is as today, we did not expect, take advantage and get it. Always risking when he plays and when he feels it.
-The races are prepared with their rhythm and that of the rivals. How did he do it here, having to build that strategy already in the race while riding on the bike?
-It was complicated, but he trusted me, because yesterday in Q2, after making the fastest lap, he can make another four very good, although there were four, so I did not know what it would be like to get to 28, how would I handle that situation. But I felt strong, everything and I thought there were riders who were stronger, but we knew we were in the right place at the right time to make that break and that the others would get upset.
-How do you see the situation now? of the championship? He's there ahead with Luthi alone, and now Binder is improving. He said in pre-season that he wanted to score points and he has done it. Are they enough?
-I'm happy because we have also taken points in a circuit where he is very fast, and where he normally wins or is on the podium like today. So it was important to be ahead of him today. It comes from a podium and to stop him a bit here was important, because if he had left here with a victory the dynamics would be different for the second part. Now there is a bigger space between Luthi and me and the third, Augusto, but here everything can change in a moment, and as it was seen in Assen, everything can happen. So, feet on the ground and keep working.
-Who is the rival? Luthi is the closest but it is usually not very strong ...
-I think Luthi, especially for the championship, is very good, he is a rival against whom you can only lose him; If you are alone,He is not going to fail in any race, and we know it. He failed in Argentina and it was very strange. You will finish all the races as you can, and it is eight points. For the championship will be the strongest rival, in my opinion, and then there are riders like Augusto, Baldassarri, who in certain races will be very fast; for the championship, I do not know, especially in the case of Augusto, I do not know if he has the experience. And then there are Marini and Binder, who in the second parts of the championships are very strong.
Photos from as.com