Gimeno: "I like Djokovic, but I always want Nadal to win and I look to him to learn"
Carlos Gimeno (Valencia, 18 years old) plays this Sunday (14:00, Movistar Deportes) the junior final against the Japanese Shintaro Mochizuki (8th favorite).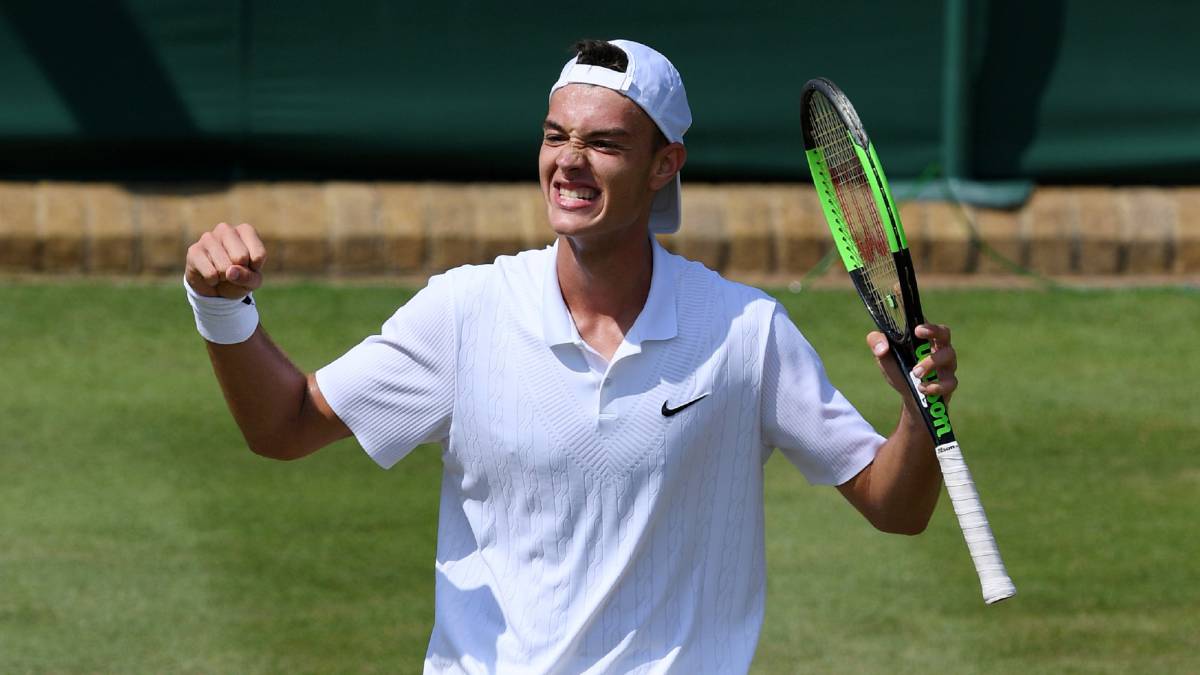 "I'm Carlos Gimeno, from Valencia, I'm 18 years old and I started playing tennis a little late, with eight or nine. I like to go little by little. From the first moment it has always been fun. At first I trained twice a week, then I got better and played more, and until now I have arrived ". This is the letter of presentation of the only Spanish representative that will be in the finals of Wimbledon. This Sunday (2pm, Movistar Deportes) will play the junior tournament against the Japanese Shintaro Mochizuki (16 years and eighth seed). He had not played on grass until he faced the third favorite on Friday, the Brazilian Thiago Agustín Tirante and won him with a comeback in three sets. He also had to recover from an adverse score in eighths and quarters, until in the semifinals he won in two sets to the Frenchman Harold Mayot. Now he can become the third Spanish champion of the category in the British Grand Slam, after Manuel Orantes (1967) and Alejandro Davidovich (2017). Javier Sánchez Vicario (1986) and Magüi Serna (1996) were finalists.
In the most important match preview of his short career, the boy chatted a little bit with AS in Aorangi Park, shortly before training. "I've been at the Ferrer Tennis Academy for a month, with Javier Martín and Israel Vior. David has also been with me, on the track and giving me advice to get to Wimbledon ", before praising his new mentor:" Everything Ferrer has done, how he is on and off the track, he must be a reference for everyone in the world of tennis. " Gimeno has more mirrors to look at: "I like the way Djokovic plays, but since I am Spanish, I always want Nadal to win and I try to focus on him to learn" . And he knows how his tennis is: "I like to play aggressive, but also to long rallies, to rally until I can look for the winning shot. I try to get well and also subtract aggressive ".
On his quick adaptation to the grass (he arrived on Thursday 4 at 5:00 pm and debuted on Friday morning), he recognizes that he was surprised: " Before coming they told me that the first days were going to be horrible, but from the first training I was surprised because I liked it a lot. I adapted well to mobility, to the blows ... I did not expect it ". A few days later he will play the junior final of Wimbledon, which seems "a rush". "It gives me a lot of confidence to do better now." As a person he says he is "reserved." "I like to stay with my friends and go to the beach now in the summer. I like tennis a lot and when I can I'll watch some team play ". And he considers himself a football fan: "I'm from Valencia," he says proudly. These days he has been delighted with what he has seen in the All England Club: "I have seen almost all the players in the venue, training or warming up, but I have not greeted them. I took photos with some, with Djokovic and Murray. Let's see if I catch Federer. " And I get it, the Swiss and Djokovic. Someday I could be like them.
Photos from as.com