Ander Guevara: "I dream of being important in Real"
For years he has been knocking on the door of the first team until he knocked down the last course with a great game against Levante. Now he is part of the Real and begins his adventure in professional football. After leaving the subsidiary, he gives Diario AS the first interview of his career.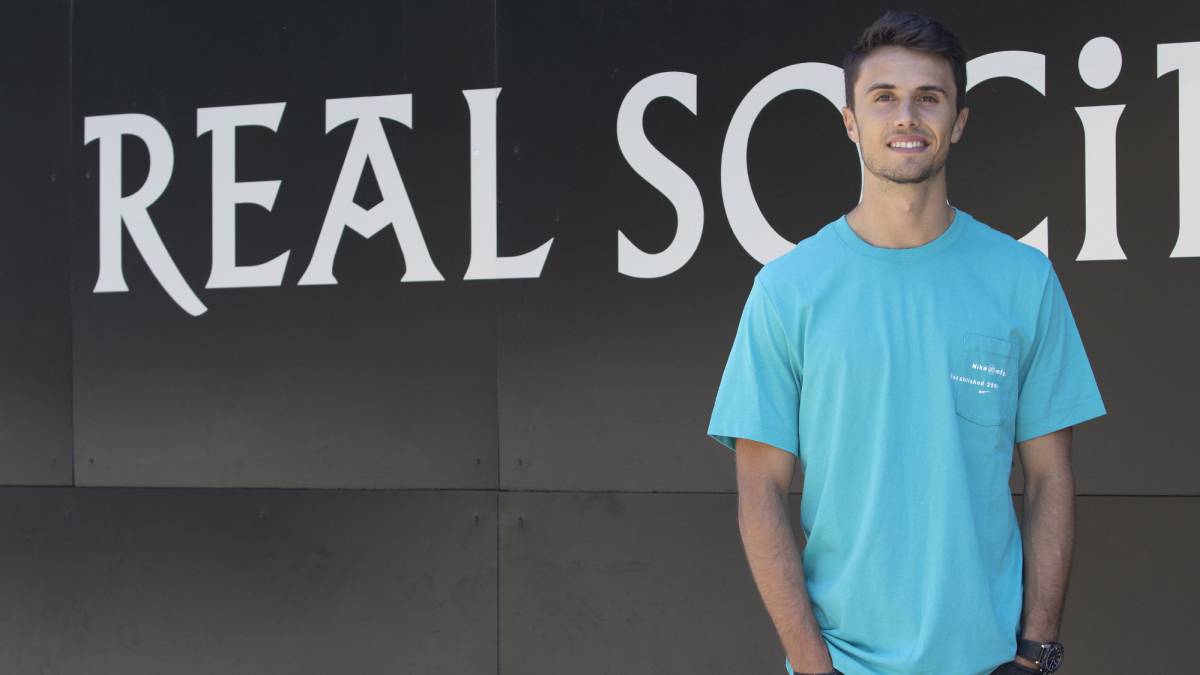 -How are you doing these special days as a first team player?
With great enthusiasm, because it is not tears in the preseason, but as part of the group as one more is the first. I tried to prepare well to get the best possible, and these first days are being very special, we are training very strong.
-What is going through his head when they tell him that he is going to climb the first team already?
It is difficult to explain. It is the maximum you aspire to. When you enter the Real, I'm quite young, you only work with that goal, and after so many years, when they tell you that they count on you to be in the first team, you feel immense happiness.
-And in your case more happiness ? I say it because I have the feeling that it has cost him to reach more than we all thought a few years ago ...
I do not know. But I am very clear about the type of player I am. I'm not a serial beast. I have a very specific position, I'm a midfielder. I think I have a characteristic that has helped me these years, that I am a hard worker and constant. And the result of that has come the prize, maybe a little later as you say, but I would not change the way I'm having for nothing.
-Those who know me also stand out from you their personality, shown as captain of the subsidiary .. .
Yes, it's that I like to be noticed, I like to talk, because communication in the field is important, and more from my position, because in the center you see more things, you see what the game asks at all times, and I like it correct everything I can to the one next to me, and in that sense if I like to try to be a good communicator.
-Last year he made his first debut, but just after he got injured.
(Smiles) Well, it was a bit hard, because I had been waiting for a long time with that illusion of debut in First, and I have the feeling that that day I made a decent match to be first. And from there the expectations were high, even the ones that I put, but in the end the injuries do not control them. Try to squeeze as much as possible, because you thought you could have another chance. Then the recovery was good, and in the end I had to help Sanse more, we had a difficult time, and also delighted.
-That day against Levante did he really realize he could be a Primera player?
Can be , because it is clear that until you really do not play, you do not realize that maybe you can be valid. And yes it is true that until then I had a lot of workouts with the first team, but until you make your debut, you do not know if you will be up to the task. But I have to tell you a secret.
-Say, say ...
The week before I had many people who threw a cable. I remember, above all, the capi, from Illarra, who the day before took me to the gym and told me to be calm, to do it as I knew. And that helped me a lot. And then, of course, Imanol's confidence. I was convinced that I could do it, and I realized at the end that I could fight with people from Primera.
-Do you help to get into the first team by the hand of a coach with whom you have spent so much time in the subsidiary?
Yes, because apart from that you trust him in advance, we've spent a lot of time together, it's the kind of game he wants to implement, he does it all naturally, and it's all easier because you know what he's going to ask for and he knows what you can give, so in that sense the adaptation is easier.
-It will also help the change of the subsidiary for a few years, adapting to the demands and intensity of the first team ...
Yes, because I believe that that's something that was changing over the years in Sanse and it shows. Although it is true that this is the first level, everything goes faster and errors are paid more expensive. And in that sense every day is a learning. We are waiting and it is difficult to take the necessary gear.
-It is that the competition that has in the center of the field is brutal ...
True, but it is not to look good, I really see it that way, the fact of being Tanya people in The midfield, to me helps me learn a lot every day and demands more from me. Because those of us who come from below have more to prove. I think I'm lucky to be able to be with them every day.
-What do they give them in Zubieta so that they leave so good mediocentros?
(Smiles) I do not know, in recent years it's true that a lot of people have come out inside. At the end from below we work very well, the basic concepts of the midfielder are very internalized and from small they teach us how to shape, guide and playia in front. And there you see the results.
-Are you facing your great opportunity to prove that you have a place in the First?
May be. In my family we have always seen it very clearly, since I arrived in cadets every year was the great opportunity because it was to continue improving and growing. And now I think it is the same, although it is Prime and that gives me as a great opportunity, but I am young and I hope there are many seasons ahead.
-What are your expectations in this first year in the First?
The first thing that we all go well and the objectives are met. And individually I want to play as much as possible, but help and if I have to assume a role of playing less, from the first moment I will assume it happy to help.
-If you do not get to go up to the first team, you are looking for a Out of the club?
I tried to be on the sidelines of that, they talked about Alaves and I hated things. But from the first moment the club has trusted me, and we have gone face to face and just thought about being in the First team, and that's where the story ends.
-How is Ander Guevara when he leaves Zubieta?
A normal boy. I have my studies, I am studying law, I have some third and fourth courses. And then we'll see if I get to do the master's degree. Then I am friends with my friends, I have a girlfriend, I like to go back to Vitoria to be with my parents. Very normal all.
-Do you think as Barrenetxea that they have a team to qualify for the Champions?
For I think that we are not ambitious right now, it will be bad for us. The team that is forming is super complete and we can aspire to everything. Then time will tell and what level we can give. But I do not think you have to set limits, and Europe must be an ambition.
-What do you think the signings?
No good, really. They are very normal guys and they have a leveling, they have come with a lot of enthusiasm and they are committed. They are a success and will give a very high level.
-By the way, what did you feel when the grandstand Aitor Zabaleta sang happy birthday?
It was a surprise, really. They had told me but I did not remember. And when it happened, I thought 'where will I go?' (Laughter) It was super special. I still have the creeps when I remember it.
-What does Ander Guevara dream of in the Real?
Sleep with being here for many years and be important here and give good level. And when it's time for me to leave, I hope it's too late, for people to keep a good memory of me.
-And if the club proposes an assignment this summer ...
You will see, but I do not think about it, because They have said that they count on me as one more in the First team. I am aware that there are many people in my position and it will be expensive to play. But for that I work hard, to be able to count on minutes. And if that situation comes, it will be talked about, but I do not think of something like that.
-Do you want Xabi Alonso to ask for advice?
I'm thinking about it because seeing him when he arrived was a rush. It is fortunate that I have returned to the club and the people of the Sanse I am convinced that it will come very well.
Photos from as.com