With Neuville on the Fafe stage: flying I'm flying, I'm coming
AS experienced the experience of co-driving with the Belgian Hyundai driver in the section known as 'the cathedral' and his famous jump of the World Rally Championship.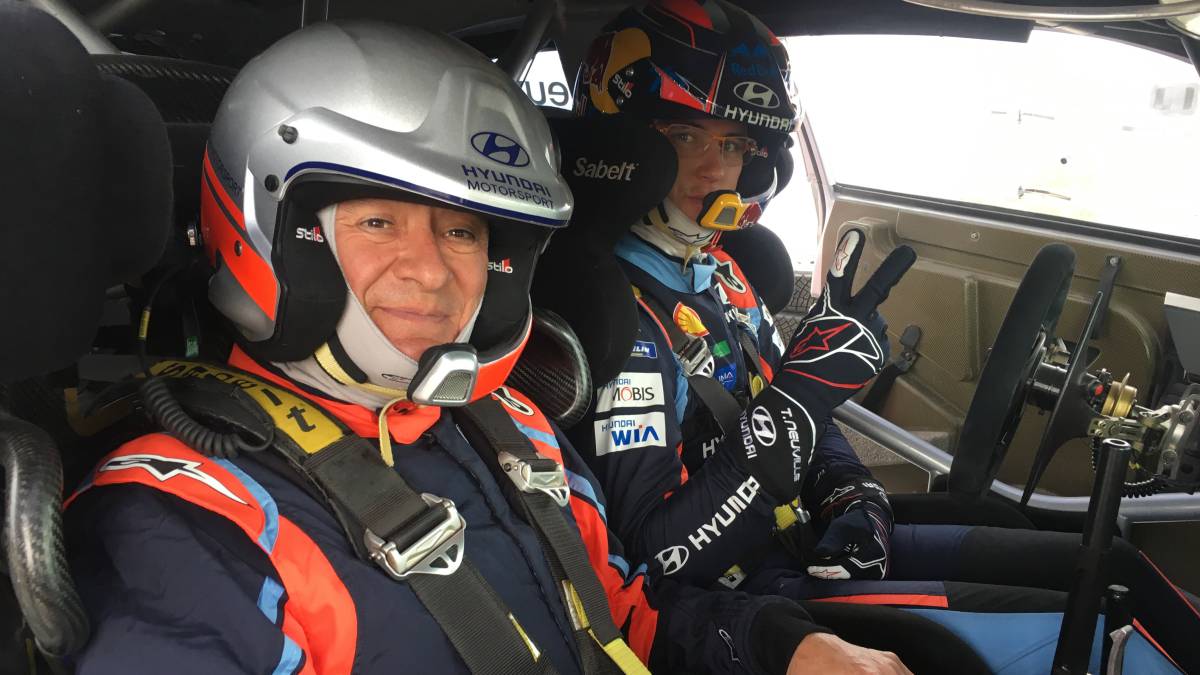 The cathedral of the rallys showed a different face. Without the 150,000 spectators who yesterday vibrated with the outcome of the seventh World Championship on its slopes, it seemed another thing. But there it was, omnipresent, mute witness of the history of the specialty, the jump of Pedra Sitted that takes to the goal of the mythical section of Fafe.
It receives us smiling Thierry Neuville, the man that after flying by that place culminated the Rally of Portugal only 24 hours before in second position. And, at his side, imposing, the Hyundai i20 WRC with which the Belgian has two wins so far this year, third in the overall progress, and the car that runs at the head of the classification of brands. Also the car with which three weeks ago Neuville himself starred in a spectacular accident in Chile, with seven cartwheels included, which miraculously left unharmed ... although that would be better not even remember.
Y, under his name, that of a humble servant who is about to experience in his flesh what suffers Nicolas Gilsoul, his co-pilot, during 14 tests a year and their corresponding tests. Without further ado, once the harnesses are adjusted, Neuville gets in first and heads towards the section, which we will first do in the opposite direction, until the asphalt crossing, and then in the right direction. Something more than four kilometers of adrenaline and strong sensations. "Is it your first time?" He asks me. "What's up!", He replied, what he looks like a bad boy, clenches his teeth, and catapults us downhill.
Tras jump in the opposite direction tells me that "now comes the fastest" . A succession of curves that go at a speed of vertigo, but he negotiates as if he were driving a taxi, with complete peace of mind, while explaining to me what is coming. In the blink of an eye, which lasted more than two minutes but has flown by, we reached the asphalt, where we changed direction. "Do you go one hundred percent?", I ask. "I'm going fast, but not to the maximum, because the car is not with the proper differential and aerodynamic settings", he answers me.
Y again we are catapulted uphill. Curve to the right, curve to the left, and in another jiffy we are already in the jump again. Frena just before reaching the level, and we went flying 50 meters at 120 kilometers per hour. "Yujuuuu!" , I can not suppress the scream, just before finishing. Neuville explains that "it was a very tough rally, especially on Friday and Saturday, with external temperatures of up to 36 degrees, which were 65 or more inside the car, so I drink about 7 liters of water per stage, and still lose a few kilos every day. " And so we finished a unique experience
Photos from as.com