"I was waiting for Pirro, but I did not go out and followed Dovizioso"
On Lorenzo's plan, he says: "Honda always follows the evolution of the fastest driver, it is true that it is a difficult bike, but there were three in Q2".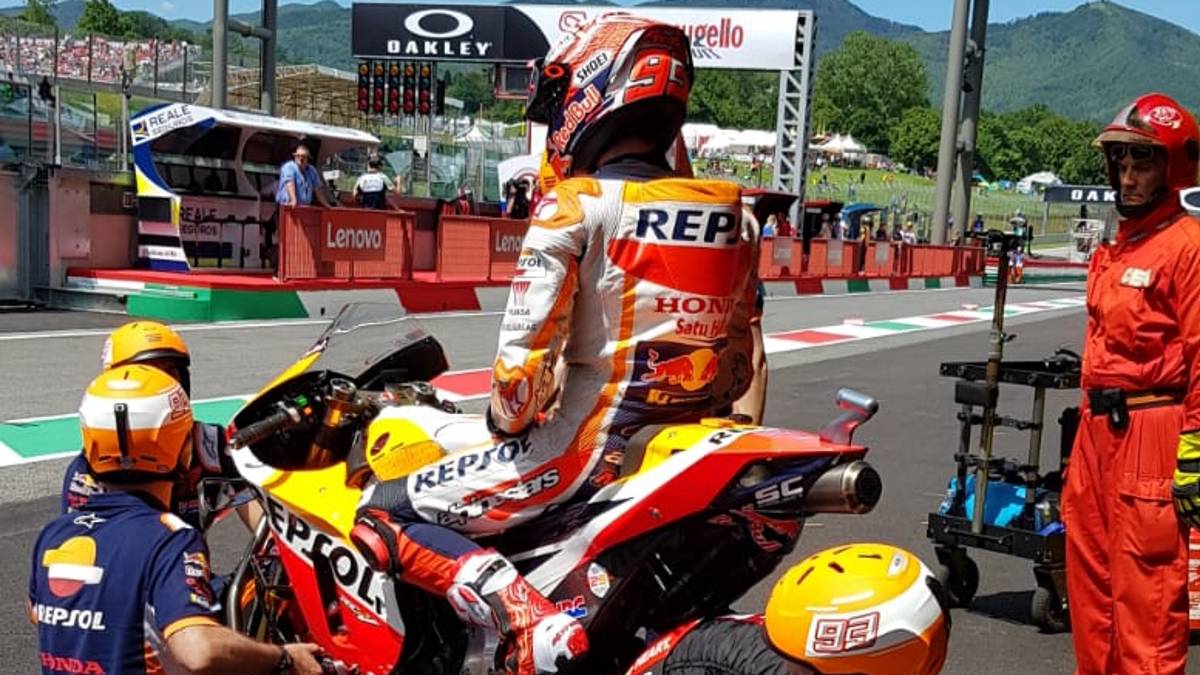 Marc Márquez
has explained in great detail the strategy that has led him to get his fourth pole of the season and
defends the Honda to the requests of Lorenzo
of a work plan parallel to his, to make a bike more suitable for all The public.
-Have you been the smartest in the class?
-Well, it was a combination of speed plus strategy, maybe a little improvised and provoked, since I've come out and seen, or has given me that impression , that from the first moment Pirro was marking me everything he did. If I went long, he would long. Then I stopped to change the tire and kept waiting for me and then I said quickly to Santi: "We are going to change and we are going to use the same strategy, but on the contrary". And that's where I was waiting for Pirro to shoot, but how he did not, I decided that we were going to follow Dovizioso and we did it that way and it went well for us. It is not the best way to get a pole, because I am always one of the drivers who pulls only in front, but today I played this.
-Has it helped you especially the aspiration of your Ducati on the straight? Before, on the other hand, in a previous outing it bothered him and he hit him with an ax ...
-Yes, well, with the first tire came fast and suddenly Dovizioso and Petrucci have slowed down a lot. Petrucci has departed, but Dovizioso has not stayed in the middle and I passed him, because he knew he was coming back in good time. That first tire has to position you, at least with a time, be between the first two or three lines, I've done it. With the second, chance or not, I calculated the distance I left. I have not started the lap very close and I have left him like a second, so I was not sucking the wheel, but I have been catching him during the lap to get perfect to the straight and the finish line.
-How much can you give that slip in time?
-One or tenth and a half insurance but I have not looked in telemetry. It goes to more than 300 and that helps.
-Do you have the feeling of being able to take advantage of others' problems or is Sunday something else?
-I wish this result was tomorrow, because it would be very good to think about the championship , but the important thing is to be constant. - I already said it in Le Mans and I say it again here, that the important thing is to be constant in all conditions, in all circuits and this is one of the circuits in which we suffer, but welcome the problems because it seems that the rivals suffer more. I think that Dovizioso is not suffering as much as he seems and tomorrow he will be fighting for the podium and that is why we will try to be there in the best way. From the outset, if you look at the papers, the fastest are now Quartararo and Viñales.
-Do you still stand on Thursday's score or that priority has changed?
-We start from the pole and we will not say that, but this circuit, for example, is where we have changed more things of set-up and it is of those that we have arrived later at the moment of being comfortable in the FP4. In the others, from the FP2 I was feeling good and we clicked up or click down, a few things, but here we have had to make big changes since it is a special circuit. Each year it costs us a bit, but we just arrived and tomorrow in the race for me a podium would be a good result.
-Have you seen the joy that has given the team with the pole?
-You know what we are working because they are still looking at things to try to improve for tomorrow. They also know that yesterday I was devastated and today I am better, and tomorrow I should be even better, because the doctors are taking good care of me. And when you take the pole in the last lap it produces this ecstasy, but tomorrow is the important thing and for me this pole does not mean anything.
-Has the strategy been yours?
-It is true that the team helps a lot and gives you this tranquility, but sometimes it has been the team's strategy and today it was me who decided at the last moment. I think Valentino has given many kinds of strategy, of qualification, of always getting a little more. I have learned a lot from him and it is logical that sometimes go wrong, but when you have the speed the strategy is easier to get it right.
-Will Lorenzo try to convince Honda to make a more versatile motorcycle?
-At the end Honda always follows the evolution of the fastest driver, it is true that it is a difficult and complicated bike but today there were three Honda in Q2 so the bike is not so bad.
Photos from as.com