"We want to be a better Valencia and that happens to be reinforced"
Marcelino García Toral (Careñes, 1965) attends AS in his beloved Asturias. The Valencia coach shows his most personal side.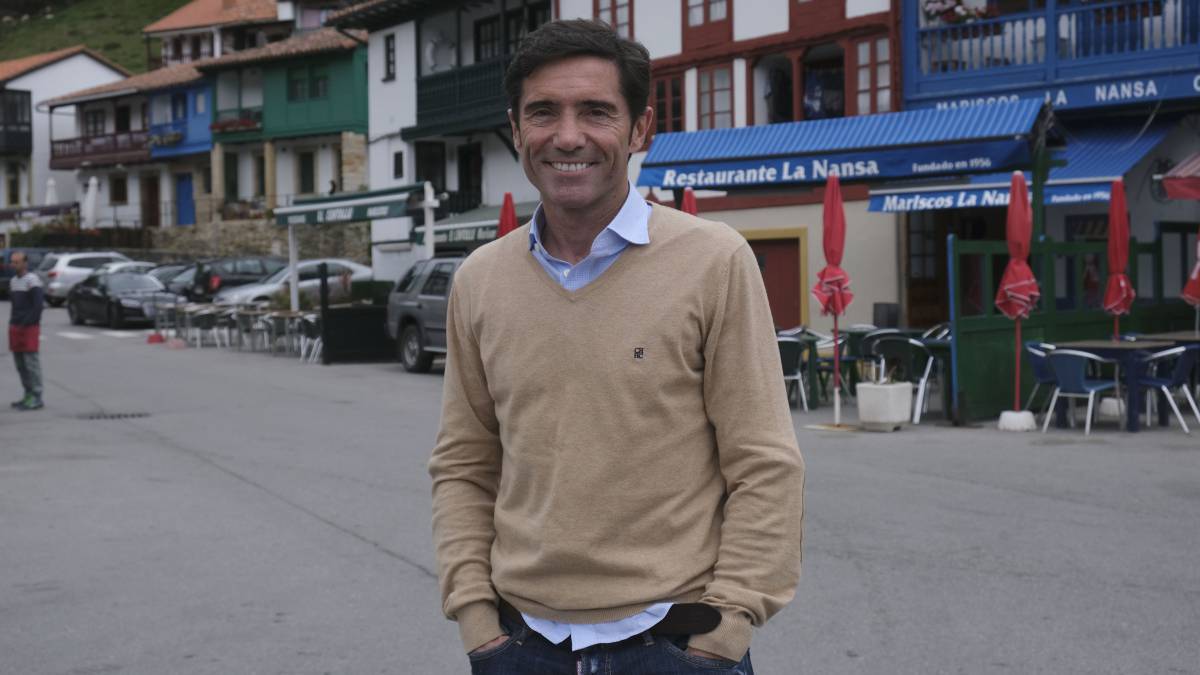 Come back home as a champion knows better?
Back to Asturias always knows me equally well. It is my land and here I am always happy. Obviously this summer I notice happiness in the people who know me. They are not as happy as I am (laughs), but much of what happened. For them I think it is also important that a person from his environment achieve things in his life.
What is left of the Marcellin who started in Villaviciosa?
For I think a lot. I try that a lot. In the main, almost everything. I try to be the person my parents raised to be faithful to the values with which I grew up. Logically as a coach, over the years, you change criteria and add thoughts. But I remember each of the kids I trained for the first time here. It was a field of land and we had to go for the balls to the river to continue training. Remember all that helps me to know where I started and assess where we have arrived.
Did you imagine that it would get to raise a Copa del Rey?
For nothing. I ran out of equipment and asked to train with them until December to see if anything came out. I liked football and Loyalty allowed me to do it from the prism of the coach. It was here that the possibility of directing the Youth emerged. How would I think then that I would arrive at a club like Valencia!
Did not I have that ambition?
I'm not like that, I do not obsess about big goals. I am a person who enjoys everything at the time. So I enjoyed training kids, now I enjoy getting the most out of professionals. But one and the other moment revolves around the same, of a ball. So I have always understood football.
Country before Mateu Alemany to Valencia?
We hadn't crossed a word before.
And what is today for you?
I'll always consider you my boss, and as such I have him the maximum respect. But I will also consider him forever a friend. He has proven me. I will eternally thank you for the support you gave us in times of difficulty.
In January, did you ever come home and say to your wife: 'Honey, we have little here'? "
Never. I always had the conviction and the illusion that I would change the dynamics. It was solely and exclusively a matter of success. In those days I just wanted to get back to normal, for the players to get closer to their effectiveness statistics. Only that was enough to overcome.
Your year can be summed up in three hugs: the one that Parejo gave him after his goal to Valladolid, the one Rodrigo gave him after the victory in Vigo and the one that occurred with Alemany in Sevilla.
We are so affectionate (laughs). In the embrace with Mateu (Alemany) was given free rein to a thousand feelings. There were very complicated months. But in turn I have been lucky to feel the support of the players, which is not easy to have when the results do not come out. I always appreciate very much those hugs of Parejo and Rodrigo.
¿Are you training Rodrigo next year?
I do see myself training him, because he is a great footballer and important for Valencia. But I am aware that the club and the footballer, in certain circumstances, can decide otherwise because the market situation is favorable for all.
Has the leadership of Parejo surprised you?
Nada. Dani has the capacity for that and for much more. Another thing is that he has begun to assume at a certain time by the circumstances of the group, which has been in recent years. But Dani had and has that ability. His high performance has helped that hierarchy. The one is linked to the other. Performance gives hierarchy. Passes on all computers. The hierarchy is won, it is not granted and Dani earns it to pulse.
¿Which Valencia wants to go?
A a better Valencia. That is the intention. Improve always.
And what is now a better Valencia?
From a sports point of view, we must analyze what positions we need to enhance and with what profile. And then the issue of departures and transfers does not concern me, decisions are the club.
Eso in terms of planning, but in terms of project, after getting into the Champions League and win the Cup, what do you mean to improve?
Always you have to have the ambition to grow. And to grow all together. We saw this year what is the determining factor between the team and the fans. Then you have to be analytical enough to know that today we are on our roof. It is difficult in the short term to overcome what we have done: fourth, semifinalist of Europe Legue and champion of Cup beforethe Barcelona of Messi. Being aware of where we are does not mean that we have the illusion and ambition to grow, but Valencia came from years of irregularity and at that time the economic growth of Barcelona, Madrid and Atlético was brutal, which made the distance grow. We try to decrease.
What percentage of the staff has already done?
Diría that 75%. Then you depend on possible sales, because a club like Valencia has to be open to that possibility. But we have a lot of staff already done.
Perhaps it is the most 'made' has in relation to Barcelona, Atlético and Real Madrid.
Seguramente be so. But I think that to get closer, the club needs, I do not know how to say it, more investment or sell-buy to be able to invest more. I think that Atlético does have to recompose itself more than we do in very important positions; Real Madrid is obviously also and Barcelona, because I do not know, because he was league champion with solvency. But if we want to get closer to those at the top and get away from those at the back, we need to strengthen certain positions and that means money. If not, then you have to try. The club bet strongly on players like Guedes and Kondogbia and that's why we have a very good base, but to make that level jump there are positions that we must strengthen.
¿The Cup is the unforgettable; the Champions, what is necessary?
I believe that the Champions League for the club is necessary. In fact that obligation and necessity was a brake on the team in many games, it generated anxiety. It was to get into Champions and the final of Seville was proven how much the team freed.
What is your opinion of the alleged match of Valladolid players?
The facts show that we are beyond suspicion. From there, for the good of football, that measures are taken to eradicate those actions.
Con what image remains of the Cup final?
Only one? The feeling of children. During the rúa, I saw the jubilant face of children of no more than 6 years old and I saw the 'sentiment' of being from Valencia. Making people happy is the biggest part of our work.
Photos from as.com