Vettel is reborn with a champion pole that gives wings to Ferrari
Hamilton was second, followed by Leclerc, and Ricciardo achieved a surprising fourth place in Montreal. Verstappen failed. Sainz, ninth.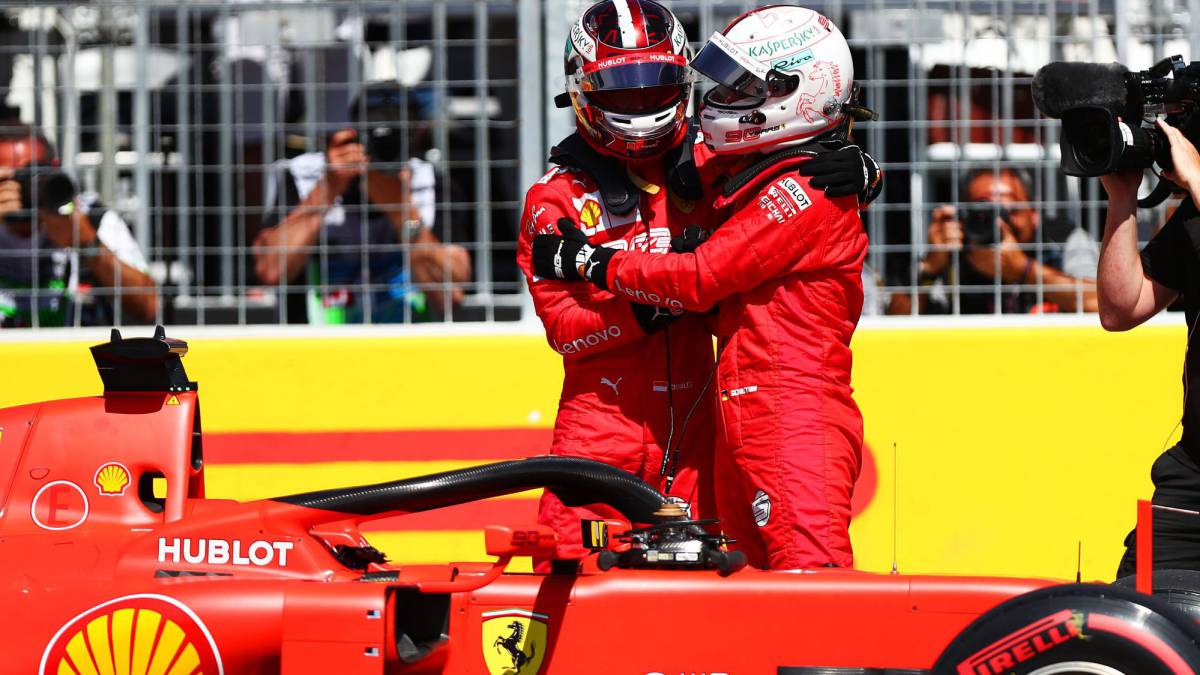 It was a day to get close to the concrete, large door or nursing at the Gilles Villeneuve in Montreal. Magnussen irremediably touched the second when he destroyed the Haas in the iconic 'Wall of Champions', also ruining the options of Verstappen. The Red Bull came in fast lap to avoid being eliminated in Q2 when a road was found cut off by Kevin's spectacular accident. 'Mad Max' kissed that same wall the day before, so he must forgive the Dane. And Schumacher or Hill will have to forgive both for staining their walls of legend: these outsiders have no World Cup in their showcase.
had to play the guy because it was expected equality between Ferrari and Mercedes, and in that vortex resurrected a four-time champion. Great pole of Sebastian Vettel in Montreal, the first in 17 great prizes, and strong blow in the table of the German when it was spoken of retired anticipated and it was submitted to him in the garage by his talented but inexperienced companion. 'Seb' took advantage of the superiority of the SF90 in the Canadian lines to reduce Hamilton's time by two tenths, which comes second and stalking. He did it under the checkered flag, at the last moment, after an exhibition by Lewis the day he had everything against him. Third was Charles Leclerc, who made mistakes in the final round, and fourth another reborn, Daniel Ricciardo with the Renault ahead of the Red Bull of his heir, Pierre Gasly. Worse did Bottas, sixth and fallon, overcome by the pressure of having real rivals.
It was not the Q3 dreamed for Carlos Sainz, who went from braking in his attempt and finished ninth behind Lando Norris. Then the commissioners applied three sanctions for obstructing Albon in the first session. Although, in any case, the McLaren gave in respect to Renault because also Hulkenberg was ahead of both. The Spaniard could not reissue the fourth place of the free practice, partly because it was not real, but at least he entered with a certain margin to the top-10.
Verstappen's error, the one that condemned him out of the top-10, was riding medium tires in the second session as Ferrari and Mercedes had, he encountered traffic in his first two attempts and stood at the last moment without time and without luck. Toro Rosso, Giovinazzi and Grosjean also fell, joining the Racing Point and Raikkonen who, along with Williams, had not passed a disappointing Q1 for the team of Perez and Stroll, who runs at the owner's house. In this circuit that requires wild power and some aerodynamic efficiency, some teams have been in evidence. And others, like Ferrari, have led to a change in trend.
Photos from as.com