Unzué: "I accept the challenge of returning Girona to Primera"
The technician is optimistic, but launches a warning: "Do not get up in October." He will not be able to keep all the players, but he makes it clear that "we will make a good team".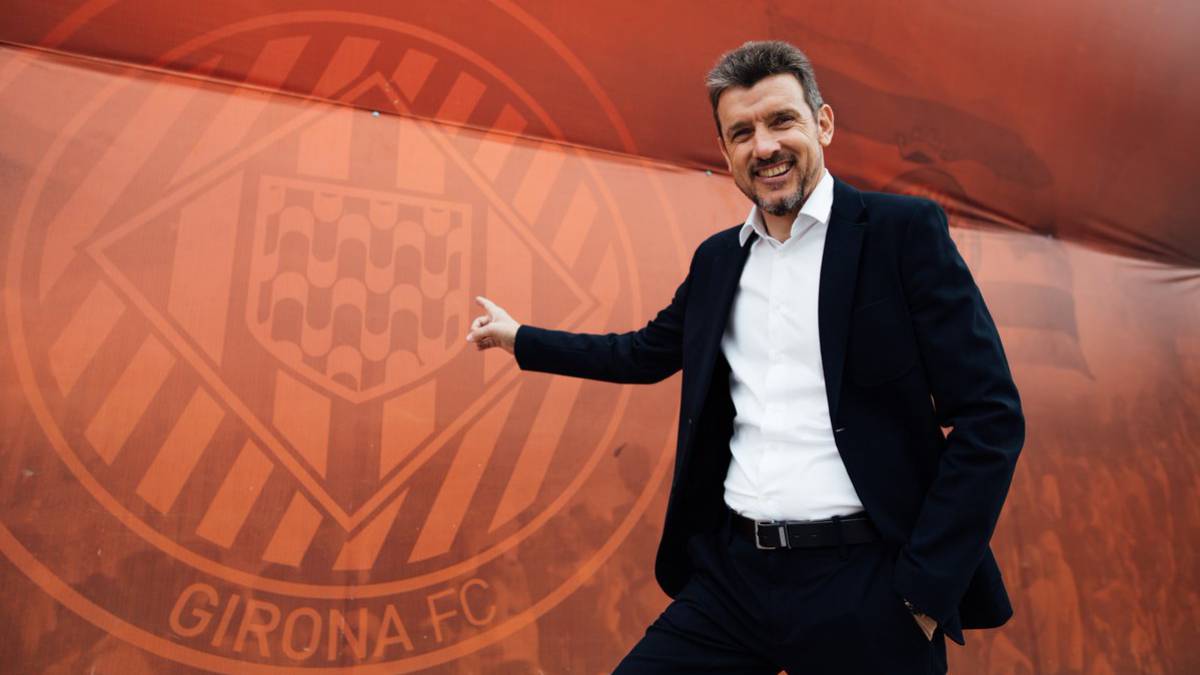 A new era begins in Girona. Juan Carlos Unzué has been presented this Friday at noon in Montilivi and arrives excited to face his third experience as head coach. The Navarran coach, who signed for one season plus two optional, lands with the sole objective of returning the club to Girona as soon as possible. Reject the pressure and is clear that bet on a beautiful and competitive football. "I accept the challenge of returning Girona to the First Division. I hope to live up to what is expected of me. The promotion is the objective, but everything that may happen afterwards I can not control it and we must be clear that it does not go up in October or November. There will be times of difficulty, sure, because it is a very even league ", he started.
Unzué is the twelfth coach of Girona since he returned to professional football, season 2008-09, and has been chosen because, according to the president rojiblanco , Delfi Geli, "is the ideal person for this new stage, in which we have to work together to achieve the goal." Geli and the sports director, Quique Cárcel, accompanied him in his presentation and the latter explained that " I know Juan Carlos well and he is very excited about this challenge and be able to take Girona to achieve the most ambitious objectives. After a season without training comes with a lot of energy. " Later, Unzué already spoke and launched messages full of hope: "We will give the fans reasons to be by our side and feel proud of the feeling of belonging they already have". The style of play for which he will bet was one of the key questions of his press conference and he commented that " we will try to be a team that dominates the maximum number of soccer concepts, with ball and without it. We have to be chameleon to adapt to the difficulties that rivals pose us. I will try to see where the players feel more comfortable and from there we will decide. I am a close friend of Machín and Eusebio, but I am Unzué and within my idea I will prioritize to capture in which situations the players are better ".
The new coach from Girona lands alone, without a coaching staff. Of course, the Girona club has already provided helpers who know the team and the entity. They are Narcís Pèlach 'Chicho, Juan Carlos Moreno, Omar Harrak and Iñaki Codinach. "Quique proposed me the people that will configure the coaching staff and I have had a lot of feeling with all of them. Chicho has ambition and enthusiasm. Surely we understand each other because in a certain way I see myself reflected in him ". On the other hand, one of the great unknowns of Girona ahead of the next season is knowing which players of the current squad you will be able to count on. Substantial summer remains, but Unzué warned that "I would like to retain the maximum possible. But we have to be realistic and surely one of them will come out. Having said that, I am clear that we will make a good team. I know the staff well and what I want is for those who remain to do so convinced that we can achieve the challenge we face ". And young people? Valery already has a professional record, but players like Paik, Pachón and Soni will do the preseason with the first team: "I care very little about the age of the players. If they win it, the young people will also have their chance. "
Finally, Unzué spoke of the 'Operation Oikos'. He is on the side of the rojiblanco club after having requested a league with 21 teams and added that " the entity is defending their rights in a respectful manner. Of course, as long as there is no change I will focus on training Girona in Segunda ".
Photos from as.com