The Criterium du Dauphiné marks the post-Giro week in Italy
The French event, which starts on Sunday, will serve many runners as the last big test before ompetir from the July 6 in the Tour de France.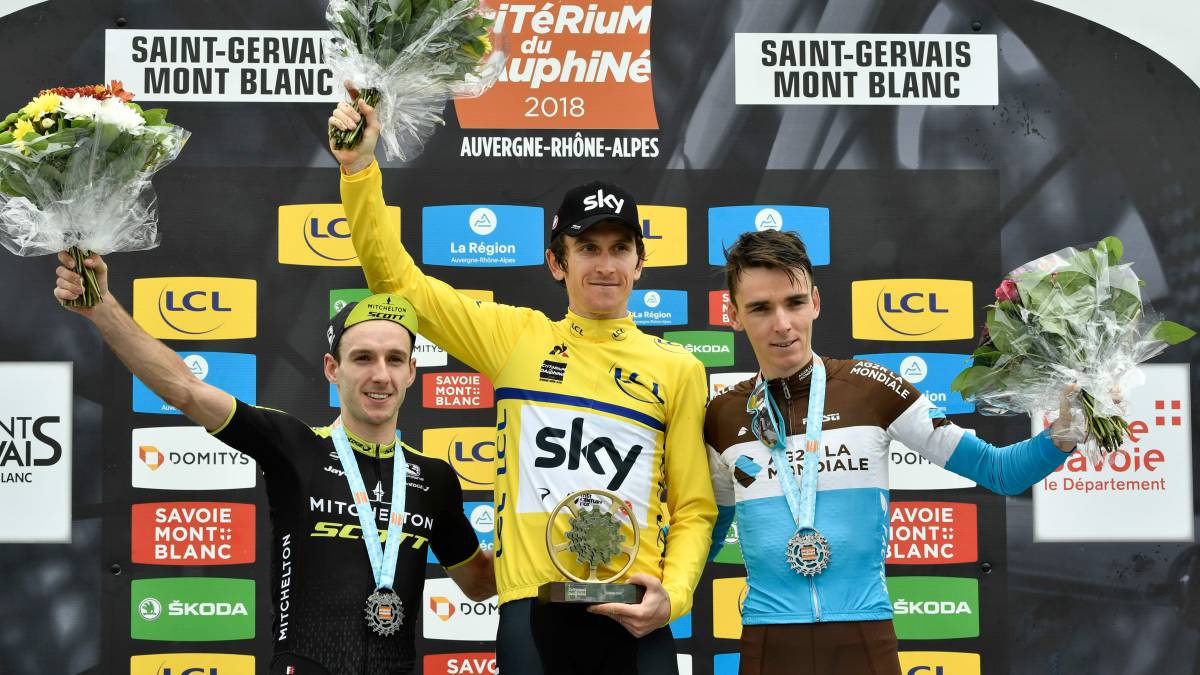 The activity in the cycling world continues after the conclusion of the Giro d'Italia, where Richard Carapaz achieved his first big. While many cyclists who have competed in the pink corsa will take a few days off, the big favorites to the Tour start their final tests of preparation in the Dauphiné.
Criterium du Dauphiné (9-16 June)
The French test will serve as preparation for many of the great favorites to dispute the general of the Tour de France. The 26-kilometer chrono of Roanne, and the mountain days in Saint-Michel-de-Maurienne, Les-Sept-Laux Pipay and Champéry will decide the overall classification. Figures like Romain Bardet, Chris Froome, Nairo Quintana, Richie Porte, Jakob Fuglsang, Thibaut Pinot, Adam Yates, Steven Kruijswijk or Tejay Van Garderen will be some of the runners to follow in the fight for the overall race.
Other races:
Cycling Stars Criterium (June 3)
Great Prix Cycliste de Gatineau (June 6)
Chrono de Gatineau (June 7)
Ljubljana-Domzale-Ljubljana (June 7)
Stadtwerke-City-Nacht (June 7)
15e Salverda Omloop goes from Ijsseldelta (June 8)
Le Classique des Alpes Juniors (June 8)
Female Tour to Guatemala (June 5-9)
Skoda-Tour of Luxembourg (June 5-9)
Tour of Brittany Feminine (June 5-9) )
Course de la Paix Grand Prix Priessnitz (June 6-9)
Boucles de la Mayenne (June 6-9)
Hammer Limburg (June 7-9)
Tour de Bihor (June 7-9) 44444 44
23º Grand Prize dell'Arno (June 9)
Great Citta di Lugano Award (June 9)
48º Coppa della Pace (June 9)
Memorial Philippe Van Coningsloo (June 9)
Dowars door of Westhoek (June 9)
Track
Six days delle Rosse - Fiorenzuola 2019
Other races
International Event Odense (June 4)
Aarhus By's Grand Prix (June 5)
China Track Cup 1 (June 6)
Grand Prix of St. Petersburg (June 5-7)
China Track Cup 2 (June 7)
Festival of Speed (7-8 June)
National Track Championships of Bolivia (June 6-9)
National Track Championships of Georgia (June 7-9)
National Track Championships of Slovakia (8 -9 June)
1.Etappe Bahnen-Tournee (June 9)
China Track Cup 3 (June 9)
MTB
MMR Asturias Bike Race (June 6-9)
Other carre ras
Lesvos - Molyvos MTB Stage (June 4-7)
National Championships of Israel (June 7)
National Championships of Turkey (June 7-8)
Sherbrooke Canada Cup (June 8)
Missoula - UCI Junior Series XCO (June 8) )
UCI MTB Marathon Series Malevil Cup (June 8)
Borlänge Tour Stage (June 8)
National Championships of Italy (June 8)
International Estrada Real (June 6-9)
Missoula XCS (June 6-9)
Alpentour Trophy (6-9 June)
Cebu's Tallest Peak Mt. Manghilao Asian (June 8-9)
National Championships of Australia (June 8-9)
IXS Erciyes Downhill Cup (June 8-9)
International MTB Bundesliga Vulkan Race Gedern (June 8-9)
National Championships of Russia (June 9)
Börlange Tour Stage (June 9)
Kozara MTB Cup (June 9)
Nation Championships ales from Croatia (June 9)
Slovak Cup (June 9)
National Championships of Hong Kong (June 9)
Lesvos - Molyvos Urban MTB (June 9)
Baam Iran (June 9-11)
Photos from as.com