The Calvary of Aleix to reach Assen and also being in it
"I expected to be a little better, but it's a circuit with many changes of direction and, when I lean on the left side it hurts a lot and I do not have strength," he says.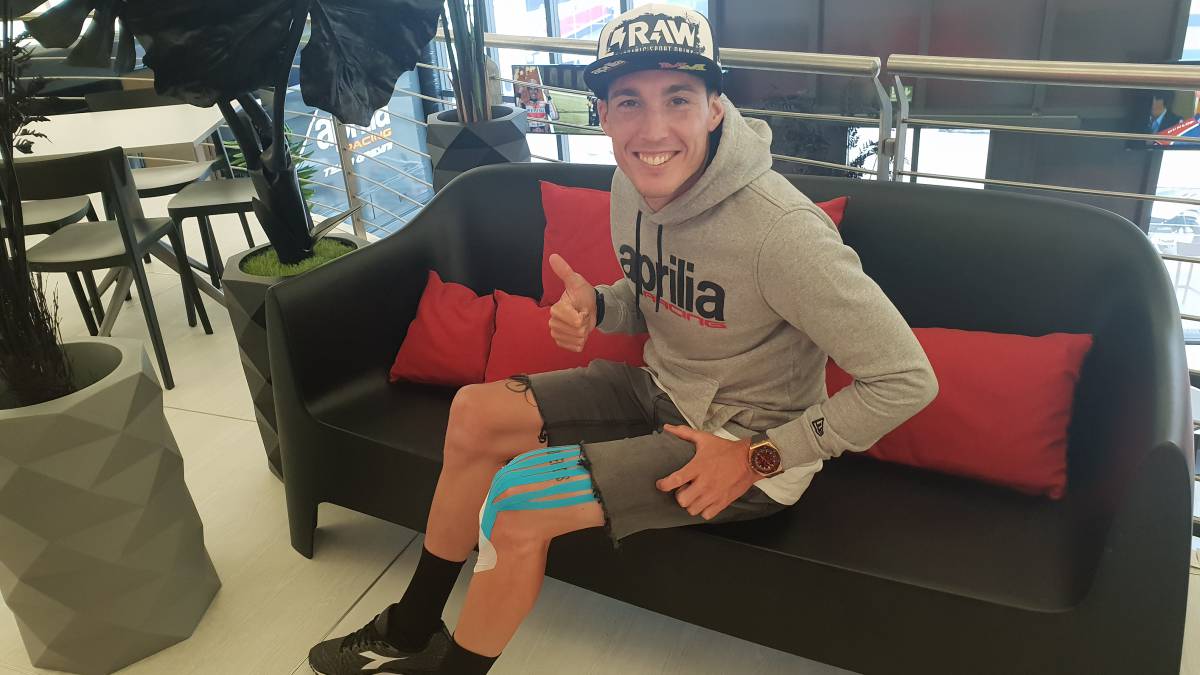 This is by active and passive that the pilots are from another pulp, that they are more resistant to pain than the rest of the mortals and that they show a capacity of recovery before the injuries that shorten periods of incredible way. The last case is Aleix Espargaró, whose partner Badley Smith, unintentionally, did a good fault in Montmeló, with a micro break in the left femur, a touch on the tibia and the ligament sensibly affected. The pilot of Aprilia has gone through a ordeal to get to the appointment of Assen, but continues once in the Dutch route.
"The truth is that I expected to be a little better. On Thursday I had better feelings, but it is a circuit with many changes of direction and, when I lean on the left side, the ligament hurts a lot and I do not have strength. I can not move the bike well and it hurts a lot. I hope it will get better, "he said when he got off his motorcycle on Friday, in a day in which he also had a fall, happily without consequences:" I suffered a fall in a curve of the left, of the slowest of the circuit fortunately, and it was my fault, because I did not lean enough when my leg got stuck and I was blocked from the front. "
Before starting to shoot, he was more optimistic and assured that" at no time do you ask yourself if you will be able to run or not but you tell yourself that you will run safely one hundred percent. Another thing is that you can later. I have done everything I could to get it right. I feel good It had never been so good in a week. I have done three hours a day of Indiva, four or five hours of magnet and ice. My physio has lived in my house for the last ten days. I have surprised myself and in the last three days I have started doing bike and mobility. Apart from the lateral ligament, for which side movements hurt me and I do not hold my knee very well, for everything else I have strength and It does not hurt. "
For those who do not know what the Indiva is, Aleix clarifies that" it is a machine that, when you have muscle pain and a bone edema with a lot of inflammation, that you can not touch or manipulate, the Indiva gives you the frequency to lower the bone edema and the ligaments back to the site. It is a miraculous machine. "
The one who was devastated by what happened is Smith and Granollers apologizes:" These are races. Obviously, the last thing he would want, for his own interest, is to charge his boss, because the test equipment works for the official pilot and, if you charge him, you lose points to renew. It is something that can happen and he did not want it. After the test he called me and we were talking for half an hour, he told me what they tried in the test and he again apologized. Also, the curve 10 does not help and it is very easy to make an error there. Bradley arrived megacast, because he was like five bikes behind me and, with the temperature that was there, the full tank and the square curve, it was very difficult to stop the motorcycle. "
In addition to the physical upset, what has also annoyed him Much to Aleix has been missing this year the Qebrantahuesos, a 200-kilometer cycle route for which he had prepared thoroughly: "I was very excited to do it, I had prepared very well and I was very annoyed not being able to go. Objective? I was going to dispute it. The one who won was only three minutes quicker than me last year (5 hours and 47 minutes). It was not very fast this year, so I get even more angry. " Next year.
Photos from as.com