The Belgian press, on Hazard: "Madrid is another dimension"
Five Belgian journalists analyze for As from the concentration of Belgium the arrival of its star to the white club, a dream come true.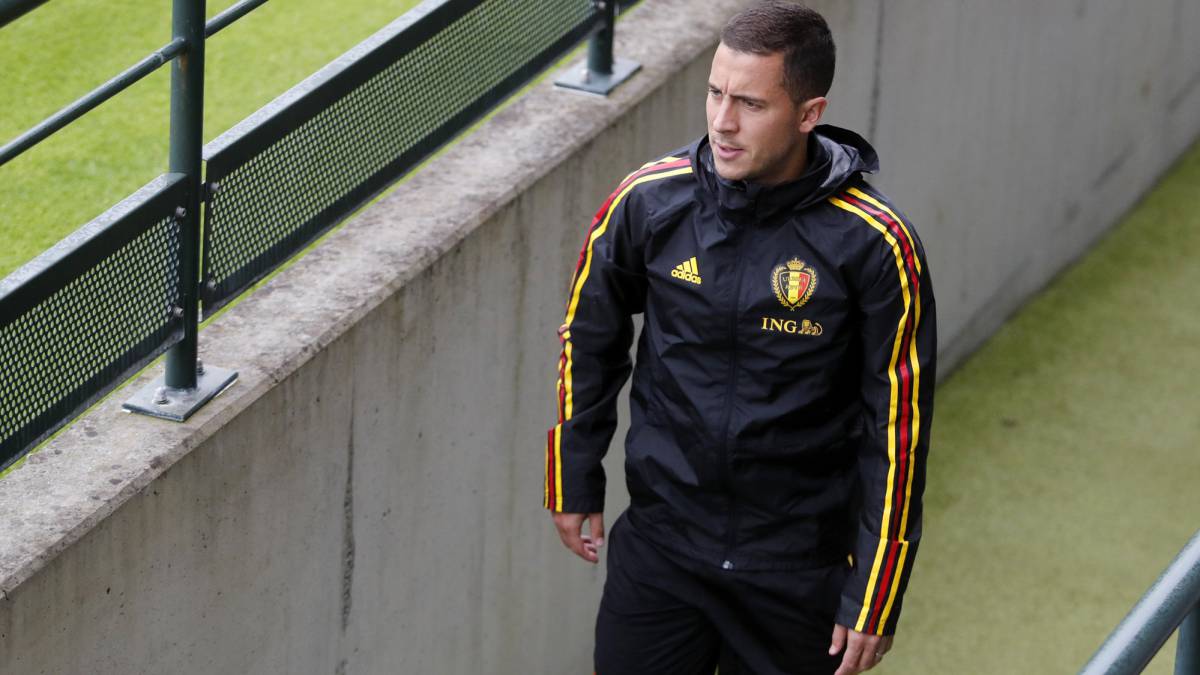 Kristof Terreur works at HLN and is, surely, the journalist who best knows Hazard
"His signing is a great high, he was a star in the Premier, but even so Madrid is another dimension due to repercussion worldwide. Our The most well-known player and the most often followed by the team more often as his most expensive reinforcement, it's historic, now it's up to him to perform and become the leader they expect him to be.
The Madrid pays a lot of money for a player who finishes I'll be contracting next summer and it will be 29 years in 2020, but that's the way the market works A Zidane has always loved , he leaves with his eyes closed, Eden arrives with all the hunger and ambition possible to the team he has been since his childhood and with the coach I idolized as a player, it's all perfect, it will be the key of the project.
I see him on the left band, his favorite position. C It will be especially good with Modric, who loves it. He once told me that, if I could choose a quality from another player, it would be to move without a ball like Benzema. "
Bart Lagae - Het Nieuwsblad
" Hazard is a good person, with a good family. He never leaves, he has three small children ... For him it is a dream to work with his idol, Zidane, in his favorite club. Madrid offers you the chance to win the Champions. It is the biggest challenge of his career. For Belgian football, Madrid is the highest level a player can reach. We already had Courtois, but Hazard is our star. If he does things right, he can become the best Belgian player ever.
I believe that the transfer number is high for a 28-year-old player who has one year left on his contract. But physically he's strong, he's had few injuries and still has a lot of football to offer. He is in the best moment of his career. I think it is the best possible operation in the current market. If Neymar was worth 222 million, surely it is not too much half for Hazard.
A waiting for other signings, will be the leader of the project, but he will need to support him because he is not a Christian. You need support I see him in a trident on the left band. He will understand very well with Modric and Kroos, also with any left wing that defends well ".
Vincent Blouard - L'Avenir
" Hazard is probably the best player in our history and Madrid is a legendary club, so it was a signing that we had all expected for a long time, more than Courtois. It's a reward for Eden, at a good time for him. The price, if in the end I could reach 145 million, it would seem excessive because I finished contract in 2020.
A Hazard does not like to talk much in the dressing room. He is a football leader who loves to be a joke and be friendly. He can perform better on the left in a three-line attack. I'm sure he'll give Benzema a lot of assists. "
François Laurent - Sudpresse
" Belgian football is improving, as it was with the World Cup, but it needs players who are in great teams. And Madrid is very big. In current football each transfer moves a lot of money, so I'm not surprised that it happened with Hazard, who is one of the best in the world. Being so expensive, will have to play well, that adds more pressure.
Ofrece the ability to perform in any position while you feel comfortable to have the ball and be able to create danger. Es better on the left band, from where he moves on all sides in a match to see where he can have more influence. This can be the leader of Madrid, as was seen in the last World Cup with Belgium. Every time he needs to respond, he does. But Chelsea is not the same as Madrid, and more after such a bad season.
A Zidane likes Hazard a lot, and vice versa. As a child he had pictures of him in his room. It's a dream for him. That may even be a bad thing: a coach is not a friend ... ".
Hannes Van Gael - Voetbalkrant
" At last. "I think that the feeling of Hazard and Madrid after so many attempts, also of Belgian football Su price is greater than Cristiano's although it will not be as decisive as him. However, it has cost just enough for his age and quality, but be careful with the bonuses: I think you can get them all .It will be the main star of this Madrid , he needed a big star after he left Cristiano, anyway, he does not care if he feels like that, he does not care about the statistics.
I would love to see him with Marcelo destroy the rival defenses Con Mourinho, por ceror, he showed that he can help more by defending and confessed that he did not care ".
Photos from as.com