"Women's tennis lacks depth and identification"
Gabriela Sabatini received the Philippe Chatrier Award from the ITF on Tuesday during a dinner in Paris for her contribution to tennis on and off the court. Before, he chatted with AS.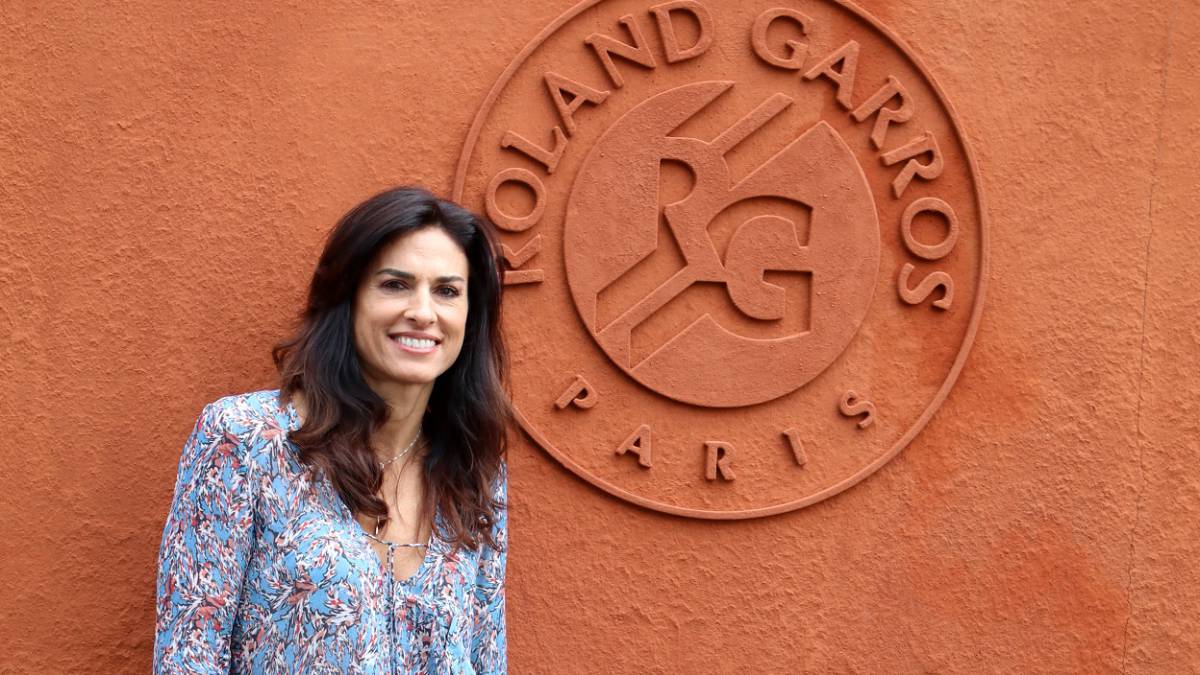 Gabriela Sabatini received this Tuesday during a dinner in Paris the ITF Philippe Chatrier Award for his contribution to tennis on and off the track. Before, he chatted with AS.
What does the Philippe Chatrier award mean to you for your contribution? to tennis?
I feel very grateful. I look back and realize that tennis gave me much more than I gave it. I feel that everything I am and what I can do is thanks to tennis. He opened my mind, gave me the opportunity to travel, which I love.
What is your best memory of Roland Garros?
The first, when I won the junior tournament with 14 years. It was very important to me. It was always very special to play in Paris because of the brick dust, because I grew up on it. Bad moment, the defeat in quarters against Fernandez. Against Seles I fell in a semifinal with possibilities of being number one.
Do you ever regret leaving tennis at 26 years?
I never regret it, the proof is that after I retired there was not a day that said, 'I I'd like to be there. ' It was always the opposite. It was difficult, because it was a race of many years, I could not make the decision from one day to the next. I spent almost two years making it, to see if I wanted to retire or was having a moment of descent. I worked with a sports psychologist and that helped me.
It was different in her time, because she was already competing at the highest level since she was a girl ...
That's right, at 14 I was already playing professional tournaments. I found it difficult to overcome the monitoring in the press. Sometimes I read things about myself that were not true and affected me a lot. I had to work to put that aside.
Why now people do not follow as much as in their time women's tennis?
I do not see badly that there is a continuous change. The bad thing is that people do not identify with anyone. Lack depth One goes well in four tournaments and then another one appears. It's hard to remember the names. But I like to see new people, new games and stronger players.
What is your relationship with Steffi Graf, your great rival, who will turn 50 years old?
I was lucky to have her as a rival because I got better every time I played against it. When I retired, I felt that we were friends. Keep in touch. It's nice to be able to share other things. He is a great person. You will have to tell me how you feel with 50 years, I'm sure you'll be fine.
What players do you like?
Barty. I cut his blows cut. She is a strategist. It's the one I follow the most.
Where do you live, what do you do?
I live in Switzerland, and I spend time in Miami and Buenos Aires. I like to travel. And I still have my line of perfumes.
How do you keep physically so well?
I do exercise, although not as much as when I played, so the muscles get lost. I am a healthy person, but not a vegetarian. How much meat.
What do you think of the debate on equality between men and women in tennis?
In the Grand Slam, everyone is paid the same. It has improved. But the comparison is very difficult. If we talk about effort, it is equal.
Are you going to get more involved now with Argentine tennis?
I think it's great that the extenistas get involved in an association to develop Argentine tennis and I want to be also supporting what I can, without a specific area. I want to work in women's tennis to improve the base.
Why do not girls go out in Argentina?
The fact that not many women go out is because they do not have references, but also because girls have to be alone and is more difficult for them than for the boys. That a father decides that his daughter plays tennis is difficult, they do not choose it as a sport. They have no one to imitate. Economically, it is the same, because Argentina is far away and it costs a lot to travel from there. That makes everything more difficult. You need money to be able to invest and you have to get together to work on the development of tennis.
Do you hit the backhand on one hand, as Carla Suárez, you see future to that technique in the female circuit?
I hope so . It would be good. I think that kind of game will come back, because it's the way to beat those players who hit the ball so hard, always with the same game. We'll see more.
Do you think Serena Williams can win her 24th Grand Slam?
It's hard to predict. You have to go tournament to tournament, I think it's okay, you're doing well in terms of your physique, it's more of a mental issue. If you mentalize, you will.
4 Gaby, the child prodigy who won 11 timesto Steffi Graf
Gabriela Beatriz Sabatini (Buenos Aires, 49 years old) was the most outstanding Argentine tennis player of all time and one of the best of that wonderful generation that dominated in the 80s and 90s. At the age of 14, she began to shine before consecrated legends like Navratilova and Evert, and contemporaries such as Arantxa Sánchez Vicario, Conchita Martínez, Seles and the largest of them, Steffi Graf. Gaby, as she was nicknamed, was the one that more times (11) defeated the German, winner of 22 Grand Slams. Sabatini only added one, the US Open 2010, but he played the final of Wimbledon 1991 and was five times semifinalist at Roland Garros and another three at Australia. In his record there are 27 titles WTA, including two Masters, and one Olympic silver in Seúl 88. His rivalry with Graf turned into friendship and together they won the 1988 Wimbledon doubles. With Arantxa he also lived nice duels (12-11 for her) and precocity. Like the Spaniard, she was a child prodigy and later an icon. At age 26 he said enough.
Photos from as.com