Rubi: "Setién, I also prefer to win 4-3 to 1-0"
The Catalan coach, presented by Betis: "But I do not rule out hanging on to the crossbar to win a game, I like to work more defensively".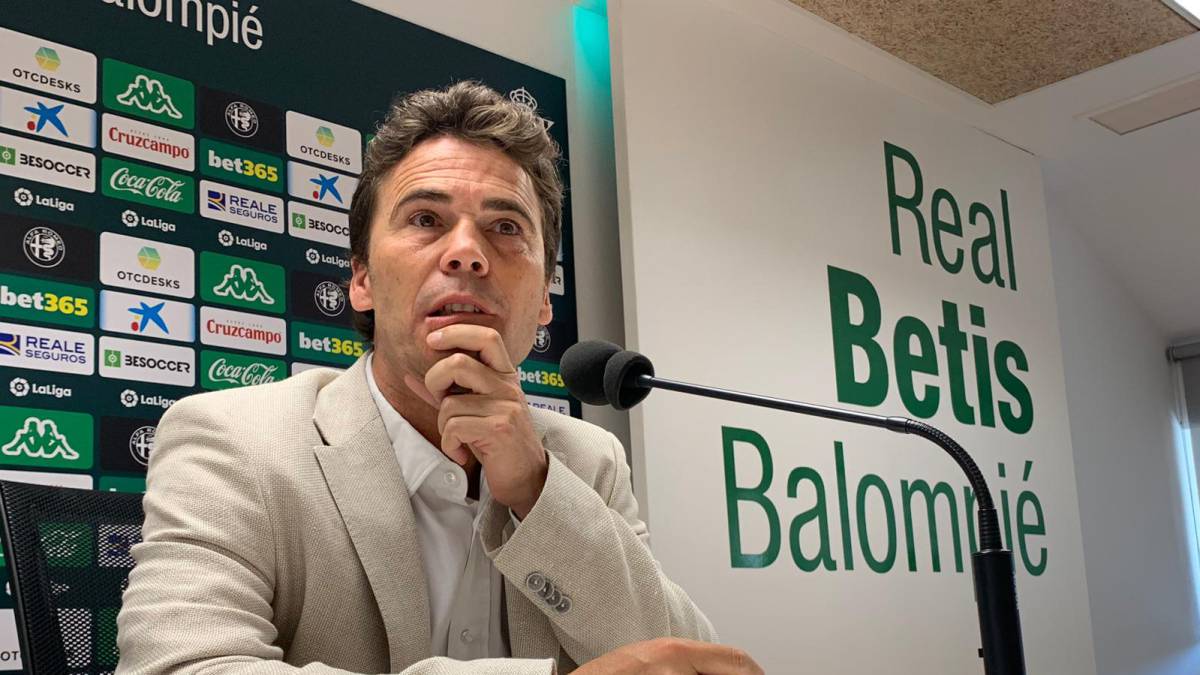 Joan Francesc Ferrer, Rubi, was introduced as the new coach of Betis. The Catalan coach arrives in the middle of the social storm provoked by the departure of the sports vice-president and idol of the Lorenzo Serra Ferrer fan. And he started by answering: "I express my utmost respect to Serra, it's a good and beautiful story at Betis, and a great coach from our country, which means more responsibility for me to return the confidence of this coaching staff."
Serra Ferrer. "I was in the key meeting with him and twice on the phone but since I have been here, after everything that has happened, I have not had the opportunity to speak with him" .
Comparación con Setién. " I do not like to compare myself with other coaches, each one has his method, it is impossible for two technicians to be the same, I understand that Setién and I are in the same bag of coaches that we want to have the initiative. We want to have the ball as much as we can, but we take care of all aspects, if you have to make a counterattack, direct player, set piece ... We do not always achieve it, t We make sure that the team is worked although sometimes we lose. But the most important thing is to always win. If you have a strong style that will lead you to more victories. Another thing is that one day you have to hang on the crossbar to win a game. "
Lobby Requirement." It's a challenge. I want to be a better coach than I am now and being at Betis will help me. It does not scare me at all. I have suffered when the Betis fans are at their team's side, I know that if we give them they will be with us. The athlete wants things to go well and if it is critical it is because he wants us to wake up. "
defensive balance." I'm worried about conceding goals because I think the defensive aspect of the offense is as important. But it is true that I prefer to win 4-3 than 1-0, even though I'm going through the three goals. You have to take care of all aspects, it is not easy in the Spanish League to have a positive balance because sometimes Barcelona and Real Madrid manage to win you widely and it affects the difference of goals all year. I dedicate more time to defensive work than to the offensive because transmit confidence to play is very good, and do not forget that the other must also do ".
Disference of Betis with his past." There are béticos go where you go and all have a common denominator: that way of moving you are from Betis, which is very important for them. I have lived it many times and that feeling comes. "
Filosofía." Philosophy is one thing and schema is another. The philosophy of seeking more goals always doubt that I change it. Change the scheme and correct things is the bread of every day. When something does not go well you have to see if you can achieve it in another way. It depends on the state of form, the profile of the players ... they are many things ".
Planificación." Since yesterday we are already working with Alexis very much, side by side. The intention is to try to keep most of the staff because we understand that Betis has a great team and from there give something more. If there is an exit that is for a lot of money to be able to invest it in a good reinforcement ".
Lo Celso." You always have to have the best players and I will not launch any title, but I am sure that if you have to be sold we are going to invest that money that comes safely, which can be quite ".
Reinforce the front." The figure of the strikers is important, even our grandparents said you have to have strikers and goalkeepers. But you have to involve them all. This year we have had the fortune of having a great scorer, Borja Iglesias, but scored 14 goals ".
Lainez and 4-3-3." We want a versatile Betis, that is clear to what it plays but that suits . I did not know Lainez six months ago, but we saw him and he seems like an extraordinary footballer and he has a coach that I think is ideal for Diego's talent ".
Photos from as.com