Roberto Martínez: "Hazard is at the level of Mbappé and Neymar"
The coach attended As in the Red Devils' concentration hotel: "Eden can lead any project, the ass is its center of gravity".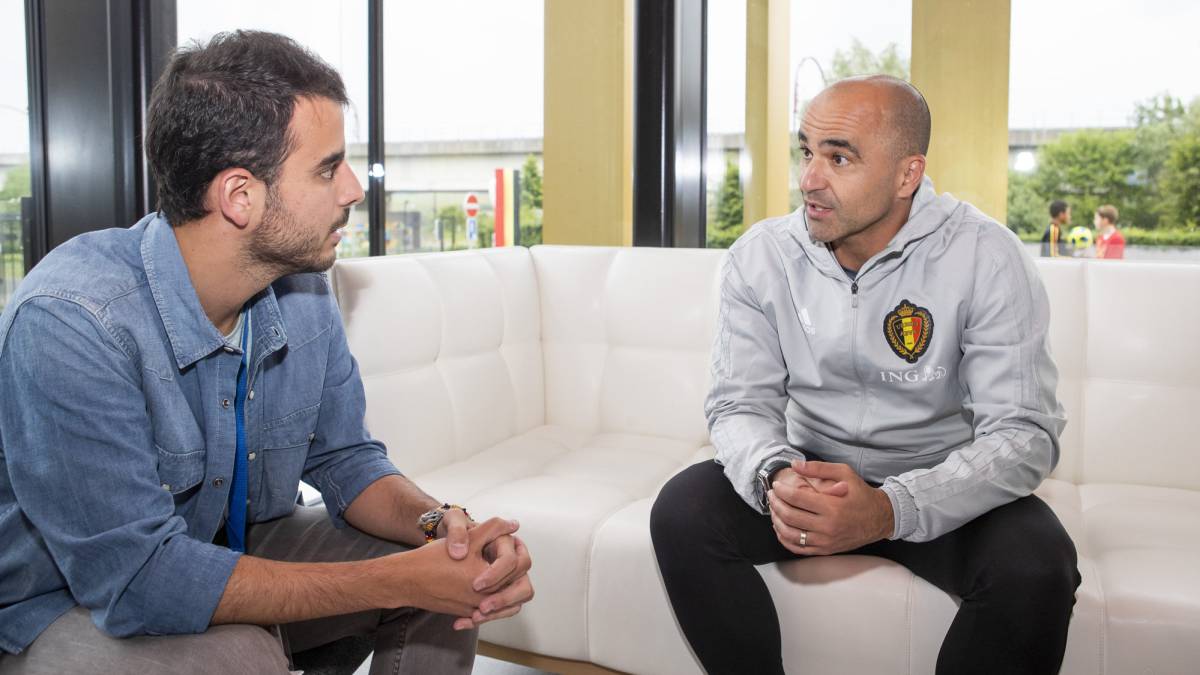 Tremely polite and friendly, Roberto Martínez, Belgium coach, reacted to the difficulty of the Spanish media to ask at a press conference. After the conference, approached the journalist of GOL (Sergio Quirante) to be interested in the situation and, ante the request of AS, agreed, despite the initial disagreement of the Federation, to sit down to chat a few minutes. First he reviewed the covers of AS on its great star, stopping with curiosity in the last of them (June 9): "The Galaxy Hazard".
How has Hazard's progress lived these years at his side?
The great evolution has been at the personality level. The great responsibility that has been given to him in Belgian football is significant for understanding one of the best generations of football in the country, which after the third place in the last World Cup became the generation of gold. And Eden has had to be the reference, it's the captain. The way in which he has been an example is what has helped the group to have a lot of serenity when it is needed, to be able to be ourselves when there is a lot of desire to win in the field. He always has an emotional consistency, something that implies that he is ready to lead any project.
By his carefree way of being, did it cost him to assume that leadership?
No, because Eden in the countryside is always destabilizing, has a power in the lower part of the body that allows him to go out right or left ...
The famous ass ...
It's your center of gravity. He is so short that he uses it to get out of one-on-one situations in which other players can not. It has a huge quality and a great vision of the game. That allows you to make the most appropriate decisions in the last third of the field. What he has is that emotions do not affect him, not even what is said about him. He is a very calm person, very focused, very serene. It is always very familiar, one hundred percent with the family, and then also one hundred percent with what the group needs.
Sometimes he speaks almost in a paternalistic tone about him. Have you gathered this tense week?
It is human, you have had a normal reaction of wanting to know what will happen in your next soccer episode. What was clear was that he had a year left on his contract and that he had to find a solution, one way or another: stay at Chelsea for a new project or go to another club. It was a moment that looked like something was going to happen, but I never noticed him affected.
Did you give any advice?
No, because we've been in this situation for a year. Since the World Cup it has been continuous and he has taken it with a lot of tranquility. He has given us an example, in today's society, that a player can be very respectful of his contract and his club. And that from there has given everything he had and has always been very respectful of the situation.
Have you been able to talk about him with Zidane?
No, because there has been a very clear situation: everything he sees about Eden is what he is, he is very respectful and he has behaved like a Chelsea player until he has announced. From now on he will be a Madrid player, but he has been an example of how things have to be carried out: finish them as well as possible to start new ones.
Is Zizou the ideal coach for him?
He has always been very clear, since he was a young man, saying that he was looking at the figure of Zidane. Being able to work together will first give them a connection in the human part and, from there, everything that can come is very easy. Eden, with 28 years, has lived in different countries, will not need a period of adaptation even if he reaches a new league because he has a connection with the coach. And already it was adapted in spite of the great physical demand to the Premier, as before it had triumphed in France, very young. Your relationship with Zidane will be very successful.
You have referred to him as a player to lead a project. At the level of Mbappé and Neymar?
The great reference is what he did in the World Cup: there are many names and players that become very popular, but then you have to look at the essence of what the player has, the way it influences the group, the way in which it has that consistency game by game. For example, the influence that Eden has had on Chelsea to win the Europa League or the role it played in Russia 2018. It is a very difficult player to find because it is based on the individual talent it has, which is exceptional, but within of a team structure, and that will always give you an advantage over any other name that can be mentioned.
Then, is it at that level?
Yes. Pme, yes.
By the way, a curiosity about when he was linked to Barça ("I have a contract, I do not need to say anything", he explained at a press conference this week): Robert or Roberto?
I am Catalan, I was born in Balaguer. There they called me Robert.
Photos from as.com