Rahm has Valderrama in his sights after the US Open
Barrika, 24, will play the Estrella Damm Andalucía Masters next week (June 27 to 30).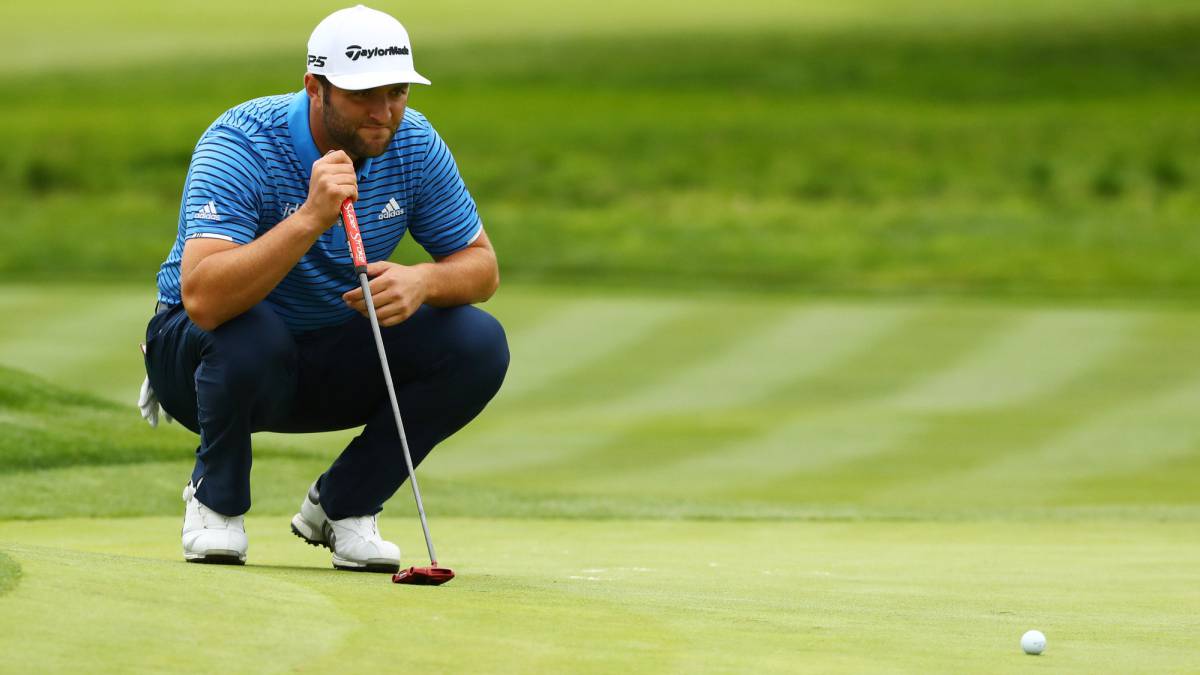 Jon Rahm does not need many external reinforcements for his bomb-proof morale, but he certainly arrives at Jon Rahm does not need many external reinforcements for his bomb-proof morale, but he certainly arrives at Stalla Damm NA Andalucía Masters - Fundación Sergio García, tournament that takes place from 27 to 30 June, backed by the great third place obtained in the recent US Open held in the beautiful Pebble Beach. Rahm changes the Californian coastal course through the no less spectacular streets of Real Club Valderrama, where in 2017 he made his debut as a professional on Spanish soil, and will accompany the host, Sergio García, as one of the biggest attractions of the tournament.
Rahm keeps taking steps, or rather strides if we take the metaphor to the physical terrain and take into account his impressive presence, in his meteoric career as a professional and there are four top ten that accumulates in the big tournaments in three years as a professional. Before, the Basque golfer had dazzled in his amateur career in Spain and the United States, culminating with his appointment as best university player (receiving the Ben Hogan award) in 2015 and 2016, his individual triumph in the 2014 Eisenhower Trophy, taking from the record book a one Jack Nicklaus to get the lowest result in this competition, and his 60 weeks as number one in the amateur world, also record in this ranking.
Then came his first dabbles in the professional field, and his great fifth place in Phoenix, the PGA Tour and European Tour cards won by fast track, their first titles (Farmers Insurance Open, Dubai Duty Free Irish Open, DP World Tour Championship) and flirting with the number one in the world, who was about to enter at the beginning of 2018. The symbolic and spectacular victory in the Open of Spain, his other international triumphs and u participation in the Ryder Cup 2018 disputed in France round off a record whose statistics overwhelm.
In 80 tournaments against professional rivals since its premiere at the 2015 Phoenix Open, Jon Rahm has seven wins and 37 places among the top ten (ie , he gets it 46.25% of the time). If we focus on the European Tour, he has achieved three wins and seven top ten in the nine regular tournaments he has played (not counting the majors or the WGC tournaments). All these figures translate into a no less forceful statistic: it has been 21 months as the best Spanish in the world ranking.
With this record, the player of Barrika has fewer and fewer notches left to mark on the grip of his putter, but we can suppose that one of them is to sign a good tournament in Valderrama, of the Estrella Damm NA Andalucía Masters and club that is at the origin of the golf career of Jon. It was told by Edorta, father of Jon, two years ago.
"I have a group of friends from Bilbao with whom I do a lot of sports, we played paddle tennis, we ski, etc. Two of them went to the Ryder Cup thanks to an invitation and returned hallucinated. They had no idea about golf, but they said it was very exciting. Two years later, Eduardo Celles opened his golf school in Bilbao and we signed up. In 2003 my wife, Angela, and my sons Jon and Eriz began playing. "
And with the poison of golf in the blood, Rahm visited Valderrama for the first time in 2007 and had the opportunity to follow closely in the Volvo Masters of that year to players with whom he is currently playing epic duels or has even shared costumes and field in the Ryder Cup: Sergio Garcia, Ian Poulter, Paul Casey, Thomas Björn ... Later he had the opportunity to play the field as an amateur, when he visited Valderrama to go with the national team to the Sotogrande Cup, and in 2017 he made his debut as a professional on Spanish soil in what was then called Andalucía Valderrama Masters.
"Valderrama is one of the best designs I've seen in my life, visually It is beautiful and it is taken care of in a wonderful way. It is not necessary that the fields measure 10,000 meters to be demanding. Valderrama I find it hilarious, it makes you think and play all kinds of punches and, if you fail, you can play it. It keeps you in vilo ", defined Jon. "I love classic fields where you have to use different strategies. It's golf in its purest form ".
In 2019, and sharing the headliner of Estrella Damm NA Andalucía Masters with Sergio García, he wants to leave behind that failed court two years ago that, as he explained later, was the result of his level of demand.
" It was a mental issue. I knew the desire that people had for me to play well and I gave too much importance to each hit without playing tHow fluid I usually play. Mentally I was not fine because I imposed the responsibility to play well, "said Rahm.
Photos from as.com