Petrucci: "I dedicate this victory to Dovizioso"
"I'm sorry for Andrea on the last lap, he's the last person I wanted to be aggressive with, I did not want him to lift the bike for me," he says.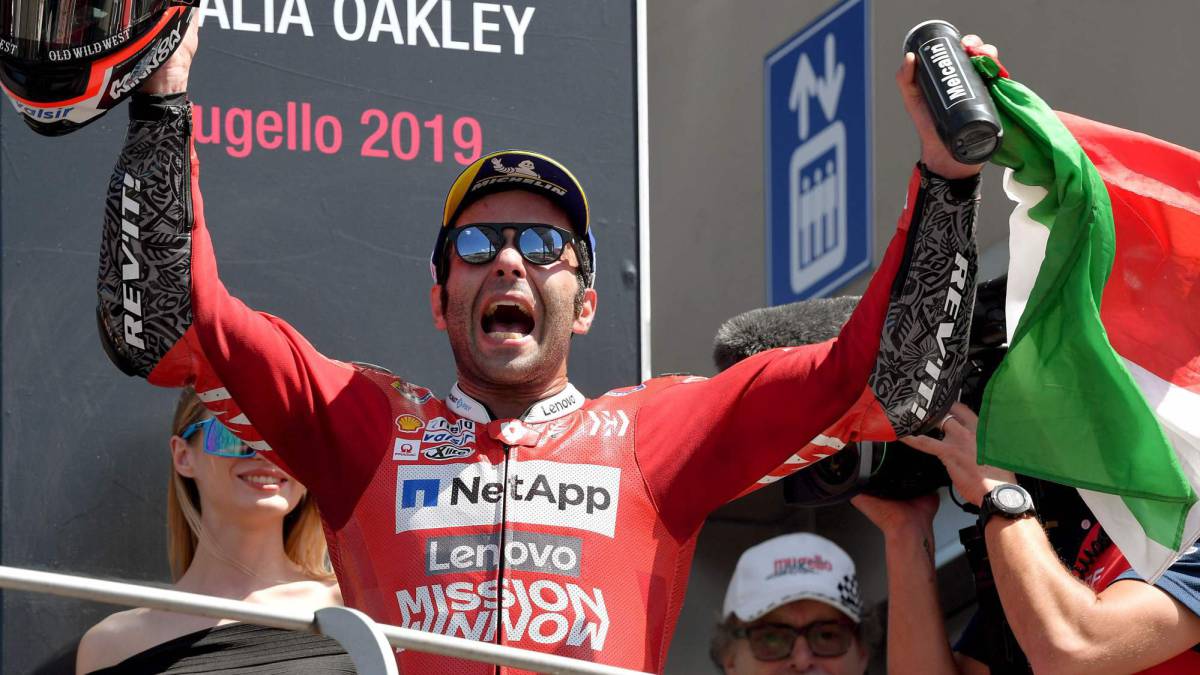 -Congratulations on your first victory. What can you say?
-Sorry for Dovizioso in the maneuver of the first corner of the last lap. He is the last person with whom I would have wanted to be aggressive, I did not want him to have to lift the bike because of me. Half of this victory is his merit, he has adopted me as if he were a son ... maybe it would be better to say a brother. I moved close to him and every time I go home he gives me the feeling of being scrounging, I even load the dirt bike in the van, he shows me that he cares about me, he gives me a lot of advice both on the track and outside . It is normal that I feel in debt, you do not see 90 percent of the things you do for me.
-Count that maneuver with which you have ripped the last lap.
-I do not feel guilty either, now I only feel happiness. I'm sorry I pulled him out, but this was an opportunity I could not lose. For this reason I want to dedicate the victory to Andrea, for everything he does for me, it's incredible if I think he's my teammate. What I do not like today is that I lost points because of me.
-It was the same Dovizioso who made him understand that he had victory at the door?
-He told me he was doing nonsense, that I should not concentrate on the future but on the present, that I should take those thoughts away from being that bastard who had slipped through the window. He reminded him of himself in the past, when he looked like an ugly duckling, but he explained to me that since Lorenzo's arrival he began to focus on himself and started to win. From Jerez I did it too. I convinced myself that I should do my best and see if that was enough. If I had not managed to win with this bike I would have changed profession, but I can say that after today I can continue. (Smile). Today I have shown that even an 80-kilogram driver can win in MotoGP.
-How much did it cost to get to this point?
-I'm in MotoGP and I deserve the Ducati. In 2011 I was running in Superstock, I was strong, and they wanted me to develop the Panigale V2. In the first test I gave them a lot of information and they asked me to do more tests, they paid me gasoline to come to Mugello, Valentino rolled with the Desmosedici and I was already happy only to share the track with him. This work allowed me to show myself and enter MotoGP in 2012 with the Ioda. Do you remember it? It was a CRT and, now I can say, they were absurd motorcycles to run in the queen class, mounted series engines. In 2012 I tried the Ducati and it went well, but they chose Iannone and Spies, because he was American. So I stayed with the CRT. In 2014 I wanted to stop, because the bike had electronic problems and I did not feel safe, I was in Jerez and I told my team that it was my last race. In the warm up the bike was accelerated, I fell and broke my wrist. After two weeks standing I missed finishing last, because in that year I was always the last. I had to take every opportunity to show myself, especially when it was raining. It worked, because Pramac gave me the opportunity and thanks to them my story began with Ducati.
-What will happen from now on?
-I would have liked Andrea to finish second. But this victory makes me stronger, I have taken a weight off, I have achieved my goal of winning a race and now I want to help Andrea to get his, which is to win the title. I do not know what will happen in the next race, I know that I have placed well in the classification, I want to play to the fullest. I have never had a reverential fear of facing Andrea, or at Le Mans, and now we have to try to win the World Cup.
-How were the final moments?
-When I came out of the last corner I imagined what story was he going to tell: Danilo first leaving Bucine, and third at the finish line. (Smile). I was putting marches and I expected to see Marquez and Dovizioso overtake me, although I won. What can I say? It has been great. Then I have not stopped screaming inside the helmet, a tanco that was difficult for me to breathe. It is a dream to win in the best place in the world.
Photos from as.com