"The only order is not to ruin the result of the team"
"There is not an order that says 'Danilo can not win or lose points to Andrea' I have to try to do my best," he says.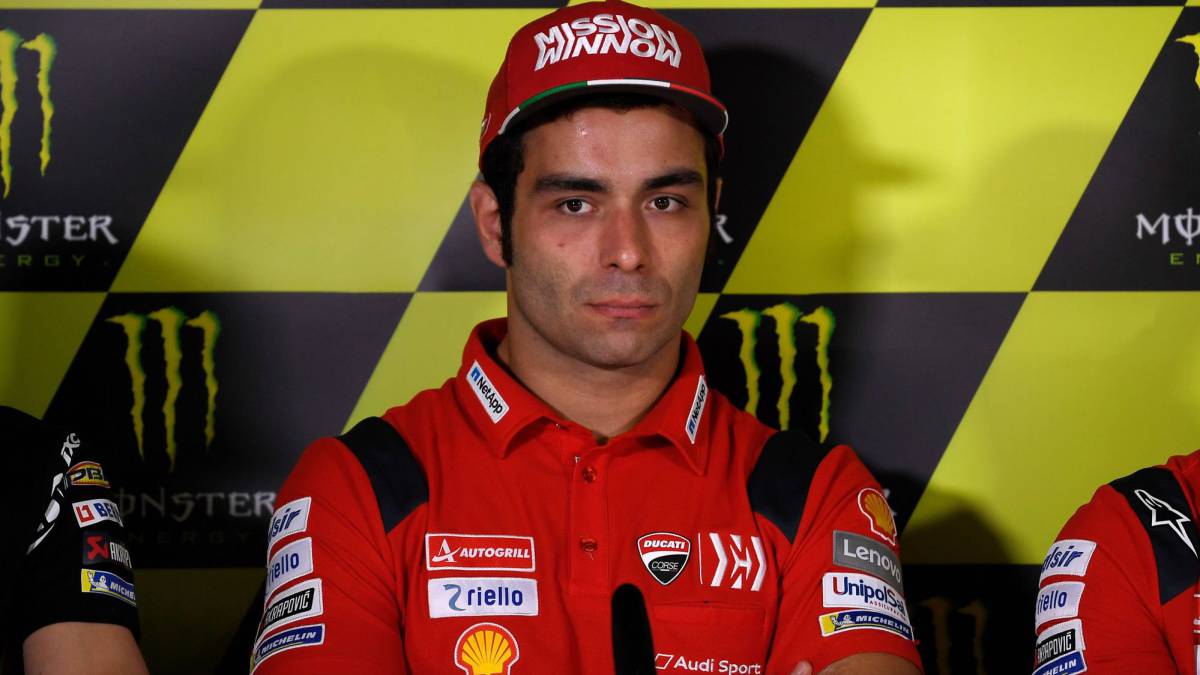 A Danilo Petrucci has not changed Mugello's victory. He is still as affable and friendly as always, which does not mean he is in a position to win again, even though in Italy he said that now his goal was for Dovizioso to win the title.
-Two years ago Dovizioso won in Mugello and then here, Lorenzo did it last year ...
-Low pressure, little pressure. (Laughter) It is clear that it would be very nice, but the goal is to fight for the podium, because it has already been seen that Marc can win, and Dovizioso, and I can fight, also thinking that I am close to third place overall. It's a good chance. I think it can be done right here, but saying this on Thursday is easy.
-If a situation similar to Mugello's occurs, does it attack or better wait behind?
-I have talked about this with Andrea. The only order we have is clear, and it is not to ruin the result of the team. For now we are the only team that fights full with two pilots for the classification of the World Cup, we have already had three races in which we both fought for the podiums, something that the other official teams have not been able to do. So the order is to not ruin this situation and this environment there is, but there is no order that says 'Danilo can not win or lose points to Andrea'. I have to try to do my best, also because at the moment I do not have a bike for next year, I have to win it, so I have to show that I can fight for podiums in each race. I have to think about this, and when we advance more in the championship we will see what my situation is. I am living a good time and I want to enjoy it to add as many points as possible.
-Did you talk to Domenicalli, Dall'Igna, Ciabatti ...?
-No, we have not spoken. Maybe they have seen that if they did not talk to me I do better ... I want to convince them by doing good races. As I said I would always like to continue with this bike, then we will have to see if they agree. Also the rest of motorcycles are more or less occupied, unless something happens.
-It was said before beginning the year that the 'dream team' was the Honda, and now it seems more the Ducati.
- Yes, in fact, during this winter, when I was reading this, I commented with Andrea and we said that we were doing a great job. What we are doing gives me a lot of confidence and pride, we are the only team with two points, one in which the pilots do not consider their partner as the first adversary. Andrea was upset because he did not win at Mugello, although on the other hand he was happy for me. Also at Le Mans I was happy for him and happy for having beaten him. I'm very happy with how things are going on the team.
-How have these ten days been after winning?
-It's been a bit of hell, I've received a million messages and whatsapps. It has been quite hard, I have not fully recovered from Mugello's fatigue ... But the first feeling I have had was 'I'm going to try again', I want to show that it was not an anecdote, that I can always do it. Before Mugello's race, at 13:59, I told myself that it would be hard to be on the podium; but once I was on the track I said 'you have to try to win it'.
Photos from as.com