Official: Remiro leaves Athletic and signs with Real Sociedad
The goalkeeper, separated from the Bilbao club for refusing to renew his contract, changes of airs to defend the shirt of the eternal rival. Play in Anoeta until 2023.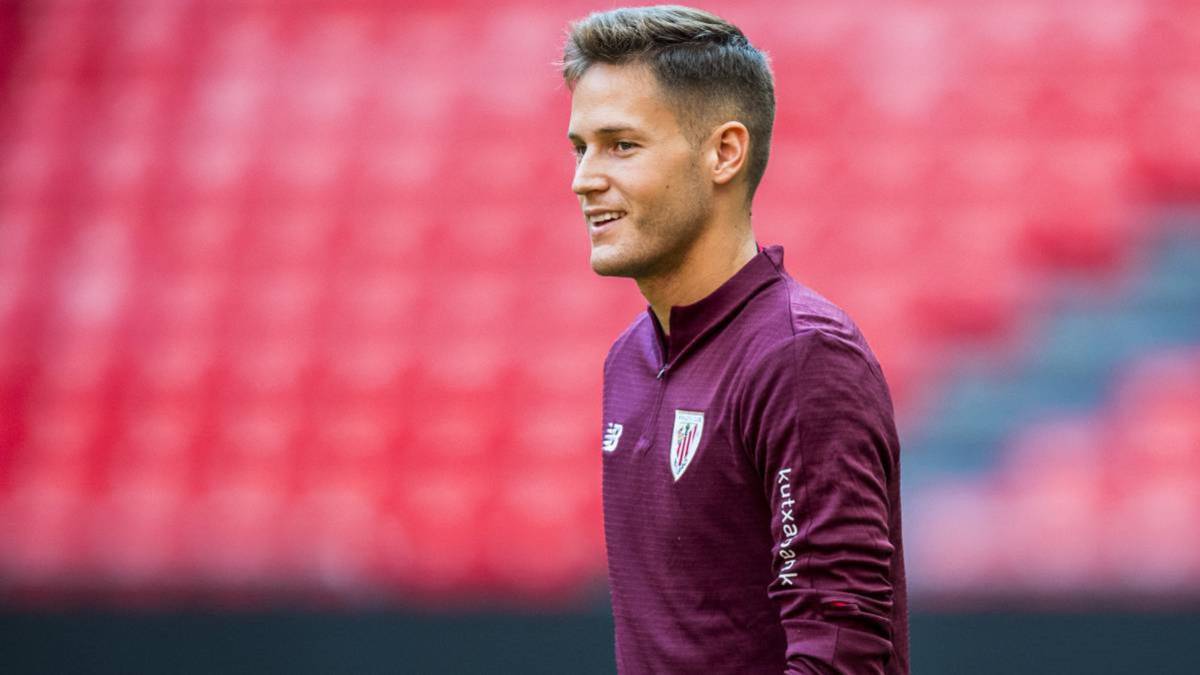 Alex Remiro is already officially a new player of the Real Sociedad. It was an open secret for a long time, but its confirmation was missing. And he arrived this afternoon, through a press release from the txuri-urdin club on his website. The goalkeeper of Cascante signs for four seasons with the Real, until June of 2023, thus specifying his controversial move from Athletic to the entity from San Sebastian, where he will perceive more than what he was offered in Bilbao to renew his contract.
"La Real Sociedad has reached an agreement with goalkeeper Alejandro Remiro to join the txuri urdin club from July 1, 2019. The new realist will arrive with the freedom card and will sign until June 30, 2023. The presentation of the player will be made early next month. " This is how the Real announced the signing of Alex Remiro, who after many months of secrecy sees light on his next destination. In all this time, nobody of the Real has wanted to recognize contacts with the navarro goal, which had a contract in force with Athletic until the end of this season. Only in the last few weeks Olabe has recognized that he was a goalkeeper who "likes". But nothing more. Nobody in the Real wanted to recognize that this is a contract that has been taking place for a long time, one year ago, when their problems with Athletic began to renew. In fact, as their link with Athletic does not expire until June 30 , may not be presented until July 1. Enough with that they have received the approval of Athletic to be able to announce his signing.
So whatever, and even if it is a personal decision of Remiro himself, it is still an operation involved in the controversy. Because Remiro refuses to renew with Athletic to sign free one year later for Real. And in all this time, especially with the directive chaired by Urrutia, has been removed from the calls as punishment for that refusal. In Bilbao the Real is also accused of meddling in her negotiation of her renewal and making it difficult to the point of ending up taking her signing. All the reality is that the Cascante goalkeeper did not want to be in Athletic, with which he has not made his debut in Primera. He was upset because he thought he would bet on him decisively when Kepa left for Chelsea. Real, with problems in the goal, saw the opportunity to sign for free a young goalkeeper and with a lot of projection, and he launched himself to convince him in a determined way. And when Remiro decided, he stopped counting for Athletic. Elizegui, current president, tried to redirect situation when he entered Athletic, but it was too late.
It is the curious circumstance that Remiro arrives at the Real without having made his debut yet in First Division. Yes, he has the endorsement of that has stood out in all the lower categories, and that was key in the promotion to Primera del Huesca, with which he made a spectacular season in the Second Division. Alejandro Remiro was born in Cascante on March 24, 1995. Although he started playing in his hometown team, he was soon recruited for the Athletic youth academy. Tras to stand out in all the lower categories of Lezama, where he arrived in cadet age, he played two seasons in the branch, until by his level he began to claim to play in a higher category. For what was ceded to Levante, where he barely played, and the Huesca, where he stood out over the rest.
Es international in all the lower categories of the Spanish national team, where he is considered one of the goalkeepers with greater future to occupy the goal of 'The Red'. The year in white that has gone through his anger with Athletic and his decision to bet his growth to the promises that came from Zubieta should not be an obstacle to keep growing. Because in the Real there is a lot of hope in Remiro, who will be given the title next season, with Miguel Ángel Moyá as his escudero for his experience and seniority. The Atlético youth squad will debut in Primera with the Real's jersey, something that will obviously sting in Lezama, because it is not a usual step in Basque football, where more attention has been given to the crossing of the A-8 from Donostia to Bilbao The arrival of Remiro is the departure, sooner rather than later, of Gero Rulli, the one chosen to lighten the goal of the Real and what they have been working for from the San Sebastian club for several weeks. Change of third in the goal of the Real. After much speculation, Remiro is already a reality. Rulli will soon be history in San Sebastián.
Photos from as.com