Nurse responds to Curry: "We do not disrespect anyone"
The Raptors coach justified the defense imposed by his team on the decisive play: "We can win in their field as they have done in ours."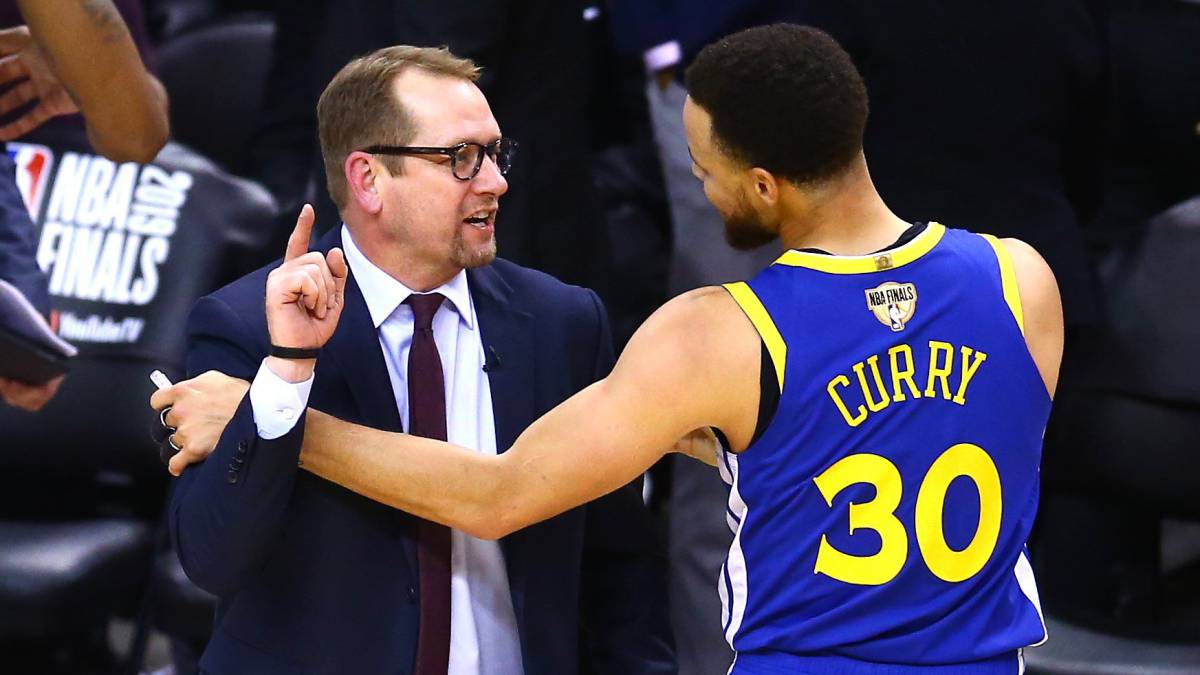 Raptors coach Nick Nurse, was calm after his team lost the second game of the NBA Finals 104-109 against the Warriors and said that now they would have to react in the same way: "We are in the same boat as them when they arrived in our field Now we will be the ones who have to win a match in theirs" .
Nurse is convinced that his team, when they play the third match of the series on Wednesday better than seven, will leave with the winning mentality they have in each encounter. "It's all we have to achieve, a triumph." But the most important thing is that we are convinced that we can achieve it ", said the coach, who took the opportunity to remember that they had already managed to win in other very complicated courts such as Sixers or Bucks. .
As for the decisive play in which the defense left unmarked the veteran guard Andre Iguodala, who with 5.9 seconds left to score the decisive triple, Nurse defended the actions of his defense. "We were not disrespecting anyone ... We were watching a lot, we put two markers to Curry and he was close to losing the ball to Kawhi, which showed that the defense was quite good given the great mobility of the players of the team. Warriors ", analyzed.
However, at the end of the whole sequence, the base Shaun Livingston gave the perfect pass to Iguodala, and only sentenced: " They found him and he made the shot, but if he had failed he would have allowed us to have the possibility of recovering the ball and seeking victory Secure that we are going to live with what happened, but we do not lack anyone to respect, we set a trap to have the best chance of winning the game. "
Leonard:" We had until the end the chance to win "
The same feeling expressed the star forward of the Raptors, Kawhi Leonard, who finished as team leader by providing a double-double of 34 points and 14 rebounds, in the 39 minutes he was on the track of Scotiabank Arena in Toronto. "We had the chance to win the match until the end, but this time, the decisive points were achieved by them and there was the final difference", commented the forward, who also took the opportunity to analyze the failures of his team: "I think We made a lot of mistakes, especially in the third period, when we missed too many shots. "
Leonard acknowledged that winning the Warriors at Oracle Arena is a complicated task but not impossible either:" We have competed well in both matches and we are going with the series tied so that everything can happen in the next two games ".
Photos from as.com