Nadal turns 33 years in search of his twelfth Roland Garros
The Balearic, one of the best tennis players in history meets this Monday 33 years coinciding with the celebration of the Parisian major. We review several data of his sports career.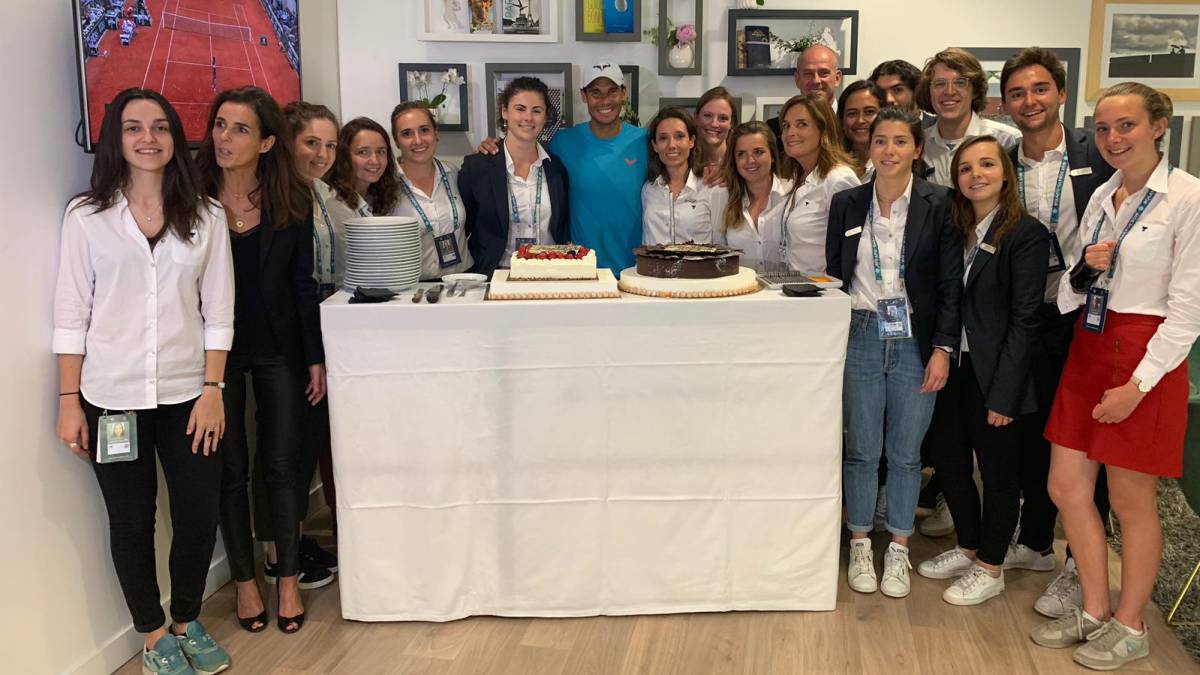 Rafa Nadal meets this Monday 33 years in the heat of struggle to achieve his twelfth title of Roland Garros. On the occasion of its anniversary we reviewed some significant data of the Balearic tennis career, one of the best in history.
- The only tennis player to win 11 times in the same tournament. Rafa Nadal has the honor of being the only player who has been able to win up to 11 times the same title in the circuit. However, his deed is still May, since he has not achieved it in one, but in an ATP 500 tournament (Barcelona Open Banc Sabadell), a Masters 1,000 (Monte Carlo) and a Grand Slam, Roland Garros, where he expects that figure grow to 12 in this edition.
- More than 100 million dollars in earnings in the circuit ATP. Thanks to his sporting successes, Nadal is one of the tennis players with more gains achieved in the ATP circuit with 107 million dollars, only surpassed by Novak Djokovic (131 million) and Roger Federer (123 million)
- Roza 1,000 victories in the circuit. Nadal is one of the players who wins more in the ATP circuit with a total of 946 wins (counting 3 Roland Garros) for 194 defeats. Active only wins Federer (1205 wins) and Djokovic is less than 100 triumphs of the Balearic (862)
- 81 titles in his record and king of the Masters 1.000. At 33 years Nadal already accumulates a whopping 81 ATP titles in his record, among which are his 17 Grand Slam, 3 of the 20 of Federer, and his 34 Masters 1,000, where he beats Novak Djokovic by one.
- Along with Agassi, the only male tennis player with Golden Slam individual. Unlike Federer and Djokovic, Nadal can boast of having the Golden Slam in his record, which consists of adding Olympic gold to the titles of the four Grand Slam, a feat that Nadal has only achieved along with American André Agassi.
- King of the Earth. The numbers of Nadal on clay scare. To date Nadal has played 471 matches on clay, with a balance of 432 wins and 39 losses, with a winning percentage of close to 92%. On this surface Nadal is also the great dominator in titles, since it totals 58 trophies conquered.
- When he has played after his birthday, he has won Roland Garros. Whenever Nadal has surpassed his birthday in the Parisian tournament, the Balearic he has won the tournament. In 2009 he lost to Robin Sodering in the round of 16 in a match played on May 31. In 2015 Nadal lived one of his bitterest birthdays by falling to Djokovic in the quarter-final match held on June 3. And in 2016 Nadal left due to injury before his birthday.
THIRTEEN BIRTHDAY PARIS IN FIFTEEN YEARS
Rafa Nadal celebrated his 33rd birthday today where he has done it 13 times in the last 15 seasons: at Roland Garros. The president of the French Federation , Bernard Giudicelli, and tournament director, Guy Forget, presented him with two cakes, as is customary, on behalf of all the employees, with whom he was later photographed. The Spaniard has never missed his appointment with the clay of Paris since he debuted in 2005 and there have only been dos years in which he went home before his anniversary: in 2009 when he lost against Soderling in the second round and in 2016 when he He retired before playing against Marcel Granollers in the third round.
In seven occasions, his birthday caught him on the day off and six others on match day. Always remember the first, because he won Federer. And also that of 2015, because it fell against Djokovic. The others ended with victories against Matthieu (2006), Almagro (2008), Murray (2011) and Nishikori (2013), his rival this Tuesday.
Yesterday, Nadal arrived 35 minutes late to the training he had planned to celebrate 12:00 It was smooth, and it ended at about 13:20. A group of young people on the outer fence of track 29 of the Jean Bouin center sang the "Happy Birthday" in Spanish. And at night, there was "a small dinner", as announced.
Photos from as.com