Nadal: "I thought about stopping to regenerate my body"
Rafa Nadal (Manacor, 33 years old) attended AS after raising his twelfth Roland Garros. "I never get tired of suffering at the tennis level, I live it with passion".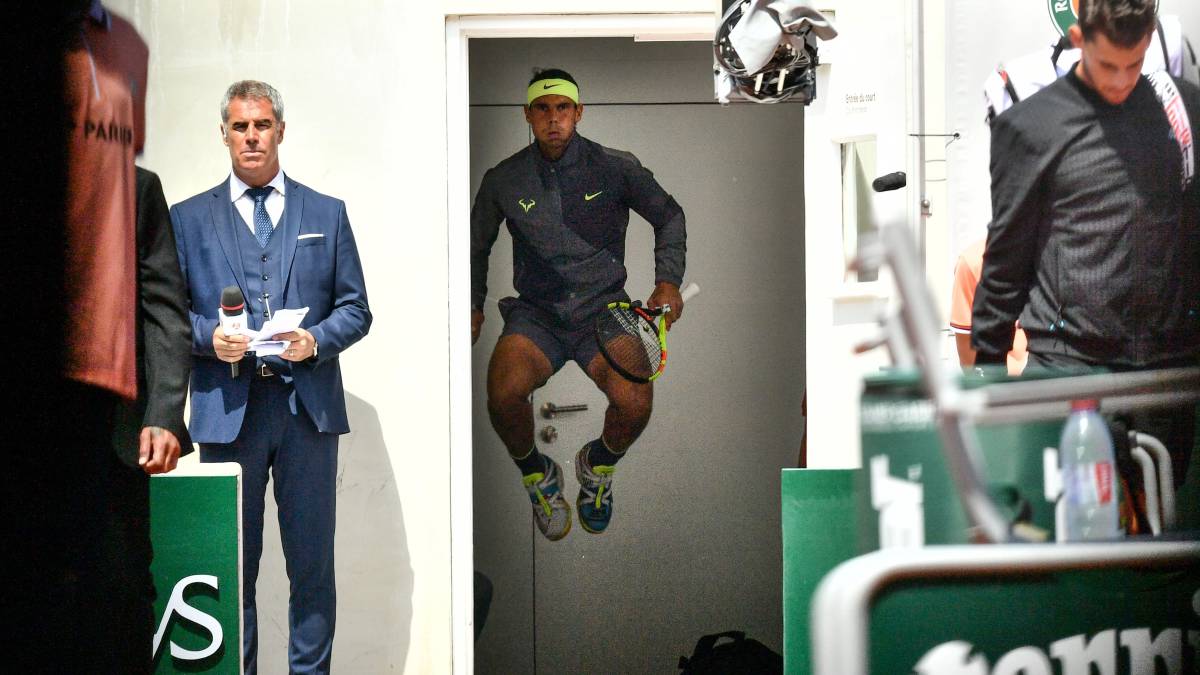 Rafa Nadal (Manacor, 33 years old) attended AS again in an interview that had two parts, one, four hours after lifting the Twelfth at Roland Garros and another, the next day at his hotel. The champion traveled to Mallorca, where he started a well-deserved rest.
-Was he a month and a half ago here and so?
-No, but if I continued it was because I thought I could be, although at that moment I did not I saw I thought I could get there, otherwise I would not have followed. If he had thought he could not, he would have taken another path.
-Did he have a blocking moment?
-Not exactly. There are times when you have to make decisions and those who follow the circuit know what has happened to me in the last 18 months. If the subject of the knee (right), which has been giving me problems, we add all the extra things that have happened to me, are many. You're pulling forward, but you hit bottom, because it's frustrating not to train or compete to fight for the goals you play for tennis.
-It went wrong ...
-After Indian Wells I had a physical downturn and mental. In my head there were several alternatives, and one was to stop to see if my body regenerated a bit and stopped going from injury to injury. The other was to move forward, but with another dynamic, because the one I was in was negative, I did not see the light.
-And what did he do?
-I needed a chip change and I did it, with attitude, energy and acceptance to be able to compete well in the dirt season, which is the most beautiful part of the year for me. As satisfied as I am, on the sidelines of the campaign it was fantastic with two titles and three semifinals, it is to have made of that process what I visualized, evaluating every day the small improvements, the fact of having the opportunity to play. From there I managed to reach a very high level. When I lost against Thiem in Barcelona I already liked how I played, just like in Madrid until the day of Tsitsipas, a match in which I was not well but I competed. I had already taken important steps forward, and in Rome I gave the final.
-How was it when he arrived in Mallorca after Indian Wells?
-With little desire, because physically he had a rupture in the tendon of the knee that It meant again treatment, stop playing two or three weeks and start again little by little and return to compete with pain. It does not come back perfect. You see the complicated things. I never get tired of suffering on the tennis level, on the track. He did not consider suffering my way of competing and fighting. I live tennis with passion. But I suffer with pain and disability. I'm tired of it happening continuously. I am already talking about life, not just about sport. Tender pain continuously is hard. You accumulate pain, pain, pain for many months, and when you recover you get into another problem. I spent a low moment in Indian Wells and in Monte Carlo I did not arrive because it came from very low.
-When did you enter that hole you felt at some point very lonely?
-I have never felt like this anywhere. I have lifelong friends, the same since I was three years old. I can talk to any of them. My team is practically the same as always and I have a family in Manacor. In the villages life is different than in the big cities, I have contact with my family every day. I have never felt alone, but what I live and feel, I feel only me and I am the one who went through different situations. Sometimes I need help moments from people who know me well, who love me, and also from the team. I have always been well advised and accompanied.
-How do you always have the key to get out of the well?
-Actually, the good thing that I have is that even when I won it is all incredible nor when I lose everything is ominous. I am a person who is emotionally stable, with better or worse moments, but neither very up or very down. I am in a medium term that helps me accept negative and positive things. When the latter happen, the fact of not 'elevate' helps me a lot to continue doing them. I maintain a logical and normal profile, assessing what is going on and respecting the sport, the rivals and the competition. You can win or lose, a very basic but very real principle. Having the acceptance of those two things you can face everything in a more appropriate.
-He said that in Barcelona he locked himself in his room, what did he do there?
-Everyone went to dinner and I was not in the mood. I needed to think after talking to the team and my family. There are things that can inspire you, tools that can help you, such as videos. I did a proper reflection and I raised my spirit.
-He likes music a lot, which
-I do not remember it very well, because I listen to music almost always, before games, in the room if I'm not watching something or reading ... I'm almost always with music in the background. For each moment and for each emotional state there is different, that really helps you to inspire, to put the batteries or to relax. I am a lover of music in general, not a follower of a single style. I like it and it helps me.
-And after what he has done at Roland Garros, he looks capable of everything?
-No, I've never seen myself like this. I am happy to have achieved something that is very special. But of course the road that has been made is not to leave it there, it is to move forward. I have to adjust my calendar a little, things that I have to talk with my team to try to be well in the tournaments that I would like to be well. And from an approach, I will try to go ahead and give me options to do well at Wimbledon. After, we'll see what happens.
-He's always been very cautious saying that you have to value what you've earned, did you ever stop doing it?
-I do not, I did not make that mistake. It is true that at some point, not now that I just won a title, people almost assumed that I had to do it. That is dangerous, but this has not happened for a long time. Since 2015 that feeling has disappeared. I have valued each title and some have made me more excited than others.
-Tenistically, what pleased you most in the tournament?
-I did many things well, or rather, I did almost no harm. Do not take out incredible, but good and in important moments I took points with the service. The reverse was very good throughout the tournament, the drive, at a high level, mobility, well ... The fact of having been able to play five weeks without retiring is what has given me confidence in my body, in being able to run, in power move without fear. If you accumulate stops, you are afraid when you move and do not go for the balls with confidence. Competing sometimes is a training, because it allows me to advance and improve.
-Bjorn Borg won six times Roland Garros and recently made a movie. You have already won twelve, what do you have to do, a series?
- (Smiles) No, it is special what has happened in this tournament or what happened in Monte Carlo, Barcelona and Rome, but at Roland Garros it has something more of transcendence. It is difficult to express what it means to me. I am happy for everything and I am aware that I have done something special.
-Have you been touched by any congratulations you received?
-I promise I could not read them. I did not stop after the final.
-And what about the praise that has rained down from all sides?
-I have always felt very supported and loved by both the media and the public in general, all those who follow tennis and me in particular. I can only thank you.
-Are you one of those who brings back memories when you win titles like this?
-I usually keep most of the Grand Slams jerseys I've won. When a game like Sunday ends, I take the entire game set.
-After this success, what do you want, what do you want more?
-I'm marking goals and short-term goals. The one of now was to be able to finish the ground season and arrive in Paris as I arrived. Once achieved, the next thing is to rest, to rest after these months of stress, physical and mental exhaustion. I need to stop a little before thinking about Wimbledon when I get back to work.
-If nothing happens to him, he has a lot to gain in the remainder of the season, because last year he only played three tournaments ...
-No I am clear about my calendar and how far I am going to extend my season. I know that I will need to recover my body at a given time, although I do not know when I will make the decision to take a break. Now I have the illusion to continue and look forward. When it's time to take a 'break' I'll do it. When you advance in the race it is important to do it.
-What will you do right now?
-The first thing is that this Tuesday I have the graduation of the boys and girls of the Academy. I will be with them. Then I will try to disconnect a bit, I would like to go a few days to the sea, but it is not in conditions, I think. I will play golf, I will visit the family, I have been able to spend little time with them these last two months, and I will enjoy the beginning of summer.
-Speaking of the Academy, how are you, are you happy with this project?
It is complicated in all the senses, but we are delighted. Do notWe can complain. It has been open for only three years and the involvement of the workers is great. The welcome of all the people who have come, has left us beautiful memories. They leave happy with the experience. There are 130 children living and studying there. In addition, there are more than 2,000 members in the gym, many regular users of the sports center, visitors from around the world who come to do the program of the world. It has generated a meeting point that is what satisfies me the most. Being able to live and share with so many people from many places personal moments is special.
Photos from as.com