Nadal, on the TV cameras: "They almost open my head ..."
If his debut hit one on the road, this time he accidentally touched the cable of another in his match against Londero: "Someday there's going to be an accident".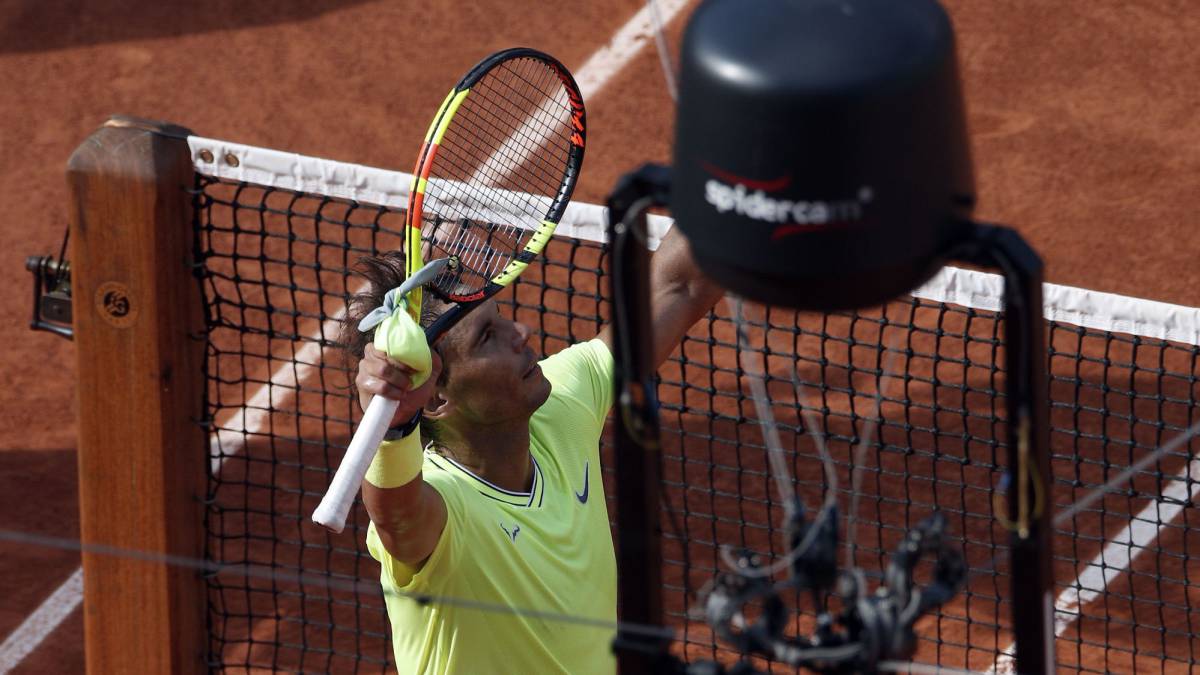 Rafa Nadal is already in the quarterfinals of Roland Garros after airing on Sunday the surprising Argentine Juan Ignacio Londero (6-2, 6-3 and 6-3) in a game in which the Spaniard again suffered a mishap with one of the cameras located in the Philippe Chatrier. If in his debut against Hanfmann hit in the head with one to go out on track, this time touched the other cable by accident. "There are so many contraptions that one day there will be an accident, I do not think there is a need for the camera to be so close.222222 The other day I found myself with her when I left and could have opened my head, I have a crack. nothing happened, I only touched her with my arm, but in a bad gesture it could have happened ".
At the end of the match, the Spaniard analyzed the triumph and made reference to the bad weather prevailing in the Philippe Chatrier: "He is a player who has a fantastic year, he was doing very good results and more to be his first year here. complicated conditions, with a lot of wind and heat, except the dismissal of the third set was a match to see it in a very positive way ".
A question from Alex Corretja, Rafa explained how he had adapted to subtract against the wind during the match: "When I was subtracting in the breach I started to subtract later in their second serves. I think I did it well because it gave me more break opportunities" .
In a press conference, Nadal insisted on the subject. "I made a very good match for the day I was doing, with few mistakes, but in the moments that I had complicated, I solved them well. A player who had been playing well, I won 6-2, 6- 3 and 6-3. "
Also referred to his 90 victories at Roland Garros: "Pleased to have these statistics, but in the end I'm focused on my day to day, in games, trying to win them. Now I have another one ahead that will be difficult. The numbers are special and I'm happy, but I can not revel in them, I have to focus on improving. "
And taking advantage of the fact that this Monday June 3 birthday, he reflected on his career: " The experts said that I would have a short career because of my way of playing, and luckily they have not succeeded. I try to do the things I can control. In 2005 I was focused on winning Roland Garros and now the same. At that time I did not imagine playing for so many years, but things have changed and we have all pushed each other to endure more years. I have had bad moments, but I have always known how to continue with hope. I have been wrapped and loved by the people around me. " Before he said what he will do in his day: "Not much, I will celebrate with the people of the tournament, the workers, who are very special to me, because I have always had a phenomenal relationship with them. , a small dinner, but I play the next day and I'm not happy to turn 33 already. "
About the strengths and weaknesses he has had so far in the tournament, Nadal said the following:" The best thing is that I won four match and lost a single set. I played well and what I have to try is increase the level in the moments when you need it. The ball is running at the speed I want to get what I want ".
Photos from as.com