Nadal: from playing "bottom" in Barcelona to the glory of Paris
After his umpteenth 'resurrection', Rafa Nadal went from playing badly and losing the illusion at the start of the clay season, to winning in Rome and lifting the Twelfth in Roland Garros.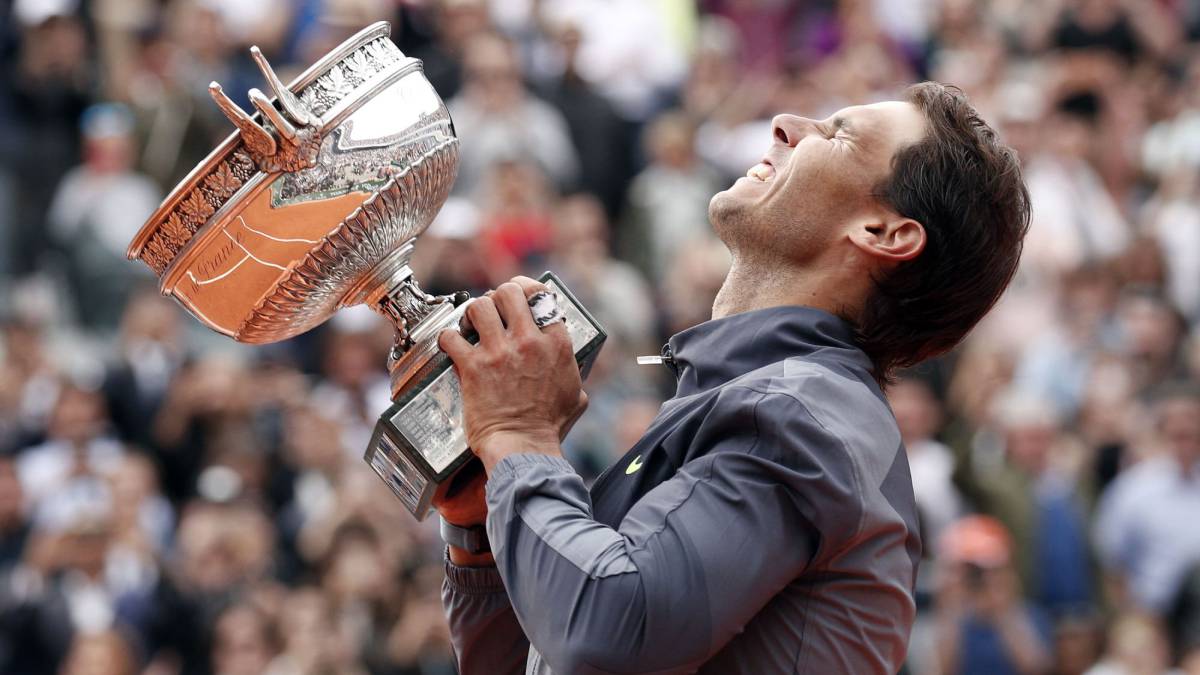 It's not the first time he's got it, but it's still praiseworthy and almost incredible. Rafa Nadal has returned to resuscitate this season after going through another ordeal caused by the injuries that prevented him from competing to the maximum and having continuity in the last 18 months.
"When you are hitting chestnuts on all sides, you have to stop and analyze what is happening, "said Nadal in the interview he gave to AS a few days ago in his debut at Roland Garros. It all started at the end of 2017, when he had to withdraw from the Masters 1000 in Paris and the ATP Finals in London. The following year, he also had to leave Australia when he played the quarterfinal against Cilic for some discomfort in the iliac psoas of his right leg and competed very touched in the US Open, to the point of having to leave in the semifinals against Del Foal. That was the right knee. Blot and new account, again. In Australia he did well, although he lost the final against Djokovic, but in Acapulco the problems returned: "Peloteando in Cozumel hit a right and I kept my hand nailed." Oysters! ", Said the Balearic.
The knee bothered him again in March, when he resigned to play the semifinals of Indian Wells against Federer. That was the last chapter, to date and touch wood, of their misfortunes. He played catch up again and start the ground season. But the emotional burden of all those months of suffering and non-tennis setbacks had taken its toll. "I had lost a little bit of enthusiasm and enthusiasm", explained his coach, Carlos Moyá, in Ciudad de la Luz, lost in Monte Carlo against Fognini and arrived in Barcelona, at Godó, with morale. The match against Mayer came, horrible for him. He won it by miracle, but that saying that there is no evil that does not come good is fulfilled. "I played very badly, I hit rock bottom and I had one of the worst sensations I have ever experienced on a tennis court. There was a low, low level, it was a complicated moment, I do not know how, but I won. I talked to my team, my family and myself, I thought about it, I was alone in the room for hours, thinking, little by little I was recovering things. I saw some videos of my good times and I promised myself that from then on I would have an unpolluted attitude, without complaints, without regrets, without gloating over what happened to me, "Nadal said in this newspaper.
Promotion and success
Afterwards he fell in the semifinals against Thiem, in a match he called" very good " and in Madrid, Tsitsipas got him out in the same round. Threatened by the possibility of getting to Paris without qualifications, something very unusual in his career, Rafa was planted in Rome and grew up. He excelled in the final to Djokovic to take the ninth title in Italy. So he showed up at his home, at Roland Garros, for the Twelfth. "I'm in a good moment, but afterwards it has to be translated into matches and results, the first one has gone well, fortunately", said after winning Hanfmann in its premiere. His game improved with the passage of time until his sublime victory against Federer and the victory, not for repeated less glorious, before Thiem in the final. "Everyone thinks that because you have done it many times, returning is easy," Del Potro had said at the Mutua Madrid Open. The Argentine could not pass eighth in France while Nadal returned to fight for the title, thus completed the umpteenth resurrection of the king of the land.
Photos from as.com