Nadal aims at 12 against Thiem
Play this Sunday (15:00 hours) the final of Paris against the Austrian, who eliminated Novak Djokovic in the semifinals.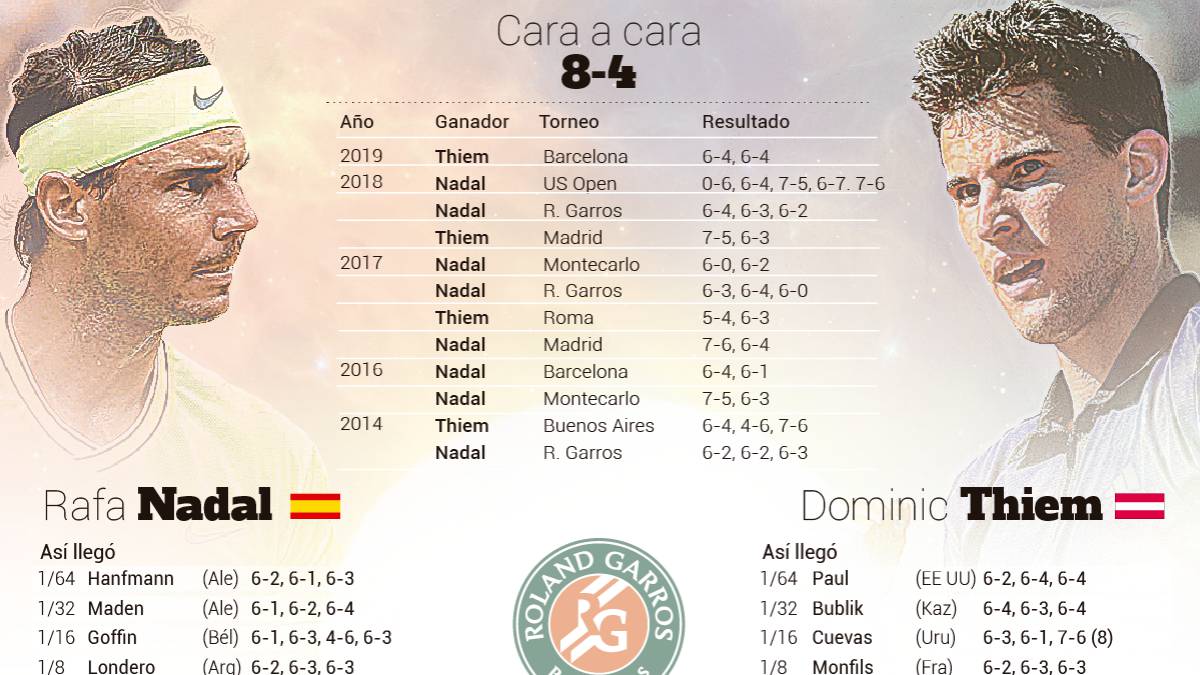 With a day behind schedule, Rafa Nadal knew who he will face today (15:00, DMAX and Eurosport) at the end of Roland Garros, where he will start for the Twelfth Musketeers Cup. Your rival will not be Novak Djokovic, as almost everyone predicted, but Dominic Thiem, his most recent enemy on earth, who broke the predictions of former players, analysts and even rivals to win the Serbian in an epic thriller that started on Friday and ended yesterday after being postponed by the rain. The Austrian showed personality, quality and bravery to win by 6-2, 3-6, 7-5, 5-7 and 7-5 in 4h: 13.
It will be the 13th duel between Nadal and Thiem (25 years and number four) from that began to cross in 2014, with a balance of 8-4 (7-4 on the ground) so far in favor of the Balearic Islands (33 years and 2). The last precedent ended with victory of Domi or Dominator, as they nickname this inveterate football fan, follower of Chelsea and son of tennis coaches who did military service. He won in the semifinals of Barcelona in April and became the second tennis player capable of winning Nadal clay four times after Djokovic, who totals seven.
Nadal, who has yet to lose any final of Roland Garros (11/11) and he can win his 18th Grand Slam, he talked about what awaits him today on France 2, the public television of the host country. "Thiem is a top, it will be his second final here and before he had already played semifinals It's the hardest thing you can find in a final. Maximum respect, to win I must play at my best level," he said. His opponent repeated what all Nadal's rivals often say before facing him in brick: "It's the biggest possible challenge, but six weeks ago I won him at Godó, , I'll try to do the same knowing that here he is I will try to base myself on the positive feelings of that match. "
Thiem reaches the title match (if he wins it would be the first Grand Slam for him) with the handicap of having to play three days in a row for the postponement of his duel against Djokovic and with 15h: 25 of track in the legs, two more than Nadal (13h: 24), which also had three days of rest between the quarters (Wednesday and Thursday) and the final (yesterday). "The match lasted four hours, although divided in two days, I do not think it's an advantage for me", said the Spaniard. His opponent did not complain: "Physically I feel good, it's been two hard days, but I have a lot of adrenaline and it will last me, I'm not tired, I can rest after the tournament, I'm going to give everything."
A the same time as the start of the resumption of Thiem and Djokovic's match (12:00), Nadal trained on track 4 with Moya and Francis Roig, , who joined the team on Friday. While rallying he was informed of the result of that semifinal. Maybe he was waiting for Nole, but it will be Domi who tries to come between him and the Twelfth.
Photos from as.com