Murray will play Wimbledon in doubles but not with Feliciano
The Scottish tennis player announced that he will return to the London major pairing with the Frenchman Pierre-Hugues Herbert while Feliciano will do it with Pablo Carreño.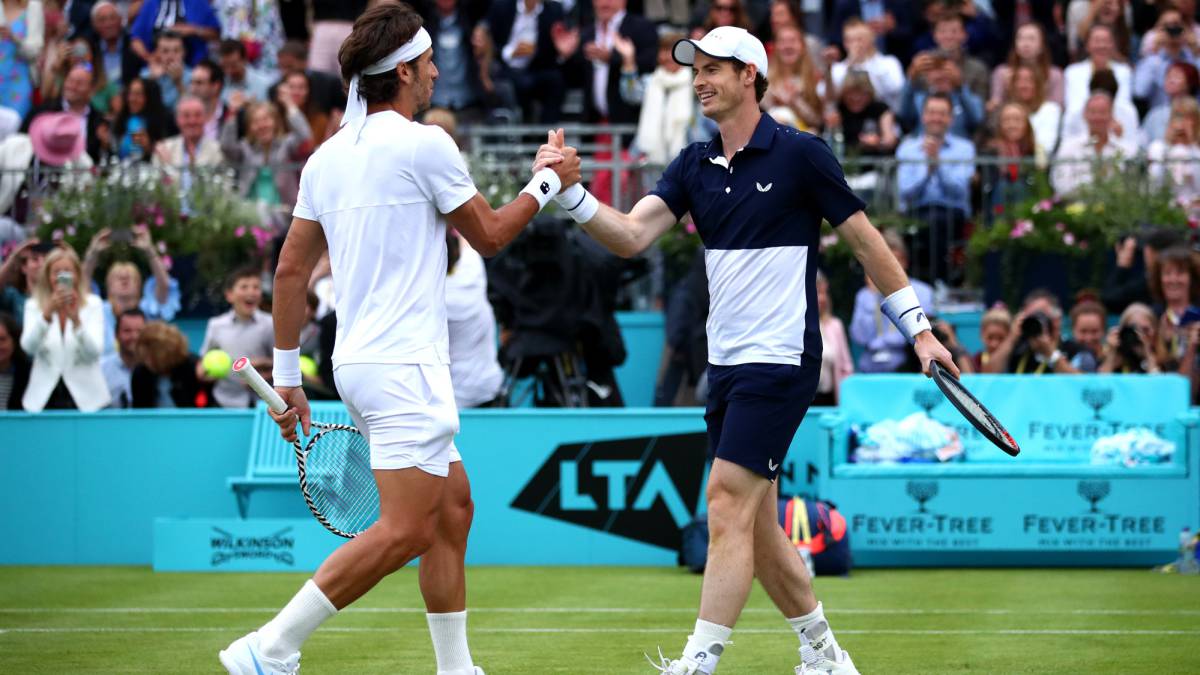 Andy Murray confirmed this Thursday at a press conference that will play the next Wimbledon tournament with Frenchman Pierre-Hugues Herbert.
Murray, 32, returned this Thursday to the competition after six months stopped and after a hip operation. He did it with victory alongside Spanish Feliciano Lopez in the Queen's tournament.
In the press conference after the game, Murray announced that he will pair with Herbert in Wimbledon.
Herbert, number 23 in the world in this modality, has lifted the four Grand Slam titles in doubles with Nicolás Mahut.
"I will play with Pierre-Hugues Herbert, that's my plan", said the Briton.
"It's a long story, but, to summarize, my coach saw him He told me that maybe I played doubles in Wimbledon and he said he was not going to play them because he wanted to concentrate on the singles in Roland Garros and Wimbledon, "he said.
" A few weeks ago we got in touch and he told me that he would play in Wimbledon doubles with me and that's how it came about ", he added.
Feliciano will play the doubles with Pablo Carreño
El Spanish Felicia No Lopez said this Thursday to Efe that there was no possibility that he played in Wimbledon with the British Andy Murray because he already had the commitment to do with his compatriot Pablo Carreño.
Murray announced this Thursday at a press conference that will pair in the next Wimbledon tournament with the Frenchman Pierre-Hugues Herbert.
Feliciano, to the question of whether there was no possibility of playing in the All England Club with the British, he replied that no due to the commitment that binds him to Carreño, next to which he hopes to play also the Davis Cup next November in Madrid,
"Of course I'm sorry (I do not play with Murray in Wimbledon). I would love to. Imagine , for me it is already special to play with him here because in Wimbledon it would be even more. I had a commitment with Pablo Carreño to play in Wimbledon long ago. The possibility of playing with Andy has not existed because of my commitment to Pablo, "he explained.
" I think it is also very important that Pablo and I can play together for the Davis Cup. We only had one chance in Marbella, then in all the qualifiers Pablo has had physical problems and we have not been able to play, "he added.
Feliciano and Murray debuted this Thursday at the Queen's tournament with a win against Colombians Juan Sebastián Cabal and Robert Farah, couple number one of the race to London.
"First very happy to see him healthy and playing at a very good level after both without playing and with all the emotions that were in that match for him. Has shown a Again, he is a champion, who manages perfectly those emotions after having been practically withdrawn. The way he has played ... that's why he has achieved what he has achieved ", he said.
Photos from as.com