Maverick: "Difficult to assimilate not winning when you signed for it"
In-depth interview with Yamaha, who still feels qualified to be a champion if his factory gives him the right weapon. Meanwhile, it grows overcoming adversity.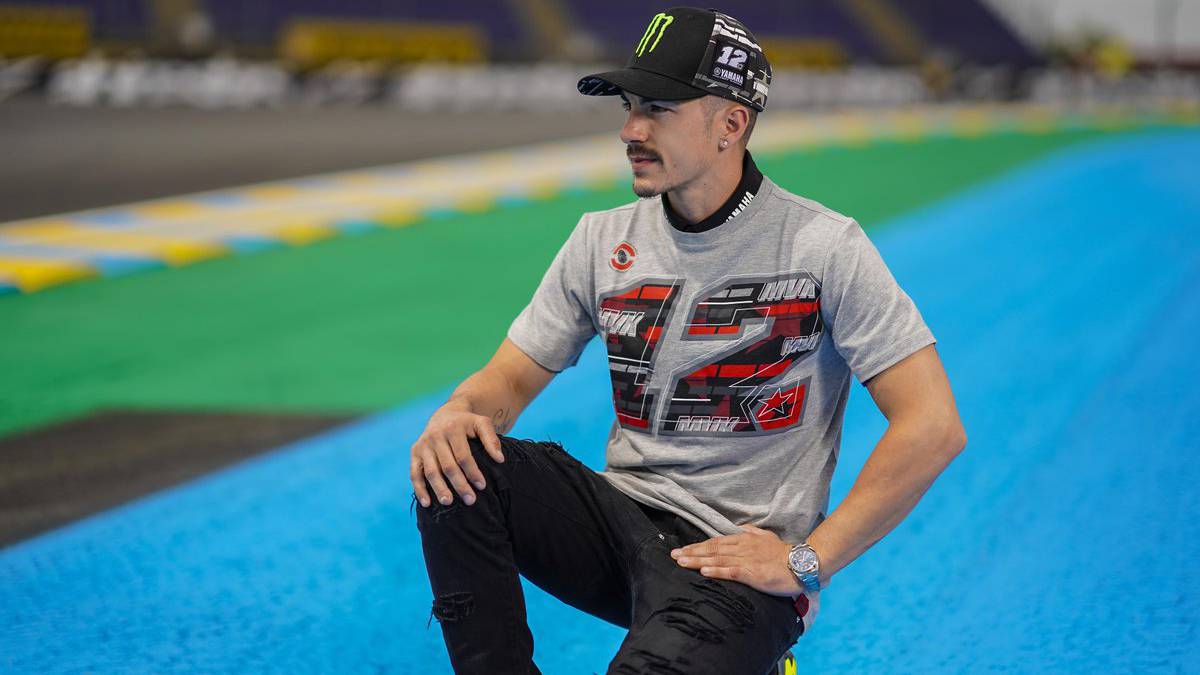 Talk thoroughly with Maverick Viñales in the paddock of Assen, where this weekend the Dutch GP takes place. Some people are still waiting for him as the 'antiMárquez', what it costs with a Yamaha that is not always up to scratch and with which it is growing even though the results are still not what he expected.
-We have chosen a good moment to have this interview, with a great start in the Dutch GP ...
-Yes, but as in Montmeló and other races as in Le Mans, with fairly consistent Fridays. I do not get too euphoric on Fridays either. Paint well and we have two strong weekends, always within the first four or five. Now we have to get a little more out of the bike.
-There's the issue, which usually trains better than competes. Why?
-Not just me, also the Yamaha. Maybe Montmeló was the best race of the year for me, in which I felt more prepared and with the bike more tuned. Hopefully Assen is too. I am working hard for the first laps with a full tank. I'm trying to simulate those starts and trying to pass people with a full tank, trying to be more effective.
-What is the most complicated of the Yamaha?
-At the beginning of the race is very difficult to stop, very, very difficult. I've been suffering that for two years. Now it seems that it is better. We are improving with Esteban (García, his new coach) and working hard on the piloting. The connection we have helps more than anything else. The bike has improved a lot since the beginning of the year and it seems to work better now.
-What has the change of Esteban García by Ramón Forcada brought to the front of the technical team?
-Above all, confidence. It is very important that there is good communication, to try things and when something is done right or wrong. It is important to know what I do right or wrong. For example, in the exits. We practiced a lot and it turns out that I had the clutch deconfigured. I spent two years running with the clutch very badly configured and from Austin, where it was a shame the ride trough, I have always won some position at the start. So ... I'm happy.
-How much responsibility does Yamaha have and how many drivers in the absence of the desired results?
-Yamaha has two riders who, when given the weapon, are ready to fight and to be in front It has been proven and everyone knows it. We are trying to evolve the bike to the maximum this year and wait for the next to bring an improved weapon.
-How it fits that satellites like Zarco in the past or now Quartararo do better than the official?
-In career is different. In training, it depends on what you are looking for. I made a spectacular qualification in Qatar and then in the race I went back. I made seventh and it did not help. We work in a direction opposite to that of going around and doing some time. What I try is not to demotivate myself. I know perfectly how far I can go and that's what makes me not lose confidence.
-In the previous transfer market was the first to renew. Will you repeat strategy for the 2021?
-I think I'll be the last. (He laughs) I want to wait until the last moment, see how everything works and give opportunity ... It is clear that I am very good at Yamaha and very happy. I think it's a mutual feeling and, if we can get the bike to go as I like and I can do my best, I'll be able to choose victories and something bigger. We know that, but calm, that there is still a long time.
-Is there been any time in these three years with Yamaha in which you remembered Suzuki or sorry to leave there?
-No, not at all. When I make a decision, I go to the maximum with it. If these three years serve to prepare the next one very well, I will be happy. You have to give one hundred percent when you can. Montmeló was a good race to do it.
-What would be the perfect bike?
-It does not exist. There is always something.
-And what would it take from each one?
-The power of the Ducati, the traction of the Honda, which has a lot of grip, the agility of the Suzuki and the stability of the Yamaha , with his chassis.
-He has spoken several times about Montmeló and I am sorry to ask him about Lorenzo being in the dry dock. On Thursday he told us that he had no intention of calling him. Is there something else between you that we do not know?
-No, of course not. I have always had a good relationship with Jorge. I dont know. I respect others very much, although on the track I will go to death. Out of it I always respect everyone very much and I do notor with anyone. I hope he is well and that he recovers as soon as possible, of course.
-Did he feel bad the comb that he did after the fall of Montmeló and how well did the photographers hunt?
-I felt worse than they will throw me (He laughs) I would have preferred to have the comb done to me and be able to continue in the race. Let them make the combs they want, I laugh. Maybe it was not the most appropriate behavior, but it was what came out in the moment. The best race, at home, going second or third to fight, seeing me with a lot of claw to go forward, having worked all weekend with used tires and I knew that my strong point was on lap 10 at the end of the race, but I was already there squeezing Marc and Dovi ... It pretty much ends the race like that.
-Do you feel that you have left behind your label of 'antiMárquez'?
-You have to see also the results of the other Yamaha. We are suffering a lot between us, but when the bike is at maximum you can opt for victory. I know who I am and where I arrive, so I will never lose confidence in myself. I've had it since 125cc until today and I know my goal very clearly. The rest? If I have to wait another year, I'll wait for it. When I had grip, as in Thailand or Australia last year, I showed that I could be there. I have improved a lot as a driver and when I have everything on the site I will take advantage.
-Is it more mature?
-Much stronger on the bike. Now I know tracing weekends that start badly. I would like to be winning the championship.
-With this Yamaha to this day is impossible. Are they also behind the Suzuki?
-It's just that I've had a lot of bad luck, because they've thrown me out and I've gone way back. In a normal championship, it would be fourth or fifth. I do not know what position the Yamaha is in, because it goes for days. It depends on your grip. Changes have been made within the team and the factory, and they are working.
-Is it your love and hate relationship with Yamaha?
-It is very difficult, because when I signed with Yamaha, I signed to win . That's what was in my head. I did not leave Suzuki to win a race but to win the championship. And when I renewed, I re-signed to win. They assured me that they would make a motorcycle to win and it is difficult to accept that you have signed to win and do not win. I do not think of anything other than winning. I let my skin win in everything. With the bike, running, in chess, in everything. I have the mentality that it is only worth winning and sometimes I obfuscate more than I should. Also thanks to that I got here, but when you sign to win, and you see that you have all these problems, without any revolution inside the factory and it will cost a lot to make changes, it is difficult to assimilate. You think you can be fighting to win and when you see the tenth you do not understand anything. That is very difficult to assimilate, but I have grown a lot as a pilot and this will serve me a lot, for sure.
-How do you see Rossi and how is your relationship with him going?
-I see him well and I have good relationship from the first day.
-Was there been a time when you were sorry to share box with him?
-Not at all. Valentino has always behaved quite well and we have been very much in agreement with the changes of the bike. The comments are always very similar and that makes it easier, because we take the same address. It has its positive and negative parts.
-And they are?
-You have next to an uncle who is nine times champion of the world and is very strong, mentally and on the track. The negative is all that entails, because sometimes Yamaha weighs more than anything else, and it costs. But for me the positive thing weighs more. And I see him well. It is strong and there is Valentino for a while.
Photos from as.com