Márquez: "Petrucci has more speed than Dovizioso"
"The two Ducati are going fast and I do not think they start helping each other, Petrucci is 33 points and is a candidate for the World Cup," says the champion.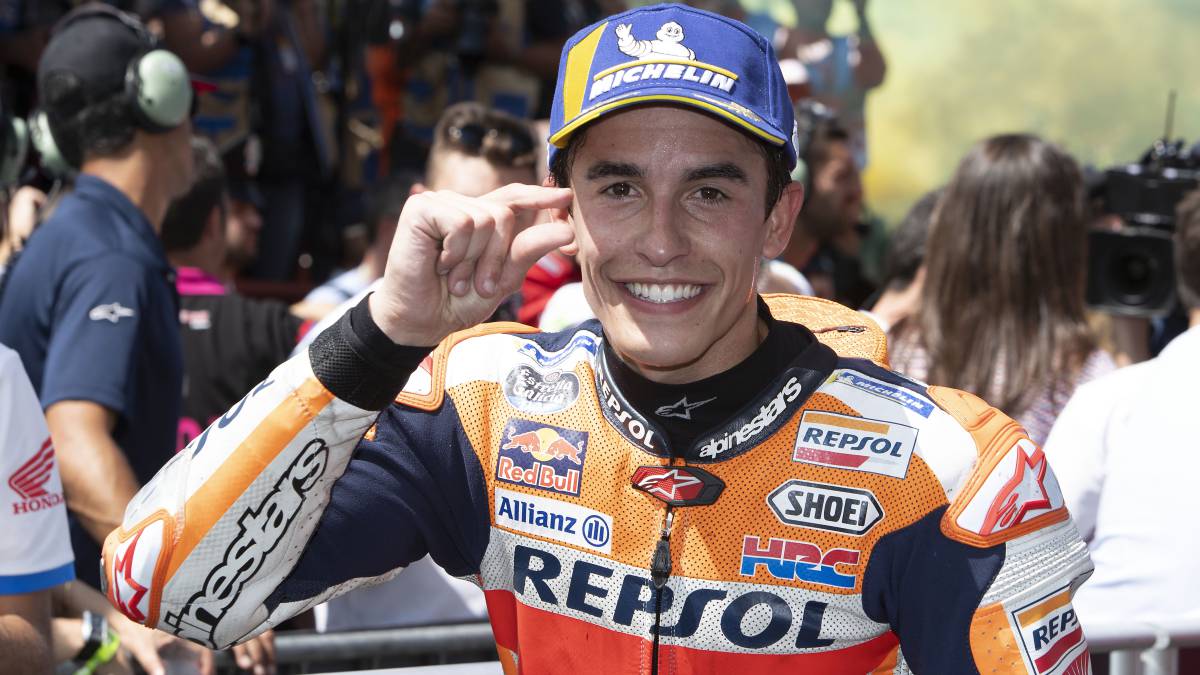 Good taste leaves Marc Márquez in second position in Mugello, because he leaves the Italian GP a little more leader after yielding to Petrucci, but having finished ahead of Dovizioso, which he now scores 12 points.
-¿A what does this second place in Mugello know?
-He does not know how to win, but almost. It is a total championship race, because I tried it at the beginning, four or five laps, and I saw no, that today was not the day. Then I thought that we would have to risk until the end if we could. I was able to continue well enough and when I saw that the group was nothing more than that, I was clear that my goal was to stay ahead of Dovizioso and Rins, who were the two closest to the championship. And so we have done it, but in the last lap I have raised it as to win. After how we got out of the first corner, we saved it that way, because I made more the last lap to defend than to attack, because I did not have the weapons and because if I attacked and Lavied Dovizioso won.
-¿ How was that first corner of the last lap?
-Pleasant surprise, but it is not so pleasant surprise that we advance to the two Ducati on the straight by rebounds. Yes it is true that when they have put the two in parallel has been like in Moto3, when they suck the slipstream between them and the two bikes are slower, and you accelerate much more. That happened, but the problem is that later, when you get to the corner with such speed, I did not know where to brake because if I braked soon I knew that Dovizioso had the inside and it happened to me. And if I braked late, that I finally preferred to brake late, it was because if I passed Dovizioso I knew that Petrucci would have overtaken me along the circuit, because I braked very late. That's why I thought I had to brake late and as much as I had one in the middle of the curve. In the end, Petrucci has benefited the most.
-What do you think when you hear that Petrucci says his goal will be to help Dovizioso to fight for the World Cup now that he has won?
-Analyzing externally, Petrucci has more speed for the moment that Dovizioso and is 33 points so for me it is another rival in the championship. In Le Mans Petrucci was faster, but in the end he could not pass. In Jerez it was also very close, so the two Ducati go fast and I do not think they start helping each other. They will help as they have done up until now, but in the race if they can win one they will win and if they can win the other one, too. If Petrucci were to eighty points, then the same, but is thirty-three and is a candidate for the World.
-What has been the race strategy?
-I have come out strong to try to open a gap and minimize the group of in front, to prevent Dovizioso, who was there from the beginning, Rins or Valentino, who were a little behind, but I saw that today was not the day. I have had two rare moments. When they have passed me in turn three, Miller has passed me and has been watching me, I do not know, I did not understand what had happened and I lost a lot of time. Rins has also happened to me and I have lost so many positions, but immediately I positioned myself third, which was the farthest I wanted to be from the first and until the end I did not attack.
-It has been fulfilled what was anticipated on Thursday, right?
-Yes, we look like fortune-tellers but it is clear that I would have liked to cheat myself and that these forecasts were much better, but we knew that this would be a race that would have to suffer and that would have to be managed. We knew how to suffer with a second place very close to victory and, well, now people will say that I lost again in a melee with a Ducati, but in the circuits that we are well we do not give option to the melee and in the circuits that we are bad we play until the end.
-The Suzuki confirms once again what it is?
-Yes, the Suzuki will reach circuits like Montmeló and will be there, but above all Assen before Silverstone. It will go fast. It was already last year where the engine matters less, they will go very fast since they have an incredible chassis and what Rins does, and sometimes when I follow Mir, it's different. They are the pros and cons of this. When you put the engine you lose in chassis, when you lose engine then the chassis helps. It is looking for the balance and that balance we are finding it right, making the right steps, because in some circuits that suffered a lot every year, especially since we started with the Michelin this year, we have been able to solve it.
-This time you Has your brother wet his ear Alex?
-Yes, yes. I'm angry for that, for not having done the double, but today, the first thing that Emilio (Alzamora) has said when he entered after Alex's victory was: "Let's beYour brother, hey, today he has won but you do not touch. "(Smiles) He was aware that today he did not have to risk or risk just enough to not lose twenty points or sixteen for the honor of this one. and it is not like when I was 20, 21 or 22 years old, I had to take it out yes or yes. It is true that my brother is one of those pilots who, when he believes it and trusts in himself, is capable of everything and that has seen me today, it has surprised me, because I asked myself what was happening to Luthi and I thought 'stay behind', but he has achieved it and he has left, it is important and above all it is because he has shown that it is technically good .
-Do you see it in MotoGP next year?
-It's complicated, because there are not so many holes for MotoGP next year.In MotoGP you can see that sometimes riders who have won everything in Moto2 have climbed they do nothing in MotoGP, and vice versa, others who have not done anything in Moto2 wet them the ear to all those who have won in Moto2, but that depends on what the teams want technically.
Photos from as.com