Márquez: "Quartararo and Viñales have a tad more"
"If there is a circuit in which Yamaha can return to victory, it is this, they are demonstrating during the weekend that they have a great pace," says Marc.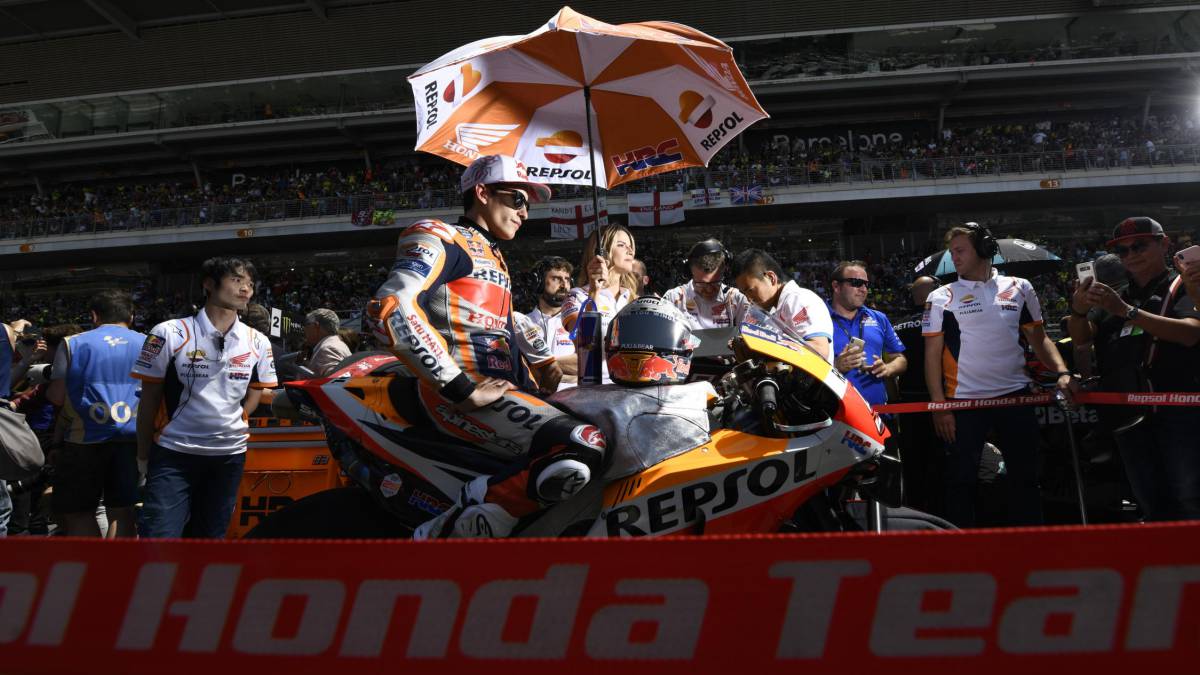 Something difference for Marc Márquez between leaving in the first row or the second one to which the fourth place won in Q2 of the GP of the Netherlands obliges. Go to Quartararo and Maverick with something else, but you will go for them.
- It is the first time in the whole year that it will not start from the front row. What do you say and say if your career plans change something?
-I do not change much. I do not go out in the first line, but only if I left seventh or eighth I would go out and see what happens. We are fourth, very close to the front row and that does not change the strategy much. Yes it is true that you can not think about going out and trying to escape. I see that complicated, but at the rhythm level I see it feasible to fight with the best for the podium. There are two drivers from Yamaha, Quartararo and Viñales, who have a tad more. It has been noticed when they have had to throw in Q2, but at the rhythm level we are not far and the goal is to be on the podium. I am aware, and Yamaha is, that if there is a circuit where Yamaha can return to victory it is this one. They are demonstrating during the weekend that they have a great pace.
-Is it a GP in which the fall of Lorenzo has alerted him and more considering that there is another next week?
-My mentality on arrival Thursday was to try to win. This is the main objective every weekend. Then, you go placing and the rivals are placing you, and there are two, which are Quartararo and Viñales that have a little more. It is also true that at the beginning they had much more, then more and now they go a little bit more. We are not so far away and we will see what happens in the race. The temperatures are high and in a race with a full tank and tire management is always a little different and costs more. Here we managed to win last year, but it was a very slow race and we took advantage of it, and we have to suffer every year in training. Let's see if we can save him in the race.
-Do you realize that he is the oldest of the top five on the grid?
- (Smiles). Already in Jerez it was more or less like that. Luckily I'm only 26 years old and I'm still young. They are the new generations. This happens. It started when Pedrosa, Lorenzo and Stoner came up. Now another generation has gone up and life is a little bit. They come kids, well, I'm a kid too, like Quartararo or Viñales, they go fast and you have to know how to learn from it and manage it, to extend your sports career in the best way. I hope I still have a lot left in front of me.
-Discard Rossi coming out fourteenth and why should he be so far ahead of Quartararo and Maverick?
-A Rossi never discards him, and even less here in Holland, where he has a lot of victories. With the adrenaline of the race, it will improve. It is necessary to see how far. It's what we talked about the new generations. Valentino, for me, is doing much more than what another pilot would do with his age, but new generations arrive with other things, you win, and I'm not saying that Valentino does not have them, and that point of unconsciousness that makes you go fast.
-The salvada has been the strong?
-Well, normalita. I pressed well, but it was a slow curve. In the fast ones I did not have to make any save.
Photos from as.com