Marcos Llorente: his grandfather saved Atlético and his father abandoned him with the 'Decree 1006'
Marcos is the son of Paco Llorente, Atlético's soccer player between 1985 and 1987, until he left his rival, and grandson of Grosso, who played on loan as a rojiblanco player in 63-64.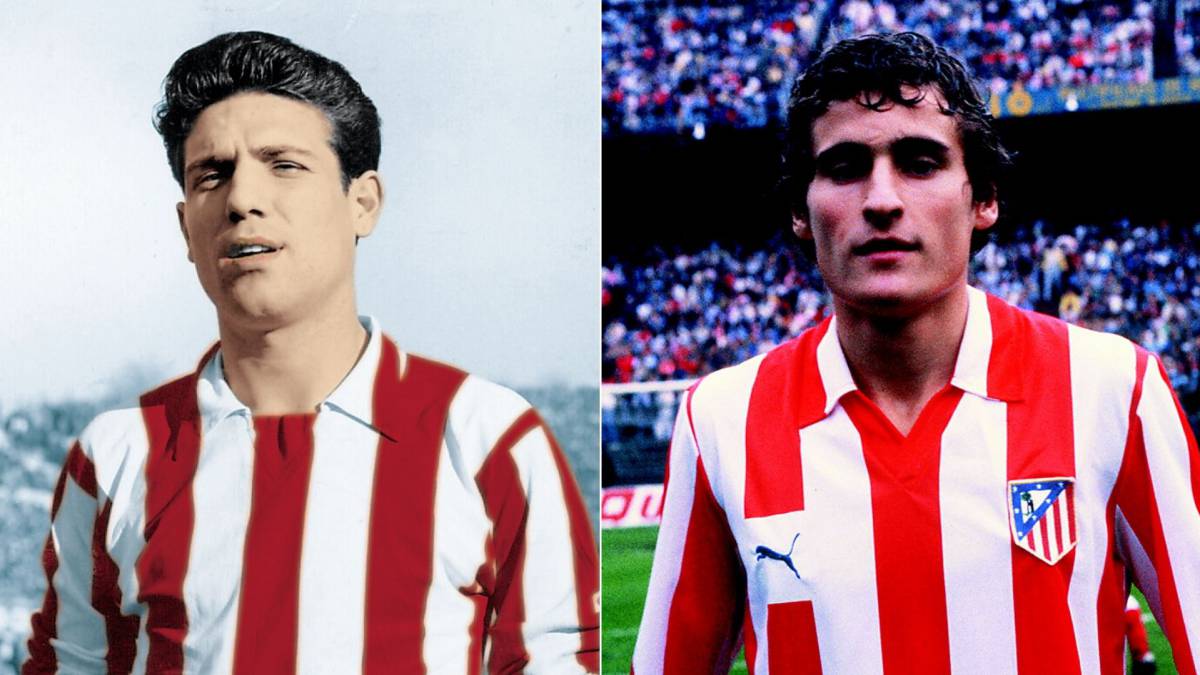 Marcos Llorente is already a player of Atlético, from Madrid, and is not the first of his family that can say that about himself. It takes the blood of other great soccer players and, in particular, it is a very direct descendant of two passed from one team to another for one reason or another. His father, Paco, and his grandfather, Ramón Grosso, wore the shirts of Real Madrid and Atlético, as Marcos will now. Three generations and
4
Grosso was a major footballer in Madrid during a long period (1964 to 1975), but his first steps in the first gave them at Atletico. In that 63-64, when the construction of the new stadium began (el Calderón), The rojiblancos started the course with a very bad foot, coming to be the bottom of the first third of the season. It concludes the first round third by the tail (14th of 16) and Barinaga, newly arrived as third coach, asked the signing of a striker, but there was no money ...
Y surge the name of Grosso, attacker of Plus Ultra, Real Madrid subsidiary: had 13 goals in 15 games and the previous year had achieved 71 with Madrid Amateur. It was necessary to ask Madrid for that favor. From the Plus Ultra do not want, but finally agrees to the assignment for the League, not for the Cup (which was played later) or for the match against the targets.
"Are you the savior of Atlético?", they asked him as soon as he arrived, to what he specified. "I'm nobody, I'm starting and I have a lot to learn," he replied. Two days after the agreement, Grosso made his debut against Murcia in the Metropolitan. With 1-1 and the fear of a new setback, the newcomer scores in the 84 'of Chile and gives the win to Atleti.
The new batter spas the team, linking a streak of six wins and three draws. Se it remains without playing two games (one of Madrid) and Atleti loses them. The rojiblancos climb to seventh position: the bet has gone perfect ... and Grosso returns to Madrid for the Cup. The twist of fate wanted him to cross with Atlético, who scored his first goal as Madridista. White would end up playing 366 games.
Paco Llorente, the opposite way to his son: from Atleti to Madrid
Paco Llorente was a footballer of Atlético and Madrid. In addition, son-in-law of Grosso, nephew of Gento and brother of José Luis and Toñín, basketball players, and footballer Julio, today representative of Marcos. After a brief passage through amateur Madrid, jumped to Móstoles. There he emerged as extremo dribbling and Atlético signed him for his subsidiary, el Madrileño, facing 85-86. In that same course came to debut with the first rojiblanco team, with Luis Aragonés on the bench.
The following year, and as European U-21 champion, he is already full footballer of Atlético. Your performance was magnificent and Ramón Mendoza wanted to sign him for Real Madrid. He got it because, in March 1987 and still with the season in play, Llorente applied in a pioneering way the 'Decree 1006', that allows residential unilateral of the contracts in exchange for compensation, in this case 50 million pesetas (just over 300,000 euros). President Vicente Calderón, who had to see how Hugo Sánchez went to Madrid in 1985, did not hide his tremendous anger. That case also exploited the function of the termination clauses, until now somewhat unknown. Then, Paco turned seven years of white, before being free and go to Compostela.
Photos from as.com