Marcos Llorente: "The Atleti? It's unusual but it was the best"
The midfielder was presented as a new player of Atlético de Madrid. "I was clear that I wanted to come to an ambitious project and trust in me," he added.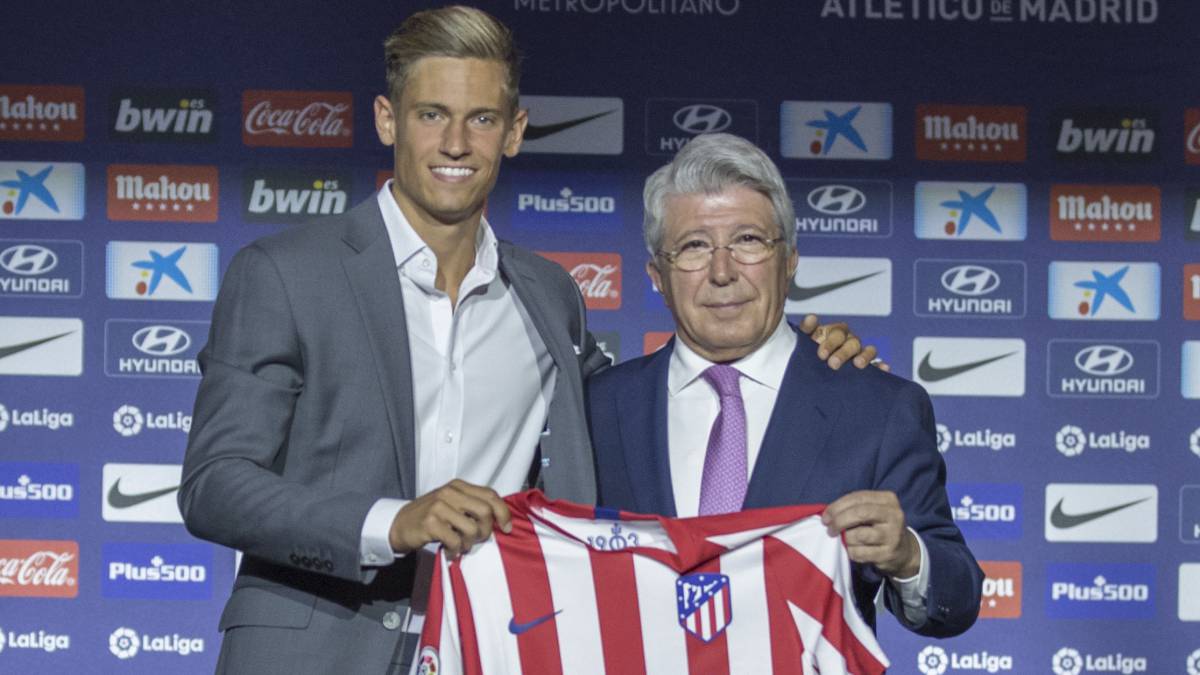 Marcos Llorente lived his first moment as athletic after his signing was confirmed by the rojiblanco team from Real Madrid. The midfielder hopes to take the step forward as a rojiblanco with the confidence of Simeone after not having minutes with Zidane. The 24-year-old was accompanied by family and friends and posed with the Atlético shirt, where he will wear the number 14 that belonged to Rodrigo, still in the squad but has already confirmed that he will not continue wearing the shirt rojiblanca.
Enrique Cerezo, president of Atlético, was the first to appear. "Marcos is a player with a magnificent career, he made his debut at the age of 21 and was a key player in Alavés, reaching the final of the Copa del Rey." It was the Liga player who recovered the most balls and was a fixture in the Sub He is born in Madrid, belongs to a saga of great athletes and his grandfather and father wore the Atlético shirt There are many virtues: anticipation, intuition, arrival, punching and goal. It is an extraordinary signing with a great present and a promising future We know that your commitment to your new club is absolute We know that you will fight to achieve the objectives, we face a season with many changes and you have already conveyed the illusion with which you face the future You come to a great club , the fans will be delivered with you and we only ask you for effort, sacrifice and hope to achieve many successes with your contract ". Later it was the turn of Marcos Llorente.
What feelings do you have?
Before anything, I wanted to thank Enrique, Miguel Ángel, Andrea and the club in general for letting me be part of this project. My family and I are really looking forward to this starting.
Have you talked to Simeone? What advice did his father give him?
Yes, the mister spoke to me, he welcomed me and conveyed his confidence. My father is a great support and what he told me I am left for me.
Why Atletico?
I wanted to come to an ambitious project that would trust and bet on me. At Atlético I have both things.
How important has Simeone been?
Little I can tell you about Cholo that you do not know. He is a great coach, with a huge capacity to transmit his game. I am delighted to put at your service and learn everything from him and as soon as the interest of the club jumped for me I did not hesitate to come.
How do you face your Madridist past?
It is something unusual, but it was the best for me and I am charmed. I come with all my work and commitment to help the entire team.
What should aspire Atletico?
We must aspire to compete and fight all the titles and I think we have the capacity to achieve it. We have quality for it.
Do you think that its characteristics adapt perfectly to Atletico?
I come to help the team, if you need me I will be there. With my family we thought it was the best thing for me because of the game and the great club that it is and I really want to meet my teammates and start playing with them.
Photos from as.com