Marc: "I also thank you for not running against Doohan"
Márquez responds to the praise of the five-time champion by praising him: "He was very good until an injury got him out of his way and the circuits forever."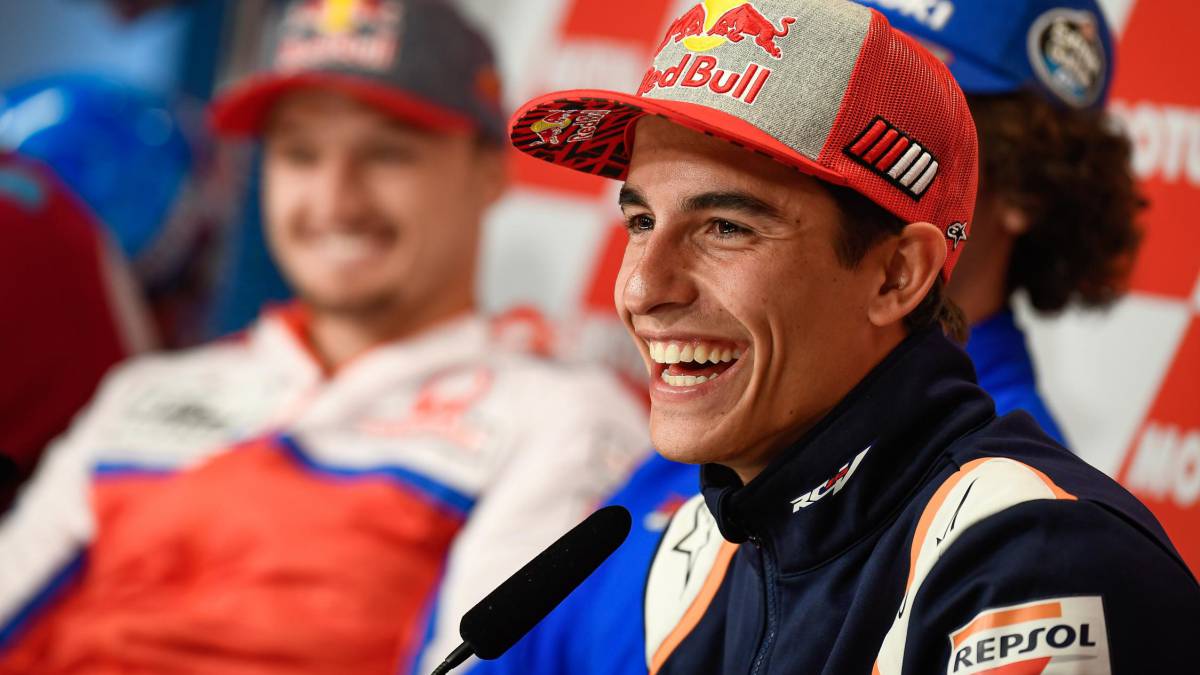 Marc Márquez blushes when he is told what Mick Doohan says about him and praises the Australian in conversation with Ace. Before, in the press conference, most of the questions have been focused on his teammate Jorge Lorenzo. -Doohan told me that he is grateful that he does not have to run against you ... - (He laughs). I also thank you for not running against Doohan, because he was very good until an injury got him out of his way and circuits forever. -Did I really want to run against him? -I've always said that I would have liked to run against the best, like him or like Stoner, but everyone runs in his time and against those he touches. -He has shared an act with Doohan and Spencer in the 60th anniversary of Honda. Do you already feel as legend as them? -I do not consider myself as a legend as Doohan or as the others. I do not care what the numbers say. At the legend level you arrive when you have retired and I am still active, and I hope for a long time. -Speaking of Lorenzo, do his falls show that the Honda is the most complicated bike on the grid? -It is a question that you might have to ask Jorge, who comes from another motorcycle. It is clear that the neighbor's garden is always greener, you see the good points of the bike that the other carries but you do not see the bad ones and this is a human defect. Yes it is true that if you see the numbers a little, Jorge already has the same falls he had with the Ducati, or that's what I have been told, for a whole year and now we are halfway through the year. It also shows that it is not an easy bike, but it is a motorcycle that wins and one thing does not take away the other. It is a motorcycle that you have to go to the limit, you have to look for it and if you relax a little you lose half a second. It is true, but in recent years we are working hard and this concept has been improving, but logically everything has a course. -Does this type of piloting make you more precise in this regard? -Well, not more precise but it does make you go one hundred percent concentrated and if you deconcentrate or lower the chip a moment then it happens as it happened to me in the test of Montmeló, that when I was rolling slower was when I fell. You fall because you relax, you change the style of riding a bit and that's when the error comes. Yes, after many years with this motorcycle, I know the reactions, I know how to understand when to go, how to drive it to get the most out, but there are circuits where even knowing it is difficult to get the most out, although for the last few years we are doing. -Is the area where Lorenzo's fall is complicated? -Well, it's a curve in which you do not feel like falling, it's a curve in which last year with the Ducati made a difference. I did the race behind him and in those two curves you come from the six, the fast right, the seven, made a difference and went very fast but he was behind him and thought 'I can not follow him here'. I do not know if it has entered faster or not, but it is a curve in which you fall quickly and, above all, has had the bad luck that when it has entered the gravel has started to spin. If it does not spin, nothing happens, but when you start giving them, it's when you hurt yourself. -Does this affect the possibility of the team winning the triple crown? -It is true that at the team level it is a pity because it is a lesser pilot that will score points at least in this race, we will see in Germany, but we have to try to continue doing our work to try to get the maximum number of points for the drivers' championship and also in the constructors' and the teams'. The season is very long, everything can happen and once again Jorge has been seen today, you fall. There is a factor that is the risk, you can injure yourself and when two races come in a row you can end up jumping the two races.
Photos from as.com