Lorenzo travels to Japan to find solutions with Honda
The Spaniard hopes to "improve the position" and fatigue less with better ergonomics on the back of the RC213V. "To be able to reach the end of the races with more energy".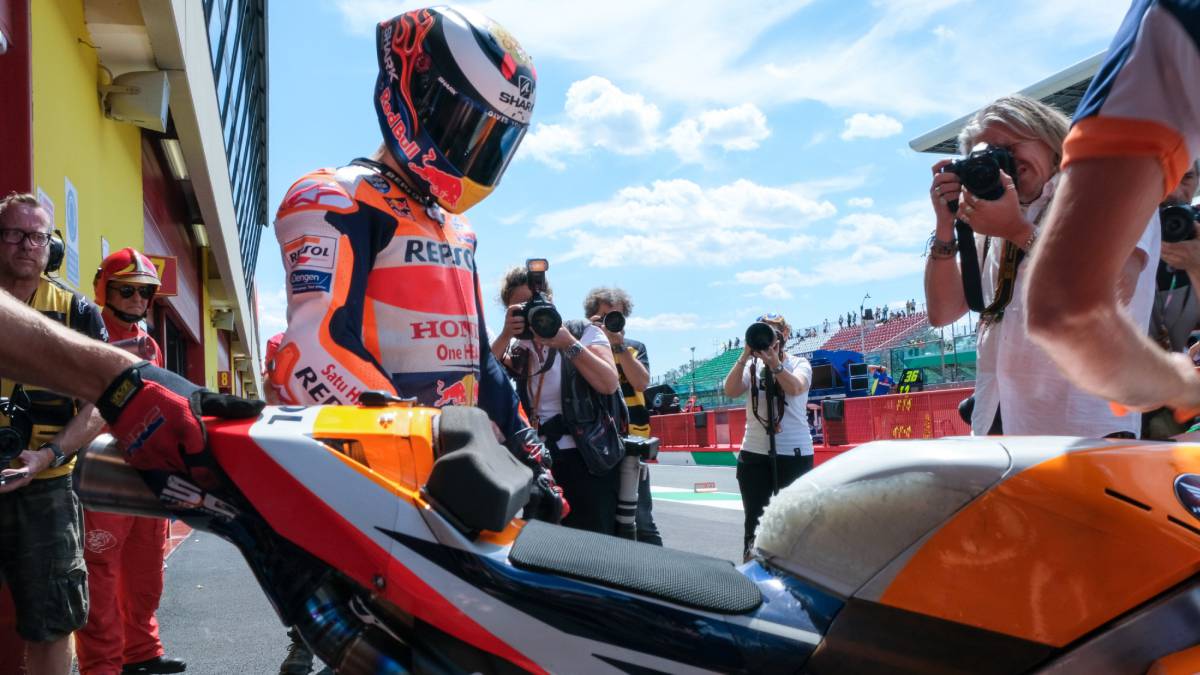 The magic of Mugello did not help Lorenzo to make his first great race with the Honda. The five-time champion could only be thirteenth, 20 seconds behind his head. The best news for him is that Honda takes it to Japan tomorrow to find solutions.
-Was I expecting such a long adaptation to the Honda?
-I honestly do not care much if it has cost more or less. We are not competitive, we are going to look for solutions to be, as I did a couple of years ago.
-Is Japan going to try ergonomics?
-Tomorrow I travel to Japan. I do not want to reveal details about that. We are going to touch ergonomics, position of the motorcycle, it is the only thing that we can touch there, and we must work to the maximum and take advantage of the maximum.
-Is that a sign of the good will of Honda?
-They have bought the tickets, so we'll be there. Is that the will of Honda has always been there, what happens is that A or B have not taken big steps so far. I have tried many deposits so far, but none has given me the solution I hope for and that will help me relax my arms and save more energy. But I have no doubt that I'm going to do it and I think soon.
-Can you get something positive from here?
-Yes, I get positive things. The advances that I made in the test of Jerez and Le Mans keep them. In this circuit it has cost us more for these reasons, but I do not expect all weekends to be like that. And more if we have pieces that make my life easier. As for my physical condition, the bike is what it is and at the moment it tires me. I can not push, I have to survive for the moment and go with my tongue around my neck. When in the end the pilots who follow my wheel and decide to attack me, I do not have the energy to defend myself with a fresh mind.
-How many days will you be in Japan and say if you think those solutions will reach Catalonia?
-No It is a just ergonomic process, although that will be 50% of the solution. The other two sections, which I think you have to fix the bike will be somewhat longer to achieve, but it all comes down to that general problem that I have of fatigue and to make a bike easier and that can drive more accurately and without tiring me so much , without you are fighting with her all the time.
-The Honda is more physical than the Ducati?
-When I got to Ducati the bike only had a very powerful engine. A lot of braking stability, which you felt a lot in front of, but in other aspects it was way behind. Little by little, work got very big advances and now the bike is much more docile, more agile, it turns better ... I am in a different situation, because there in Ducati I arrived as number one driver, especially at the beginning, here is a different situation, but if a factory can try to satisfy both pilots, for potential, economic power and history is Honda. Obviously, the number one driver who is winning the championships and races, and who is riding the bike excellently, has priority, but you can make a different plan, or a plan B, to satisfy your other official driver and making a bike in general easier for all the other riders, as Ducati has achieved, the only one that can do it is Honda, and I trust them. I have transmitted that will and we will let time to see if it is done.
-This trip to Japan is to implement that plan B?
-travels to Japan to try to improve the issue of position in the motorcycle and that I fatigue less. And that can reach the end of the race with more energy.
Photos from as.com