Lorenzo: "I'm far from how to drive the Honda"
The Balearic pilot attended with Márquez to 'The Value of a Gesture', the second edition of the initiative that will give even more visibility to the Pequeño Deseo Foundation.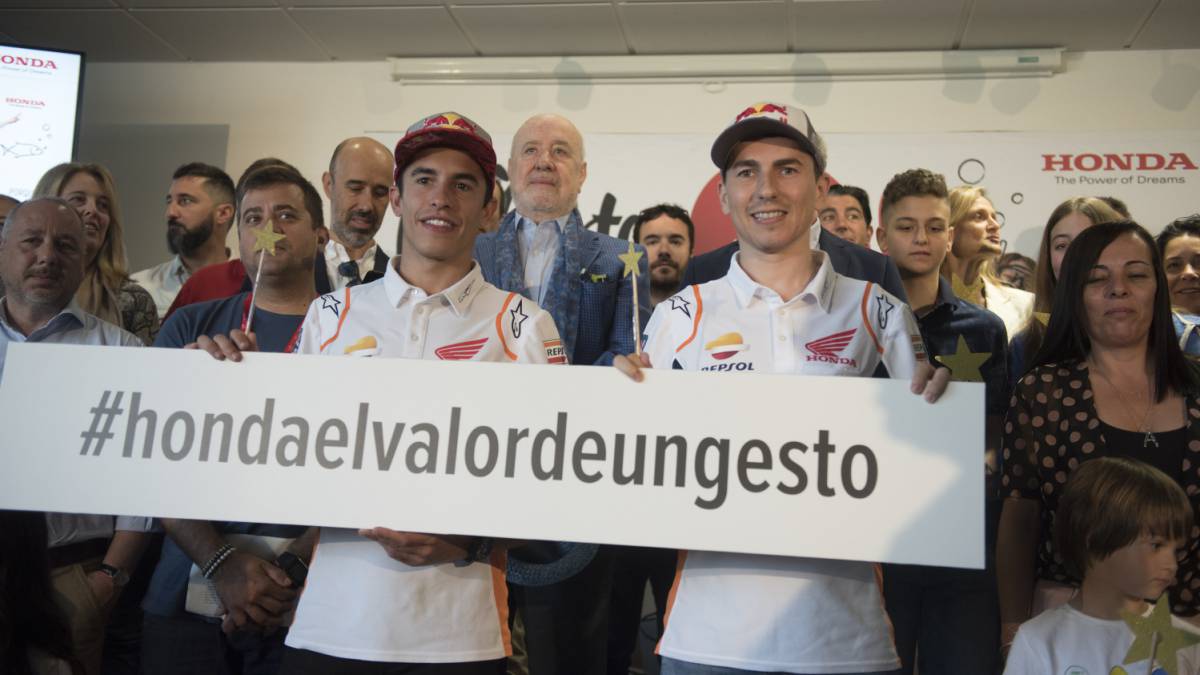 Honda Spain continues to demonstrate its commitment to the smallest thanks to its action of Corporate Social Responsibility IEl Valor de un Gesto'. It is the second edition and this year it has the Pequeño Deseo Foundation as a collaborating and beneficiary organization and with the Repsol pilots Honda Team of MotoGP, Marc Márquez and Jorge Lorenzo, as the main ambassadors of the initiative. The gesture chosen to participate is to close your eyes, a symbol of the power of imagination and dreams. And the fulfillment of those dreams, arising from the minds of children, is responsible for the Small Desire Foundation since 2000. "Sometimes fulfilling the wish of a child is their best medicine", is the motto with which this Foundation works with the intention of fulfilling the wishes of children with serious or chronic illnesses to support them emotionally and make their ailment more bearable.
The Pequeño Deseo Foundation is present in 38 hospitals throughout the country. The initiative 'The Value of a Gesture' appeals to the participation and involvement of followers and Honda proposes that users of social networks such as Facebook, Twitter or Instagram upload a photo with their eyes closed with the hashtag # hondaelvalordeungesto. For each published photo, Honda will donate one euro to the Foundation. The goal is to reach 25,000 photos that would translate into 25,000 euros. The pilots Marc Márquez and Jorge Loreno and are the main ambassadors. "When there are children you take the time from anywhere and when you see the reactions it is impossible to express it in words, we try to collaborate in making dreams come true, but it is a small grain of sand, it is a help that needs the collaboration of many people" , Márquez started and Jorge Lorenzo concluded that "the weekend of the Grand Prix is very busy, we have water around our neck and the minutes are limited, but we meet people who want to be with us. for them and we try to show our best version. "
As for the dreams fulfilled and for fulfilling, Lorenzo was clear:" Since I was little I had many dreams, but the main one, as a motorcycle rider that I am, was at first to win my When I arrived at the World Cup, I was satisfied with only taking points and then I wanted to be top 10 and reach the podium, but what was done in the Brazilian Grand Prix in 2003 was the first big dream fulfilled. or". Márquez was not left behind and also pulled memories: "When I got the first bike at the age of 4. I do not remember much, but when I had the first new bike with eight years it was also an incredible moment". What dream do you have left to fulfill? "It would be to compete with my brother in MotoGP, I am trying to help him, but everyone needs his time, as for me, I want to continue like this, I am happy and that is something that can not be buy, "explained Márquez. And Lorenzo wants to be competitive again: "It is a very complicated course and it seems that the victory and the podium are far away, but I work hard and well, I do not think it is as far as it seems and my dream would be to achieve a podium or a victory with Honda, and my second long-term dream would be to be able to enjoy both myself and mine of what has been achieved, that everyone is well and spend the time I have not been able to spend with them. " The future belongs to them and both pilots sent messages to end the act: "My dream is that there is happiness and peace," said Márquez. Lorenzo opted to "look for solutions to make a cleaner ocean and work on the issue of pollution" .
Márquez: "Montmeló does not hurt me, but not super well"
After the presentation of 'The Value of a Gesture' ', both Marc Márquez and Jorge Lorenzo attended the media. Marquez was the first to answer the questions and did not hide that he is looking for his eighth title: "The objective is to try to revalidate the title, to achieve one more, for now we are on the right track, in good dynamics. Well, but the second one is only 12 points, I made a mistake in Austin and the zeros are heavy, it's very tight, but I'm strong and ready to fight, Montmeló does not hurt me, but not super well either. " Regarding the circuit of Catalonia, the Catalan driver explained that "it is one of the circuits in which the motorcycle is very important and this year we have a great step in this aspect. Every year I have been very close to victory, the last three years being second, we are at home, I will leave with a desire, the objective, today, is to fight for victory, then we will see what we can do, the main objective is the podium and, if everything is settled, the victory " After him, it was the turn of Jorge Loreno and he looks forward to reversing the current situation. It is one of his worst moments and he confirmed that "I am working hard for all theveles, in the mental also because it is difficult to assimilate this situation. But it is a time to learn and to take it as a challenge. It is to learn to change your thoughts from negative to positive. And then there is work so that the suit and shoes are tailored to me and I feel comfortable. "The pilot has been in Japan to work on the various improvements and added that" we have understood that the shoes are uncomfortable for me, big or small. And the suit does not fit me either. I'm a driver who needs to be comfortable and if I'm not, it's difficult for me to show my best version and level. We tried to modify the bike a bit too to be comfortable one hundred percent and that's why I traveled to Japan. In Montmeló there will be the first changes. "What are the changes that must be made? " The motorcycle is now quite physical, it could be less and we are on that path for me. I do not feel comfortable and that makes me tired more. We try to find solutions, but it is a long process. In Montmeló we put the first piece of the puzzle ".
Finally, Lorenzo was self-critical: " I am quite far from how to drive the Honda, especially when braking. I work to understand how to do it, I notice Marc a lot. I always say that there are two towers. There is the tower of what I have to improve myself as a pilot and the one to make the changes in the Honda so that I am more comfortable. Now the towers are low, they have to grow more and when they do the results will arrive quite quickly ".
Photos from as.com