Juanfran: "A cycle is over, but this Atlético delights me"
The lateral leaves the club after eight and a half years, handles offers from Argentina, Brazil and Japan and the next course will return to the Metropolitan to be honored.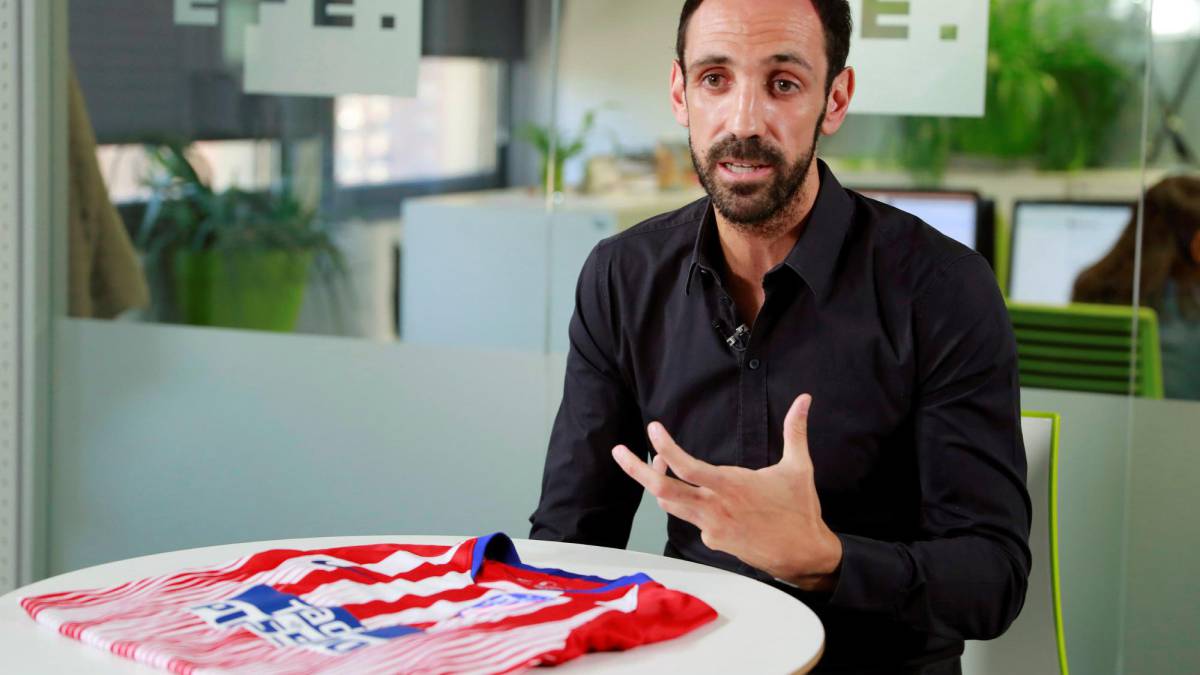 Juanfran Torres closes these days a cycle of eight and a half years, seven titles and 355 official matches with Atlético de Madrid "proud of the legacy left" and "excited" with the "equipazo" that will build the rojiblanco team this summer.
The footballer he explained in an interview with the EFE Agency, in which he highlighted the emotion generated by the fondness of the fans of Atlético de Madrid and admitted that he expects this June to resolve his future while offers arrive, including from Argentina, Brazil and Japan .
-How are you doing these days, after you announced your decision to leave Atlético de Madrid? -They are incredible days, especially since I walk down the street and people express their affection. It is a source of pride. Everything is good words to me from all sectors and that's because I've done things well during these years at Atlético de Madrid. People recognize my work and I've left my life, which is what I've tried since the first day I put on the Atlético shirt. And on the one hand sad, because there are many people who feel sorry; but a lot of happiness, because you can see that people are proud of what I've done in Atlético.
-Do you still need a farewell from your fans in the Metropolitan Wanda? Do you have it planned? -It is spoken and agreed. Next year we will see when we do it. It depends on the calendar of the League that I go to. But I will come to a match and I will be with my people. I do not need as much as Gabi or Fernando Torres. I just go out and that people applaud me is enough. I do not like being the center of attention. They already did me a very nice act, but I would like to do a farewell in the field next year, already dressed formally, not in uniform. We have already talked to do it some day.
-However, the club did have an exciting farewell video, with all employees applauding him in his path ... -It was beautiful. I got excited. I was thrilled there more than in the farewell act. To the act of farewell I wanted to go whole to be able to transmit everything to the people, that then you get a little excited. It was something very special. It was something incredible. I felt all the affection and the heart of all the workers of Atlético and how they applauded me. It was a very nice act that the club organized me.
-It was especially emotional the embrace that occurred with Adelardo. -It is a person who has always been very good in the club with me; since I arrived, to a party that has not seen me well, that has said 'Juan, you have to focus in this way'. And it's Adelardo. I have always received it with great affection. I love him very much I know that I am very important for him and he for me, so that hug is forever.
-He is eight and a half years old at Atlético de Madrid. With what detail or moment does he stay from his entire career in the club? -The truth is that many. Many good ones There are moments that you remember and that reach you right away to the heart. The day I scored my first goal with Atletico I dedicate it to my dad and my dad could not be, because two months before he died. That's when the good moments began in Atlético. Look, I've had very difficult moments, those Champions League finals that we lost at the last moment, in the penalty shoot-out, but after that session it was also very nice the love I felt from the fans. It was something very special for everyone. The support we received, not only me, but the whole team. It is hard to lose another final and more of Champions, but immediately people found that magic that we have lived all these years of thinking how beautiful it is to defend the Atlético shirt and everything we are achieving together. And all the titles we have won have also been spectacular. They are all good moments; and the bad moments have been covered by good moments. I have many and I can count many. I'm lucky. That is the word. I am fortunate to have been able to play and have been able to wear this shirt of Atlético de Madrid.
-That moment in Milan strengthened the link between the fans and the players in a difficult time ... -It is something that will remain forever. Some will remember it with happiness, which is the opposite team that won, and we with sadness, but it is something that has dignified us on a team, hobby and union level that has been achieved these years, because I remember that there was not I arrived at Atlético; there is a hobby, that is of the Atletico de Madrid to more no power, of heart, of cradle, and soon a team that there are players who are a little more identified and others a little less. But for eight years here something very special has been created, which I hope will last. And that is the work of the players. I hope that in the field they leave life as notwe have left it all these years.
-It is also a legacy that leaves this whole cycle ... -Yes. People who come from outside to see what we have achieved and to help them. When I went somewhere I immediately tried to absorb the good things that were there, the bad things to put them aside and tell myself that I wanted to succeed in Atlético and what steps I had to follow. And it was work, work and work. There are few formulas as effective as that, because I think that when you work and give everything you have at the end, good things come to you. Some bad things fall on your back, but more good things come to you than bad ones. And identify with the club too. Immediately realize that you are a very important part of this club and its history and give everything so that the fan will support you from the first day.
-Many veterans leave Athletic hit. How do you see the future of the team? -I'm excited about this Atlético de Madrid. I know a little more or less the options they handle and the profiles they want from the player. I think a stage has ended for many of us, who have made history in this Atlético de Madrid. Thats the reality. I was talking about magic and yes some magic has been created with everything we have achieved. With Madrid and Barcelona always as almighty we have achieved something very special in recent years; the Gabi, Godin, Raúl García, Koke, Falcao ... I'm sure I forgot someone. It is clear and assumed by the club and the players that it is a cycle that has been completed. It remains an important standard as is Koke. It is a reference that has lived and sucked all that is the captaincy, with Gabi and Godín. I think we could not have a better captain now than Koke. And he will surround himself with important people. From Oblak, Giménez, Saúl ... Hopefully Rodrigo, Savic, who has also played important finals and is a strong player within the group. And more people in the locker room, who will also have to step forward. Here everything happens, here is no one essential.
-Is there any reason why the march of so many leaders has coincided at once? -I believe that everyone has their different circumstances. Gabi had a very good offer in Qatar, many years of attrition as a captain, and he was of an important age. He decided to take the step, but also because he knew we were staying Koke, Godín and me. Godín was offered two years and at the end you talk to the club and you do not reach an understanding for any situation. Then Godín is dismissed as a gentleman, in an incredible way, both in the stadium and in the act of farewell. And now my exit. These two have been crowded in a year, but that's life, the players are growing, the club is looking at other things and it is normal that people come out. It happens in the Barça, in the Real Madrid, in the Bayern Munich. Passes on all computers. The important thing is the legacy and we have left one very important. The new ones have it very easy to succeed in Atlético. They have to look at people like Gabi, Godin or Koke and things will go well.
-In a position as volatile as coach, what has Diego Simeone to settle and be a basic pillar every year at Atletico de Madrid ? - He is very intelligent. To endure so much in a dressing room carrying so many players of such weight, having thousands and thousands of Atlético fans behind you, with all the situations we have lived, first you have to be a very intelligent person, then be a very strong person at all levels and then all the heart that you have to transmit it in the form of illusion, of desire, of intensity, of energy ... And the míster all that heart knows how to expand very well facing outwards so that its players can see it right away . We arrived the first day of his training, it was December, we were returning from the Christmas holidays and we are already waiting for everyone outside. He was missing, only. They came 10,000 or 15,000 people to see the training and they began to sing only to him, because they did not come to see Atlético, but to see him. He came to us in the circle in the middle of the field and told us: 'wait a second that all these people have come to see me'. He spent a few minutes with the people and thanked them for coming to see him and to support the team. And there we all understood who Diego Pablo Simeone was and what we had to do to make things go well for him, that was to follow him. Believe in him. If you respect your coach and believe in him, the team is doing well. I am convinced of this.
-How do you rate this season? Do they always feel more demanded by fans? -I also had the highest bar. I even had the illusion of reaching the Champions League final, over in Wanda, and of competing with Madrid and Barça for the League until the end. In the Copa del Rey we left very soon. It is that hemoput the bar so high these years that it is no longer worth getting out of there. And it's good to have that bar, because we've grown as a club: the stadium we have is one of the best, not to say the best in the world, the budget we have each year is bigger, the great players we can sign, the great players who they also want to stay at Atlético de Madrid ... And all that makes everything look like little if you do not get titles. It already happens as it happens with Real Madrid and Barcelona, which as no titles are achieved is a disaster. That is the reality of football and the one that Atlético de Madrid lives. We should ask the amateur: do we want that reality or that of nine years ago, when we were eleventh? We came from winning a Europa League, but we almost never entered the Champions League. We played Champions once every fifteen years. I prefer to live the reality of now than to be fighting in the middle of the table or not get into Champions. I hope it lasts for many years, I hope the coach lasts for many years and when it is not there and we will be there a few retirees and we can also help Atletico Madrid if you need us in the future.
-What now? Where does your future go? -It's still early. I am analyzing situations that I already have from many countries in America, Europe and Asia. I want to compete, I want to continue giving the best of me to the club that goes. I'm not going to walk One of the reasons why I have left Atlético de Madrid is because I feel strong. I finished playing, with the confidence of the coach and I still have years ahead to give the best of me. I'm analyzing everything. It is clear that the clubs outside are seeing that I have not renewed with Atlético because I have not wanted and they are calling me. And I'm proud of that. I tell them all the same, that I am thinking about it and in a couple of weeks, in the month of June, I will give them the answer.
-You have played the final of the Champions League, would you like to play once the final of the Copa Libertadores? -I would not mind. There was interest from Argentina. I thought about it, I thought about it and I talked with my family. It is a situation that pleases me and I am still appreciating it. They are situations that come to you and surprise you. From Brazil I also have a situation that may be good for me. I'm evaluating it. I do not close the door to anyone and any competition. I have played the Champions for many years and played finals. I am one of the Atletico players who have played the most Champions matches. Other competitions like the Libertadores I would not mind playing them.
Photos from as.com