"I joked Modric if he left me '10', he said no"
"I'm not a galactic, not yet, I hope to be one day," said Hazard, who appeared at a Bernabéu that brought together 50,000 fans.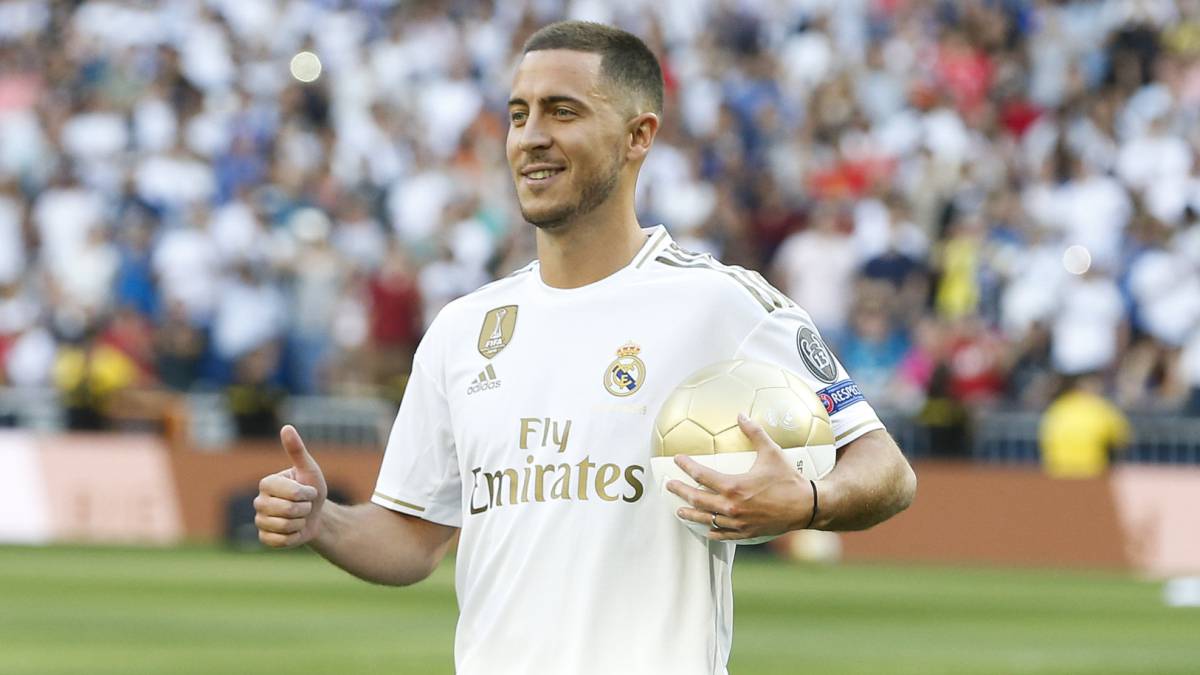 It was barely 3:00 pm and whoever was hanging around the Bernabéu could already see that it was not just any day. At 16:00 the evidence was even greater: Eden Hazard (28 years old), who was to be officially presented three hours later as a new player of Real Madrid, had passed over the siesta and any other occupation. It is what that has the illusion, that can with everything. Just released the afternoon, the trickle of Madridistas around Concha Espina was constant and growing. The opening of doors, about 18:00, began to heat the stadium emotionally as the sun had previously done at a temperature level close to 30 degrees.
A half an hour could be seen in the Palco de Honor to the first part of the large delegation that accompanied Hazard on his most special day. The Thorgan family appeared, the second of the brothers. Meanwhile, the grandstand surprised to chant an "out, out!": The reason, a follower with the shirt of Barcelona. That accelerated the audience, which was started with several songs of support for the team.
A 19:36 hours were accommodated parents and brothers of Hazard, received with a video about the career of the Belgian, in what was the beginning of the act . And at 19:46, with a notable delay over the scheduled schedule that allowed an extraordinary aspect of the Bernabéu, came Florentino Pérez, and the player himself and the rest of his closest people. The president was the first to take the floor. After, it was the turn of the great protagonist, in a gray suit and at times hands in his pockets: "Hello everyone (in Spanish) . I am going to speak French because my Spanish is not very good yet. to the president, also to my family, including those who have not been able to come because there are still schools for the little ones and they have not been able to be here I really want to start playing with this shirt in a month. Get many titles. The president said, it was my dream since I was little to play for Madrid, now I'm here: I just want to enjoy this moment. Thank you very much. " The Bernabéu held these statements and waited for his crack to wear short and gave his first kicks as Madridista on the lawn.
After his speech, Hazard dressed for the first time Real Madrid jersey and jumped into the grass of the Santiago Bernabéu , from where he gave away balls to fans who came to the stadium to watch his comeback and even threw, and scored, a penalty. In the technical area hallucinated his family and friends, and he was closely followed Florentino, other managers and Juni Calafat, one of the architects of the agreement, which briefly chatted with Thorgan. Hazard also posed for the graphic media, kissed the shield and dedicated his first words in Spanish to those who are already his fans. "Thank you all very much, Hala Madrid!"
After that, he went to the press room and, accompanied by Emilio Butragueño, Director of Institutional Relations at Real Madrid, gave a press conference.
"Dear Eden. We are delighted that you are among us Your talent and winning mentality has made you one of the best in the world. You achieve your dream of being part of this club and Real Madrid is very excited as we are convinced that you will be a player fundamental that will help us to successfully face all the challenges. This is your new home and we will do everything possible so that you and your family can be very happy in Madrid ", declared Butragueño. The Belgian later answered the questions of the journalists.
Since when have you dreamed of this? "I have dreamed of this moment since I was very small, since I started playing at home with my brothers. Madrid since childhood, then I went to France and England, but being able to get to Madrid and wear this shirt is an honor, I really want the season to start with Madrid ".
Your mother, excited: " It's a good thing for me, for my family too, because when we arrive at Madrid we are all excited, maybe my mother is a little bit more, it's an incredible pleasure and as I said, I'm really looking forward to the season, everything is going to be very good ".
How important has Zidane been in his signing? In what position would you like to play or feel more comfortable? "Everyone knows that Zidane was my idol since he was a child and the fact that he is the Madrid coach has had an important factor, but not only that. important for this club and I already wanted to play here, I'm not the one who has to decide, I've always liked to play on the left or like 10. But if I have to play in another position I wouldwith great pleasure ".
Objectives:" My dream is to enjoy the game, the field, to win matches and when one plays in Madrid we want to win trophies, try to get the maximum possible titles, I want to create a story with Madrid ".
What is your level of responsibility? Would you like to continue shooting penalties? "When you play for Madrid there is not a single star, the team is the star. I arrived as a new player, at Chelsea I was already 7 years old. I arrive as the new team member and I will try to contribute as much as possible. As for the penalties, the captain of the club shoots them very well. But if he asks me to throw them ... I do not think he will. I think he's going to keep pulling and he does it very well, I think he'll keep scoring penalties. "
Does the signing come a little late? " No, I do not think it's too late, I'm 28 years old. I am in the best moment of my career. Between 27 and 32 or 33 years is the best time. The dream to play for Madrid has always been. I come to the biggest club in the world and it's going to allow me to progress. "
What number do you want to bring? I used to wear 10 but that number is in Modric: " I've had the good fortune to talk to Modric through Kovacic, As a joke I told him if he left me on the 10th but he said no (laughs). It is not important for me the number, the important thing is to play with this shirt and with this shield ".
Intentos of signing: " Everything started last year, after the World Cup, but I followed another year at Chelsea. Everything went very well, I made a great year personally and also with the team, which has won the Europa League. Now was the perfect time to sign for Madrid and I will give the maximum. "
Dorsal:" I have been lucky to talk to Modric through Kovacic, I jokingly asked him if he leaves me on the 10th and he told me that No, so I have to find another one. Now, honestly, it's not important. The most important thing is to play with this shield ".
Exigencia:" El del Madrid is a demanding public because it is a demanding club. It is a club that wants to win everything, it is normal that the fans always ask for the maximum. As a player, the most important thing is to work as best we can on the pitch. That's what I want to do and that's why I came. I hope all the fans are happy. "
Courteis:" With Courtois I've talked a lot about Madrid. He told me that, if he had a small possibility, he had to come, he could not doubt, because he is the best club in the world. He's a friend to me, everybody knows, and, as I like to play with my friends, I'm very happy. "
If you ever thought you would not play at Madrid: " No. As I said before, I have always dreamed of Madrid, I do not say it today because I signed. Since I was little, I never doubted that I would play in Madrid. I had several stages, I went to France, then to England with Chelsea and I think now was the perfect time to come, so I did not hesitate a lot and with this less. Now I simply have to show my quality on the pitch. "
If it's going to improve: " I'm going to try, I'll try. Before, what I wanted is to be in the best club in the world. I have been very successful and I want to win a lot now with Madrid. Being here is a new challenge, but I am ready. "
Conversations with Florentino:" We met once in London, for a trophy gala, and we talked quietly and he said yes, it was time for him to come. That the president told me that made me very happy. I am already here and I hope to get many things together ".
Message to the fans: " Thank you very much, sincerely, for coming. I am very happy that so many people have come, I think everything went well. I am very happy to see them all, I really want to play with this white shirt to show what I can do. "
Belgian guys in the Madrid:" It is true that it is a pride for Belgium and it is rare that there are two Belgian players here, but that shows the quality of our football, we are not here by chance. We have a lot of quality. I'm going to play with a Belgian friend in Madrid, for me it's incredible and for Belgium, too. So we are also going to increase the number of followers there. "
Its most human side, in the farewell to Chelsea: " It is true that Chelsea videos have marked me not only in the sporting part, but also in the personal, I am here because the human part takes precedence over everything, that's the most important thing for me and maybe that's why I'm here, I get those videos a lot. "
Galáctico:" I'm not a galactic, not yet. I hope to be one day. I'm Eden Hazard and all lWhat I've done in the past is not worth it, it's going to be like a clean slate. Here I start from scratch, with the team. I do not consider myself a galactic, but a very good player. "
If it's easier now to win the Golden Ball: " What I can say is that this year the Golden Ball is already in Madrid, with Modric. I do not know if it will make it easier, it all depends on how we play, but it is true that in recent years almost all years have gone to Madrid. I focus more on the collective aspect, on helping the team win. If then everything goes well, why not win it? It's in my head, but I do not think about it every day. The most important thing is to win titles. "
Benzema:" The connection can be very good, I've already had the luck of playing against him when he was at Lyon and seeing the years he's already been here is incredible. For me it is the best center forward in the world at this moment. It will make me a better player. We already imagine the walls with Benzema, but for that I have to play, to be a starter. I hope there is a good connection for him to dial and I also, so that it is good for everyone. "
Responsibility for its price: " There are many leaders in Madrid, I do not think there is only one. Everyone is a leader, so for me the group is the most important thing. I'm here to try to improve the group with my experience, my dribbling, maybe with my goals. I hope we all do a great job. With Belgium and with Chelsea I have been a leader, and I think that here too it will be the same. I know the responsibility that I have ".
Better more:" In football I have always been told that there is always room for improvement, there are always aspects that improve individually and also as a collective. I think we all hope to improve performance, and that will be seen in training and matches. I think I can still improve. "
Mbappé and Pogba: " I'm not here to talk about signings. New players are coming and we will have time to adapt. We'll see what happens".
Its surprising tranquility: "I confess that I was a little nervous, I prefer to play, but this is also part of my job and it is easier if my family is here (he sends two winks to his relatives, in the front row)".
Madrid's last season: "I've focused a lot on Chelsea, I know there's been a bad time, but in the last five years they've won a lot, all the teams, even the best in the world, which is Madrid, they have ups and downs, I hope to improve the performance of this course. "
Another cycle like the four of five Champions: "This year has not been so good, but those things happen, I hope to start a new cycle with new players and with those who are already here, who have won a lot, to continue raising trophies ".
La Premier or La Liga for their football: "The style of play of the two is different, but I do not think one is more difficult than the other, the League will allow me to evolve" .
Photos from as.com