Ja Morant: a tornado hidden in a bag of Doritos
The Murray State has been one of the sensations of the NCAA season and may be one of the great bases of the next generation.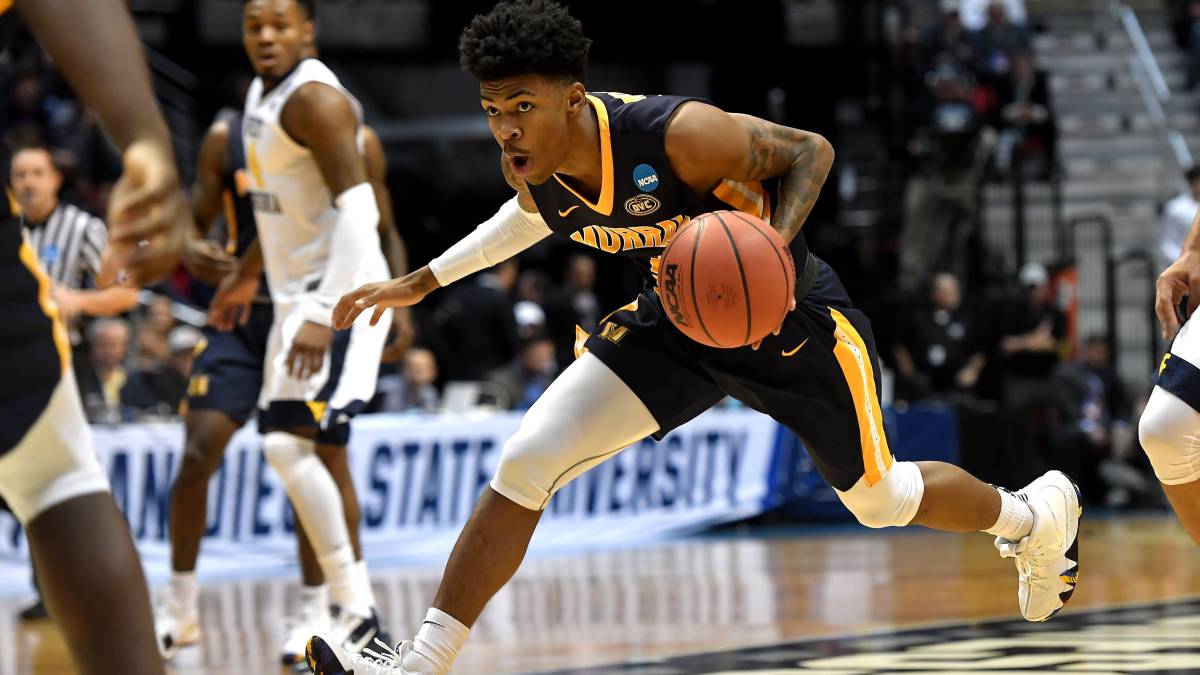 Number number: 2 (Memphis Grizzlies)
Edad: 19 years (August 10, 1999 in Dalzell, South Carolina)
Height and weight: 1.91 and 79 kilos.
University: Murray State (2017- 19)
NCAA statistics: 18.7 points, 6.1 rebounds and 8.2 assists
Puesto: Base
Ja Morant has been one of the university sensations and the player who, unexpectedly, slipped between Zion Williamson and his teammates of team, RJ Barrett and Cam Reddish down, in the mock draft of the second half of the university course. But unlike Zion and Barrett, Morant was not a high school media star or a player who fought big colleges. He finished in Murray State, which also led to the second round of March Madness after debuting with a triple double against Marquette (17 points, 11 rebounds, 16 assists) , and he did it by pure chance.
You write the story : James Kane, now at Iowa State, was traveling south to hunt talent for Murray State. Between games of a tournament in which he had gone to spy on another future (Tevin Brown) went to a vending machine to buy Doritos and, through the corridors of the pavilion, he heard party noises on an adjacent track. There it was, there he saw Ja Morant, slipping between the players who had no space in the main tournament, and there he fell in love with him and tried since then to keep his find secret without the videos circulating too much that he recorded with a GoPro el father of the great guy, Tee Morant, who in his high school years played with Ray Allen and ended up riding after a barbershop.
A so came to the NCAA a Ja Morant that swept in his second season, with much more responsibility and a total weight in the Murray State game: 24.5 points, 5.7 rebounds and 10 assists on average. The first to average 20 points with 10 basket passes in Division I, the second in three decades with 10 assists on average. And then straight to a promise of stardom in which only Zion Williamson ended up looking clearly superior within his litter rookie.
Ja is mostly a passer, an excellent passer. With a vision of privileged game and a lot of facility to double passes once he arrives at the zone with advantages obtained thanks to his devilish speed, his tremendous changes of pace and direction and his excellent handling of the ball. As an scorer, he is excellent near the basket although some believe he has a lot of muscle to gain to be able to do the same damage in the NBA zones.
Y is, another issue to watch with atenicón, a shooter little more than correct that, nevertheless , improved in his second season and showed a closer range to professional basketball: 40% in the distance NBA over his 36% total in triples. It is true that he monopolized all the game of his team and that it added many losses and, for the more punctilious, inflate their numbers somewhat artificially. But that was what some also feared with Damian Lillard after his years as a lonely star at Weber State. So if it's worth the example of the base of the Blazers, there is little to fear with Morant, a whirlwind that has it all to become one of the greats of the next generation of NBA bases.
Photos from as.com