Isak, presented: "There was nothing wrong to say no to the Real"
The txuri-urdin club finally pays 6.5 million plus 700,000 in variables to Borussia Dortmund, which reserves a repurchase option of 30 million.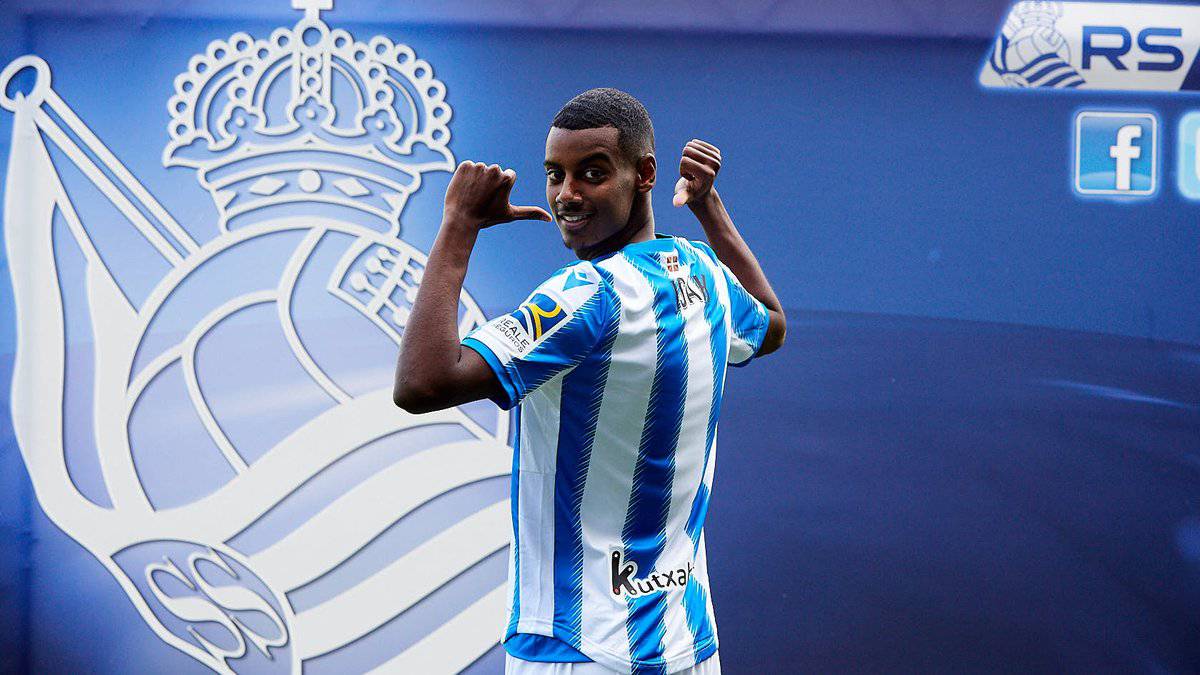 Alexander Isak already acts as a new player of the Real Sociedad. It has been officially presented this afternoon in Zubieta posing by surprise with the new txuri-urdin shirt for next season. It has been the president, Jokin Aperribay, who has welcomed him. "Thank you very much for coming, it has been a very fast negotiation because they have put a lot of their part to close this player for whom we had a lot of interest in his signing He will be with us for the next five years, thank you very much for choosing the Real and we hope you will have many successes. " Although the Real can not disclose the details of the operation due to a confidentiality agreement with Borussia Dortmund, the Diario AS can count that 6.5 euros are finally paid for the signing of Isak, plus another 700,000 euros in variables. In addition, the German club keeps a repurchase option valued at 30 million euros.
Afterwards, the protagonist has started waving in Basque and speaking later in English.
-First words. "Kaixo, I am very happy to be I do not know much about this club, I know there are very young people who work with young people, and thanks to the club for believing in me, and I hope it's been good five years. , finished with the Real, it's a good way, I hate to talk a lot about the Real and I've played against a lot of his players, hopefully together we can achieve our goals. "
-Reasons to sign for Real.22222 22 "It was a concept position the real one works with young people and gives opportunities to young people and that for me was important, it is also a good city or a good club, there was nothing wrong for not coming to the Royal Society" .
-Close everything in Madrid. "Before the game with Sweden at the Bernabéu if he knew he would come to see the facilities, but it was after the game when everything was finalized to be able to sign for the Real" .
-How define. "I'm a guy who likes to have the ball, I have good technique and hard work for my team and in that I fight for the team scoring goals. And out of the field I am a humble and friendly guy. "
-Coincided with Merino in Dortmund " I remember being a good player and I shared my first six months in dortmund. A good midfielder, I'll be happy to play with him again. "
-Goal goals are not scored." For me the numbers are not important, for me it is more important to work with the team. I do not have numbers in my head, the important thing is to focus on the field and play well and when that comes, the goals come. I'm not thinking about those things. "
-They call it the 'new Ibra'." It's not a problem. They have compared me to the many times. But I personally do not compare myself with him or with anyone, I just want to be myself. But it's true that I really like Ibrahimovic. "
-LaLiga." For me it's a dream to play in Spain. The league is the best competition in the world and that's why I'm very happy to come here. "
-As a single striker or with two batters above." I like both forms. I like to play with my team and combine, it works just as well to be alone and with another teammate. "
-Competition by Willian José." There are many good players in the team, it's not a problem, that's the sport, I do not care about the competition, I just want to do the best for the team "
Photos from as.com