"Valentino is in a personal battle against time"
"For me it's a surprise that every year he risked showing up for a championship that fast," Graziano Rossi tells As in Mugello.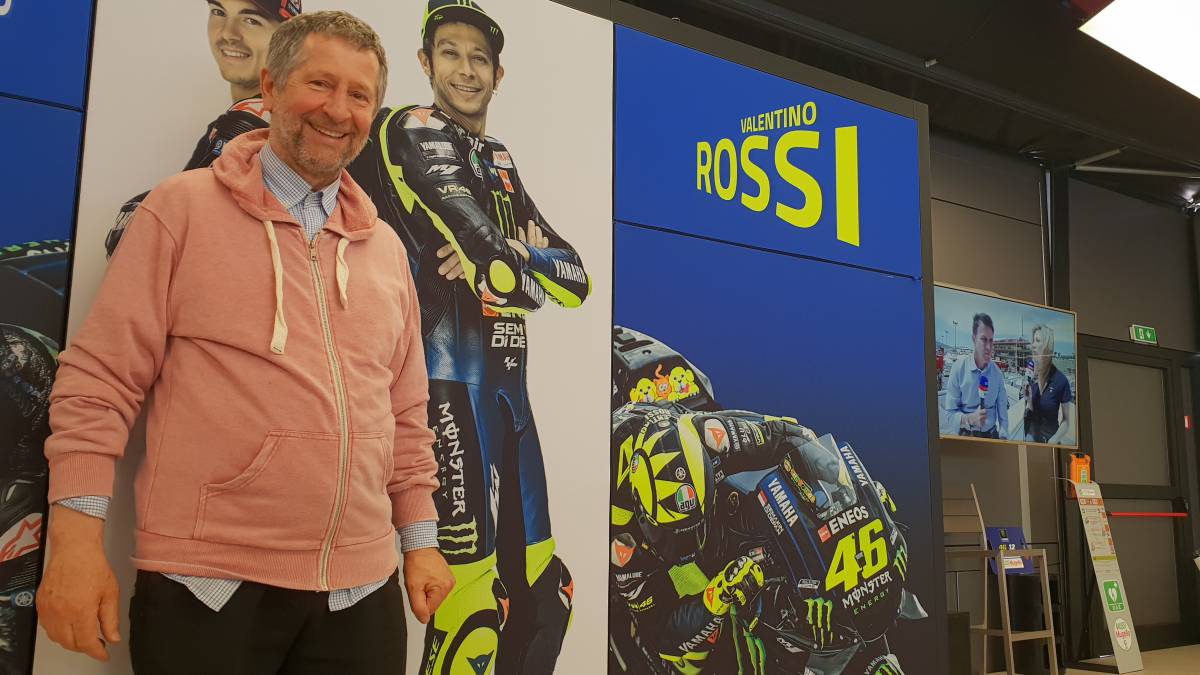 Graziano Rossi, the father of Valentino Rossi, is not that he is in the circuits in the background but that he is directly out of focus. Appears by the GGPP that you want, never those who have to travel by plane, of course, and Mugello is a classic for this newspaper to sit and chat with him for a while. At 65 years, is seen in good shape to this glander of three races of 250cc in 1979 (Yugoslavia, Holland and Sweden), just the year that his beloved Vale was born, that 40 years later is the world icon of this sport and keeps giving war. He wants him to do it until he is 46, his bib number, the one he inherited from him.
-The years go by, we all get older and there his son continues, giving gas on the track ...
-Yes, older all . (Smile). Valentino does not have time to grow old.
-Did you imagine in your first steps that your son's career would be so long?
-No, I never imagined anything. I think he is now making a personal battle against time and I am very surprised every year. For me it's a surprise that every year that you risk going to a championship that fast.
-At what age did you hang your racing suit?
-At 35, I think. Nothing to see, very soon compared to him.
-How much do you estimate that Valentino will hold on the MotoGP grid?
-I do not know, maybe it will not end at 46. That would be beautiful.
-We all know he is still here because this is what makes him happiest, but where do you think he gets the energy to remain competitive?
-At the end of each month, at the end of each week, at the end of each day he asks himself if there is something else in which he could have more fun than he has fun running in MotoGP. And the answer that is given is that nowhere. Now, you still do this, but every year that goes by is always harder to do, because every year you have to prepare a little more. It is like any person who runs for gymnastics, that each year must run two kilometers more. You always have to work more and that requires a lot of will. When his will runs out and he stops thinking that this amuses him, it is when he will stop, that is why I say that he may end when he is 46 years old.
-How do you see him this year? It's getting harder and harder for him to fight for the victory, but you always have to count on him.
-He's very fit and the Yamaha is growing. If the Yamaha is still growing a bit more, being a little stronger in speed and acceleration, can still fight for the podium.
-Do you see winning enough to reach the Agostini record?
-No I think that's important.
-And the tenth title is still a dream for him and his people?
-Yes, but it's not an obsession. His dream is to be able to be in the MotoGP World Championship every year thinking about the podium. Does not change so much to have nine, ten or eleven titles.
-What is what most surprises or pleases the championship at a general level?
-I like that this year may be the most competitive and fastest of all time, and this is something that grows every year. Motorcycling is offering an exceptional spectacular, always more. And always with Vale, or so I hope.
Photos from as.com